City of Oregon latest to look into marijuana decriminalization
8/25/2018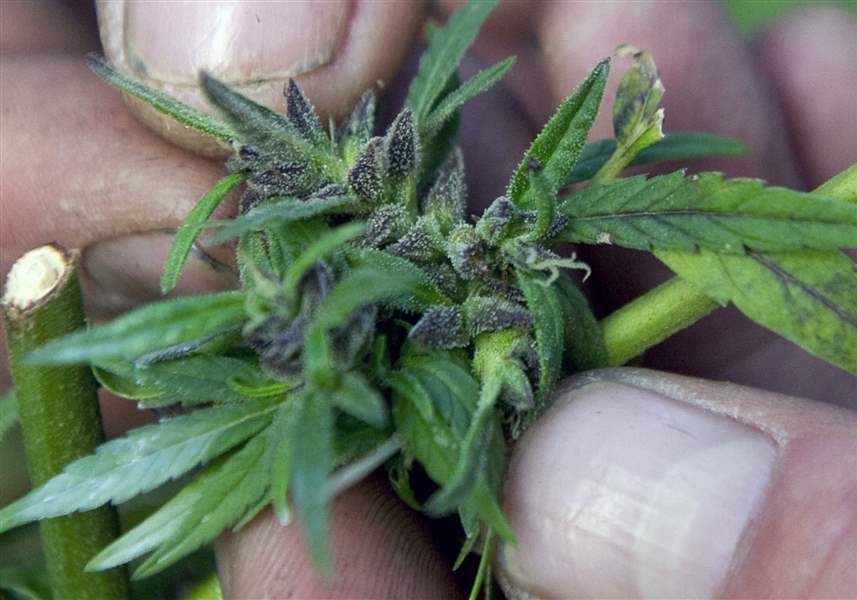 A man shows a type of marijuana at a farm near Medellin, Antioquia department, Colombia on October 3, 2012.
GETTY IMAGES
Decriminalizing small amounts of marijuana is a growing trend across Ohio, and Oregon could be the next municipality to join the movement.
The Lucas County Board of Elections recently approved a citizen-led ballot initiative to eliminate criminal penalties for carrying less than 200 grams of cannabis. Voters will see the "Sensible Marihuana Law" on the ballot in November.
Similar efforts were successful in Toledo and Harbor View along with other Ohio cities such as Athens.
Oregon administrator Mike Beazley.
Oregon City Council members could have passed the ordinance and made it effective immediately but deferred to voters instead.
"Similar ballot issues have been introduced by groups that are seeking to make long-term changes to Ohio marijuana laws," City Administrator Mike Beazley said. "I think they're trying to make a political statement and help pave the way for changes in Ohio law, and they have a right to do that. We'll let democracy take its course."
Chad Thompson lives in Toledo and drafted the Oregon ordinance. He also played a large role in creating similar legislation Toledo voters approved by just over 70 percent in 2015.
Mr. Thompson believes decriminalizing marijuana is a step in the right direction to end the war on drugs, which he calls a failure. He has collected signatures in several Ohio communities.
"I ran across a guy who told me when he got out of high school, he intended to join the Army," Mr. Thompson said. "He got a possession ticket for a roach and he was not able to join. He said that pot ticket ruined his life."
Mr. Thompson said he also views eliminating penalties for small amounts of marijuana as a health issue.
"Access to marijuana is a positive, especially with the opioid crisis going on today," he said. "We're finding that what we've been told for years about marijuana is untrue. We're trying to improve public health. If you think marijuana is just for getting high, then you don't understand the plan."
Mr. Thompson is confident the effort will pass in Oregon, but there appears to be disagreement about the impact the new law would create.
"It will not have any practical impact because Oregon, like virtually every Ohio city, uses the Ohio Revised Code for all criminal cases," Mr. Beazley said.
Mr. Thompson said the belief state laws always trumps local law is a "common misconception." He says the Ohio Constitution permits the law barring any conflict with state law.
"If we tried to legalize marijuana on a local level, it would not be a valid ordinance because it would conflict with state law," Mr. Beazley said. "Because this ordinance does not conflict with state law, this is going to be the mandatory enforceable law in Oregon, just as it is in Toledo."
Contact Jay Skebba at jskebba@theblade.com, 419-376-9414, or on Twitter @JaySkebba.