Portman, former debate coach, reflects on McCain's life
8/28/2018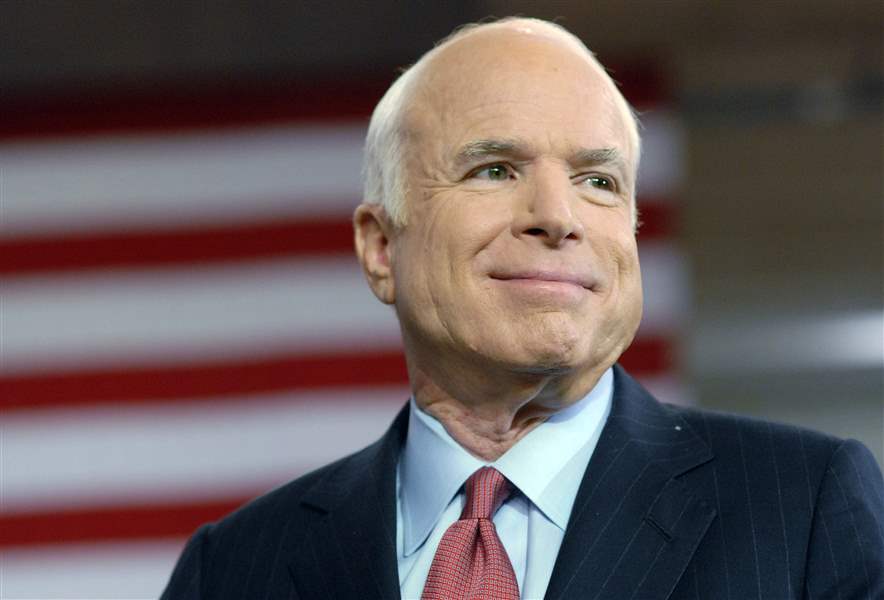 John McCain, a 31-year veteran of the U.S. Senate and a Vietnam War hero, died Saturday after battling brain cancer. He was 81.
Getty Images
WASHINGTON — On the Senate floor Tuesday, Ohio Sen. Rob Portman spoke about preparing Sen. John McCain to debate Barack Obama during his 2008 presidential bid, saying it was his job to get under the skin of a "fighter and tough competitor" while he stood in for the former president.
"I took that role very seriously. Maybe too seriously on occasion," said Mr. Portman, who was among a number of senators who delivered remarks about Mr. McCain, including his close friend Sen. Lindsey Graham (R., S.C.). "After some spirited debates, I was glad that in the real world I was on his side."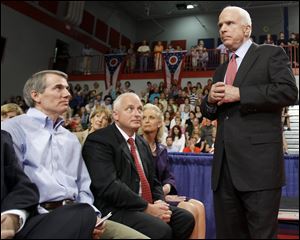 Former White House Budget Director Rob Portman, left seated, looks up at Republican presidential candidate, Sen. John McCain as McCain makes a campaign stop in Portsmouth, Ohio in 2008. Mr. Portman is now a U.S. senator.
A Republican who was known for helping to prepare candidates for debates by imitating their opponents, Mr. Portman said he spent six weeks with Mr. McCain on the campaign trail.
"I had known him for many years, but you get to know someone in a different way under the intensity of pressure of a national campaign," he said.
Mr. Portman went on to say, "Even two years later, after I was first elected and joined him here in the U.S. Senate, he would introduce me to reporters here in the hall by saying, 'That's the jerk who played Obama.' "
Mr. McCain died Saturday after a battle with brain cancer and will lie in state at the U.S. Capitol in Washington on Friday, following services in his home state of Arizona.
Mr. Portman discussed Mr. McCain's decision to briefly suspend his campaign following the late-September stock market crash in 2008 and postpone the election's first debate.
"I distinctly remember one of the advisers raising concerns that suspending the campaign could hurt them politically ... a point of view that was shared by pretty much every political pundit. I remember John McCain pushing back. He said, 'It's the right thing to do. If we don't fix this, there won't be a country left to govern.' "
He also described the last conversation he remembered having with Mr. McCain. It was in the anteroom off the Senate floor.
"It was during his very last days here. He was in a wheelchair. He had a brace on his leg, which was necessary because of the chemotherapy, and his voice was faltering," Mr. Portman said.
They talked about legislation he introduced with counsel from Mr. McCain's wife, Cindy, called the Stop Enabling Sex Traffickers Act, or SESTA.
"We sat and talked, first about the SESTA legislation and Cindy's role. John always had a funny line. In this case, he joked, saying, 'Passing that legislation will save my marriage.'
"Then he started talking about his kids. He went into detail about what they were doing — especially his sons in the military and Meghan and her work in the media world. His voice strengthened and his eyes shone with pride as he talked about each of them. I muttered something about that being another part of his legacy, and he gave me that crooked smile."
Contact Liz Skalka at lskalka@theblade.com, 419-724-6199, or on Twitter @lizskalka.