Cash pours in to Ohio race for governor
9/6/2018
Ohio's candidates for governor raised a combined $3.8 million last month.
ASSOCIATED PRESS
COLUMBUS — The two major party candidates seeking to replace Gov. John Kasich raised a combined $3.8 million last month, providing plenty of cash to ensure voters will continue to be deluged with attack ads on both sides.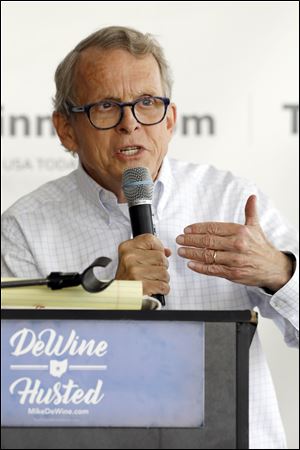 DeWine
Republican Mike DeWine won the August race for cash thanks to a $300,000 contribution from the Ohio Republican Party that put him up over Democratic opponent Richard Cordray.
Both have unleashed vast resources in recent TV ads, but that spending is not reflected in this latest monthly report.
Mr. DeWine, current Ohio attorney general and former U.S. senator, added just more than $2 million to his campaign coffers last month. The campaign claims a massive total war chest of $11.6 million, but that number should be taken with a grain of salt given that these monthly reports do not subtract spending.
RELATED CONTENT: Ohio governor's race heats up as ads flood airwaves ■ Obama will stump for Cordray in Cleveland ■ DeWine touts job plan at Maumee plant ■ Cordray launches counter TV ad
Expenditures will be included in the pre-general reports due Oct. 25.
Mr. Cordray, former federal consumer watchdog and Ohio attorney general, reported adding $1.84 million, contributing to what the campaign shows as a nearly $7.2 million war chest. He will get a fund-raising boost next week when former President Barack Obama comes to Ohio on the same day that Donald Trump, Jr., will visit to open a few checkbooks for Mr. DeWine.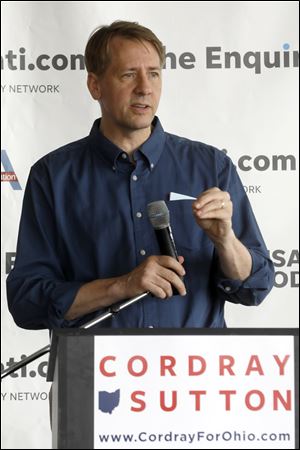 Cordray
Mr. Cordray's largest contributions came from individuals giving about $12,707.
"With 34,000 contributions that continue to grow by the day, our financial position is formidable as we enter the final two months of the campaign," Cordray campaign manager Michael Halle said. "While our campaign continues to pick up steam, Mike DeWine's is stalling out after a lackluster summer."
Mr. DeWine's campaign got a major head start over Mr. Cordray when it largely absorbed the formidable campaign resources of his former opponent and now running mate, Secretary of State Jon Husted.
"Our campaign has consistently outrun our opponents on every level, and, with exactly two months left until Election Day, we are in the exact right position to cross the finish line strong and elect Mike DeWine as Ohio's next governor," DeWine campaign manager Dave Luketic said.
Mr. DeWine's campaign still lists an outstanding personal loan of $1 million from the candidate.
While the Republican led the way at the top of the ticket, Democrats outraised Republicans in every other statewide race with the exception of one seat on the Ohio Supreme Court.
● Attorney general: Former U.S. Attorney Steve Dettelbach, the Democrat, opened a large fund-raising lead against Republican state Auditor Dave Yost in August, raising $609,721 to Mr. Yost's $368,677. Mr. Dettelbach claims about $4 million in his campaign war chest, while Mr. Yost has about $3.4 million.
● Auditor: Democratic former southeast Ohio congressman Zack Space again outraised his opponent, state Rep. Keith Faber (R., Celina). Mr. Space reported raising $154,125 to Mr. Faber's $136,796, although Mr. Faber continues to have more cash on hand, reporting $1.1 million to Mr. Space's $998,653.
● Secretary of state: This race remains neck and neck, at least in terms of campaign cash. State Rep. Kathleen Clyde (D., Kent) edged out Republican opponent state Sen. Frank LaRose (R., Hudson), raising $238,851 to his $234,941. Ms. Clyde claims slightly more cash on hand, with nearly $1.8 million to Mr. LaRose's $1.6 million.
● Treasurer: Democratic attorney Rob Richardson of Cincinnati continued to outperform state Rep. Robert Sprague (R., Findlay). Mr. Richardson added $140,880 this cycle, claiming an ending balance of nearly $1.1 million. Mr. Sprague reported $101,525 in new money for a total balance of $463,842.
● Supreme Court justice: The Democratic candidate for an open seat on the bench, Cuyahoga County Common Pleas Judge Michael P. Donnelly, reported raising $69,834 this cycle with a bank balance of $170,960. That compares to $55,005 in new money by Republican appellate Judge Craig Baldwin of Newark. But Judge Baldwin reports a larger ending balance of $196,482.
● Supreme Court justice: Appointed Justice Mary DeGenaro, a Republican, outraised her Democratic challenger better than 2 to 1, reporting $85,690 in contributions to Cleveland appellate Judge Melody Stewart's $30,715. Justice DeGenaro claims $202,166 in cash on hand compared to Judge Stewart's $112,730.
Contact Jim Provance at jprovance@theblade.com or 614-221-0496.