Chief Justice O'Connor blasts proposed amendment to limit drug sentences
9/7/2018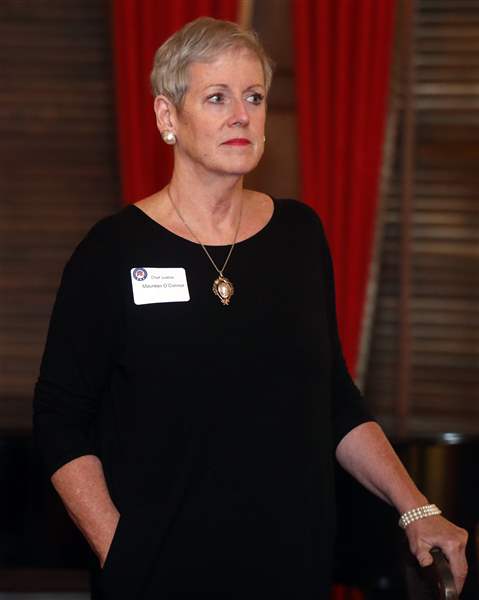 Chief Justice Maureen O'Connor of The Supreme Court of Ohio speaks to the crowd during an event to salute Lucas County Republican Judges at The Toledo Club on September 6, 2018.
The Blade/Amy E. Voigt
Buy This Image
Ohio Supreme Court Chief Justice Maureen O'Connor slammed a constitutional amendment on the Nov. 6 ballot designed to divert non-violent drug offenders from prison, saying it takes power away from drug courts and will result in more deaths from the opioid epidemic.
"You need a proven system and that proven system is our drug courts," Chief Justice O'Connor said. "When people say, 'Why don't you just increase treatment and that will take care of the problem,' there's no incentive for an addict to go for treatment. If they don't have a stick they're not going to take advantage of the carrot."
Chief Justice O'Connor discussed the Neighborhood Safety, Drug Treatment, and Rehabilitation Amendment, appearing on the ballot as Issue 1, at a Lucas County Republican Party fund-raiser Thursday for judicial candidates.
While judicial candidates run as part of a party's political slate, their positions are fundamentally nonpartisan and they appear on the ballot without a party designation.
Issue 1, the sole statewide question on the Nov. 6 ballot, asks voters to reduce penalties for fourth and fifth-degree felonies for fentanyl, heroin, methamphetamine, cocaine, and LSD possession, and steer any savings from not sending offenders to prison into treatment. Under the amendment, those drug crimes could not be prosecuted as more than a misdemeanor for the first two offenses, making offenders less likely to serve time in prison.
Proponents of the amendment argue that an emphasis on treatment and not incarceration and felony convictions is what will most help addicts.
"Judges have a lot of tools at their disposal," said Stephen JohnsonGrove, deputy director of the Ohio Justice and Policy Center, one of the organizations that designed and led the campaign for Issue 1. "The one tool we're taking out of their hands in certain circumstances is the sledgehammer of prison."
Chief Justice O'Connor said the changes to the Ohio Constitution would create an unfunded mandate for municipal courts that would be handling the cases that have been downgraded under the act.
She believes the amendment — whose backers have received funding from the Chan Zuckerberg Initiative, an organization founded by Facebook's Mark Zuckerberg and his wife, Priscilla Chan, and George Soros' Open Society Policy Center in Washington — was not written by people with an understanding of Ohio's criminal justice system.
"It was written by people who do not live in Ohio and we'll have to suffer the consequences," she told The Blade following her remarks to the audience. "It is poorly written, and a constitutional amendment is written in stone. You can't fix it within the legislature."
Chief Justice O'Connor argued her position on Issue 1 last week in a widely-circulated op-ed. Justices tend not to weigh in on issues that could be considered political but the chief justice said judicial codes of conduct permit her to take a stand on topics that impact the criminal justice system. The Ohio Common Pleas Judges Association and prosecutors also oppose Issue 1.
"This is a nonpartisan issue," she told the room of GOP judges and attorneys. "You can speak out about it. [But] you should not be speaking out as a Republican on these issues because they affect everyone, whether they're a Republican or a Democrat."
Contact Liz Skalka at lskalka@theblade.com, 419-724-6199 or on Twitter @lizskalka.