Millennials and the midterms: Young people say it's difficult to pay attention
9/8/2018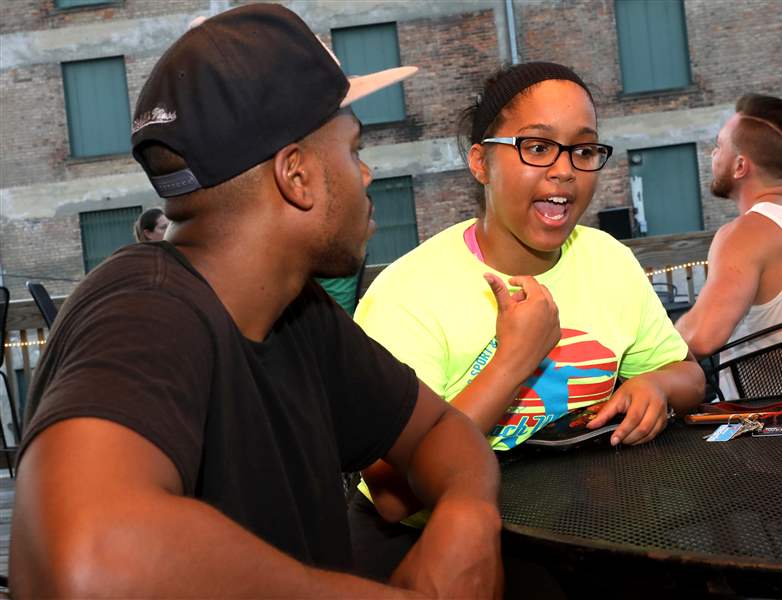 Willie Wiley, left, listens as Janae Branch speaks during an interview at Home Slice Pizza in Toledo on Wednesday, September 5, 2018. They discussed their thoughts on the upcoming 2018 midterm elections.
The Blade/Kurt Steiss
Buy This Image
What would it take to get people in their 20s and 30s to the polls for the midterm election?
Jessie Lee, a 24-year-old speech therapist, thought it over for a minute.
WATCH: Blade briefing: Reporter Liz Skalka on the millenials and politics
It was the million-dollar question at Home Slice Pizza's trivia night, and one that eluded many of the young Toledoans drawn to beer and pies downtown on Wednesday.
"I'm not as up to date as I should be," said Ms. Lee, who admitted to never using her voter registration despite wanting to. "Not that I don't care, I just haven't made the time."
Abby Stahl, who sat across from her friend, said she too "could be better with the local elections." Neither Toledo resident plans to vote in the Nov. 6 midterm.
A major hurdle for both is becoming informed. Ms. Stahl gets most of her news from national websites or Snapchat stories, which won't help her learn about statewide or local races on the ballot.
"It's sad to say but no one is reading [local news]," said the 24-year-old health IT worker who could be considered part of either the Millennial or Generation Z cohorts, generations that together encompass those born from the early 1980s to mid-2000s.
Midterm elections are a notoriously tough draw for voters. Nationwide turnout is generally 40 percent of registered voters, compared to 60 percent in presidential elections. In Ohio, 41 percent of voters went to the polls for the 2014 midterms, while more than 71 percent cast a ballot in the 2016 presidential race.
At the younger end of the spectrum, voters younger than 30 made up just 13 percent of the 2014 midterm electorate, up from 12 percent in 2010, according to NBC News exit polls.
Looking to this year's midterms, a survey released last week by NBC/Gen Forward found that while 55 percent of Millennials say they probably or definitely will vote in the midterms, 19 percent definitely or probably won't and another quarter were uncertain.
Contributing to sluggish turnout among Millennials is a disconnect between what candidates and the media are offering, and how this generation gets their news and forms opinions, according to voters in their 20s and 30s interviewed by The Blade. Millennials aren't accessing media the same way as previous generations, and campaigns are slow to rethink how they reach voters.
Yet young voters could provide a decisive margin of victory in a number of close statewide races to determine who represents Ohioans. Recent polls show the governor's race between Republican Mike DeWine and Democrat Richard Cordray in a dead heat. A new survey shows Rep. Jim Renacci (R., Wadsworth) catching up to incumbent Democrat Sherrod Brown in the U.S. Senate race.
Still, throw out any of these names in a round of trivia at Home Slice and the points would be slow to rack up.
DeWine who? Cordray who?
Willie Wiley, 25, of Toledo, has made a conscious decision not to pay attention to politics when it comes across his feeds on Twitter and Facebook. Too much fighting and negativity, he said.
"I'm the guy who goes with the flow," Mr. Wiley said. "I have an opinion about things but I'm not going to address it because it doesn't make a difference."
He sometimes catches President Donald Trump's tweets and isn't a fan. He also doesn't like what he's heard about the Trump administration's stance on immigration.
Mr. Wiley's girlfriend, Janae Branch, 26, is the more political of the two. She voted in the last election for Hillary Clinton and wants to learn more about local and statewide races in the midterms. How she will do that, though, could be a challenge.
"Media is important, but it's on me, too," she said.
In keeping with this generation's way of getting news and streaming shows, Richard Cordray's campaign has tried to capture voters with a series of digital ads on social media platforms, as well as Hulu and YouTube. They portray Mr. Cordray, a five-time Jeopardy! champion, as a down to Earth, nerdy guy who just happens to be the former director of the Consumer Financial Protection Bureau and running for governor.
Friends Ms. Stahl and Ms. Lee both said more social media outreach, especially on sites like Instagram that aren't normally associated with news or politics, would grab their attention.
Nick Komives, a 34-year-old Democrat and the youngest Toledo city councilman, believes low Millennial engagement is partly due to how older candidates communicate with voters.
"There's this gap of who's talking to who. That's a huge reason why you don't see Millennials engaged. A majority of voters are not Millennials, they're older folks, so [candidates] are going to communicate to them," he said.
If you want to understand who's running things on the local level just look at who volunteers, Mr. Komives said.
"They tend to be folks who have been doing it for ages. You don't see a lot of young people at fund-raisers," he said.
As for why, Mr. Komives said, "When you don't see yourself reflected in government you're less likely to want to engage."
'Significant apathy'

Shane Logan, president of the University of Toledo College Republicans, admits that it often takes something out of the ordinary to get his fellow classmates to follow what's going on in politics, such as earlier this year when a banner of President Trump wearing a Klansman hood hung in the student union, sparking discussion across campus.
The 21-year-old said it helps when candidates show up. Mr. Logan was looking forward to meeting Mr. Renacci at UT on Friday. Mr. Brown has a group of supporters on college campuses called "Students for Sherrod."
"People want to hear from the candidates themselves instead of the same rhetoric over and over again," Mr. Logan said.
At 32, state Rep. Derek Merrin (R., Monclova Township) is the youngest person to represent greater Toledo in the state legislature. He said he got involved in politics because of his interest in government policy, and believes more people naturally become more interested in politics as they age.
"There's a significant apathy in general for American politics or state politics," he said. "Many young people are turned off by the battling rhetoric. They also don't full understand how government impacts many aspects of their lives. When you see older people involved it's because a lot of the time they see the amount of money being taken out of their paychecks."
Still, many topics on the campaign trail, such as jobs, the economy, opioid epidemic, and crushing student loan debt hit close to Millennials.
Andrew Marinelli, a 24-year-old Toledoan who works in finance, said he mostly pays attention to news that affects his industry and will look to choose candidates who reflect his values as the election nears.
But when it comes to politics in general, "I don't see major impacts on my life," he said.
Contact Liz Skalka at lskalka@theblade.com, 419-724-6199, or on Twitter @lizskalka.