Blade Series: Views from small-town Ohio
9/10/2018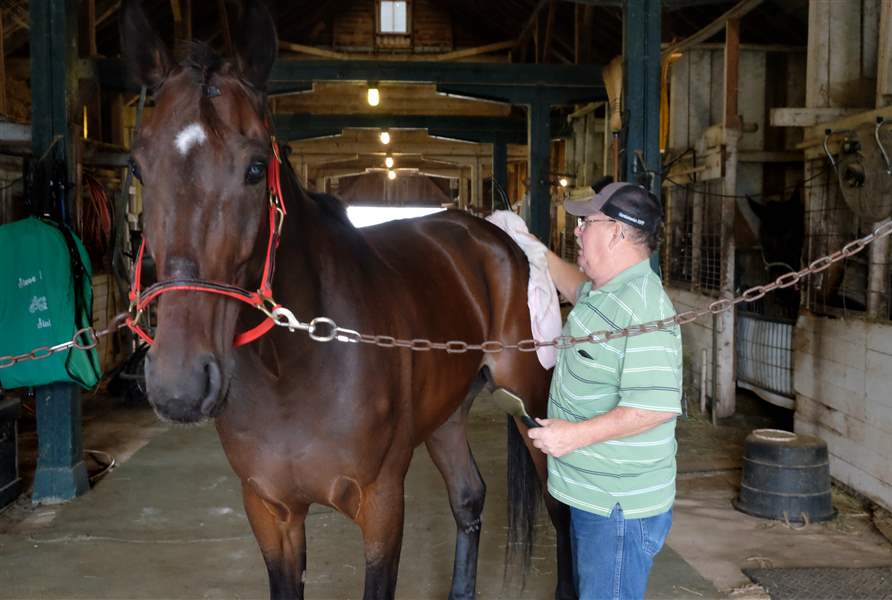 Steve Boroff with Ronan, one of the horses he trains, at the Mercer County Fairgrounds in Celina.
The Blade/Jetta Fraser
Buy This Image
About this series
Last year a group of summer interns in Toledo from Yale University got in a car and decided to explore Ohio. They were moved by what they found, realizing people on the coasts where they live were different than the people of Ohio, who were mostly struggling and poor.
This year The Blade decided to formalize the experience for its five Yale summer reporting interns. They were sent across the state — to Coshocton, Pomeroy, Celina, Fostoria, and Archbold — to live in the communities for a few days, to get to know some of their residents.
The students were sent to towns like dozens of others in Ohio that are not as prosperous as in years past. They had heard about the people characterized as "deplorables" who live in these forgotten places. What they found were proud people who love where they live and are working hard to rebuild their communities.
— John Robinson Block, publisher and editor-in-chief
Part 1: Coshocton
By Lily Moore-Eissenberg
COSHOCTON, Ohio — These days, three souls bring Sam Bennett hope — his wife, Debbie; God, and President Trump.
Like most of his neighbors in Coshocton — population 11,000 — Mr. Bennett hasn't once looked back since voting for Mr. Trump in 2016. FULL STORY
I'd been talking politics with a barber named Lenny Fowler in Coshocton, Ohio for nearly an hour when I referenced Planned Parenthood and the National Rifle Association in the same sentence. Mr. Fowler stopped me with a knowing grin.
"One saves lives," he said, as if it were obvious, "and one takes lives." FULL STORY
Former Autolite employees Tracy Courtney and Chris Mathias outside the old plant Friday, July 20, 2018, in Fostoria.
Part 2: Fostoria
By Eve Sneider
'Change is good': Residents see jobs, future for Fostoria through Trump
Tracy Courtney always thought Fostoria's Honeywell Autolite factory would be the first and last place she would ever work.
She came to Autolite at 18. It was August, 1992, and she had graduated from high school just two months before. She was starting work as a production checker, a good union job. Her pay was a solid $11.30 an hour, insurance was covered, and there was a 30-and-out retirement program — all she had to do was keep working until she hit 48. FULL STORY
Part 3: Meigs County
By Hailey Fuchs
Building a future on a shoestring budget
POMEROY, Ohio — Maj. Scott Trussell, second-in-command at the Meigs County sheriff office, leaned back in his office chair.
Above filing cabinets and county maps, the wall had fragmented, pieces of old paint crumbling. Leaks in the ceiling had developed into small brown craters. FULL STORY
PHOTO GALLERY: Scenes from Pomeroy
Part 4: Archbold
By Mark Rosenberg
Tight-knit, prosperous Archbold embraces grassroots conservatism
ARCHBOLD, Ohio — This community of roughly 4,300, situated an hour west of Toledo, is best understood through its lawns.
Bright, impeccably trimmed grass fills the space between amply-spaced houses on quiet streets. FULL STORY
PHOTO GALLERY: Scenes from Archbold
Part 5: Celina
By Adelaide Feibel
Ohio's staunchest pro-Trump county embraces wave of immigrant families
CELINA, Ohio — Mitchell Capelle insists he doesn't have an opinion about President Trump.
"Trump is just another leader," Mr. Capelle said.
It's an opinion that's rare in rural Mercer County, where Mr. Trump beat Democratic nominee Hillary Clinton by the largest margin in the entire state of Ohio — 80 percent of voters here cast ballots for the Republican nominee. FULL STORY