Tigers rip Nationals for 32 runs in sweep
6/21/2007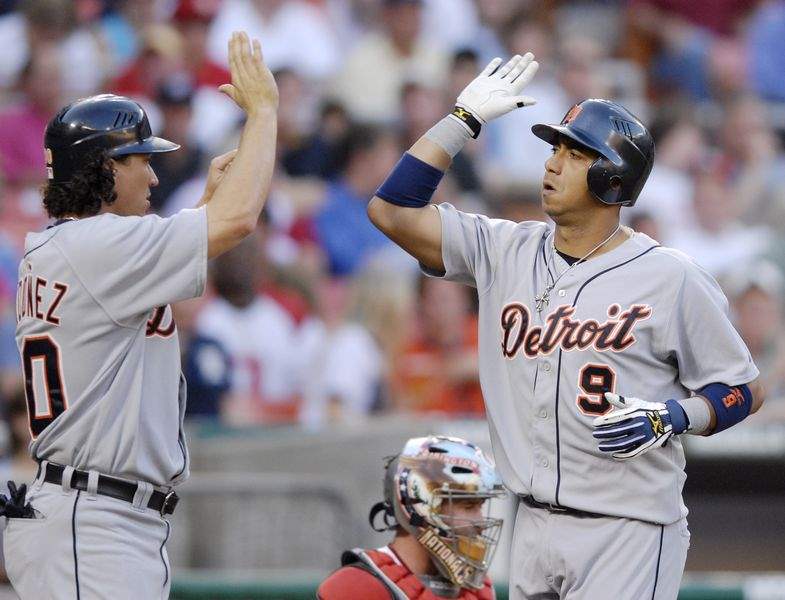 Carlos Guillen, right, celebrates his two-run homer with Magglio Ordonez. Both have eight-game hitting streaks.
Nick Wass / AP
Carlos Guillen, right, celebrates his two-run homer with Magglio Ordonez. Both have eight-game hitting streaks.
WASHINGTON - During the Detroit Tigers' three days in Washington, a half-dozen players went to Capitol Hill, while Justin Verlander got to spend 20 minutes with President Bush in the Oval Office.
Exciting? Sure. But that's nothing compared to what they did with their bats.
Considering they were strangers to the nation's capital, the Tigers sure made themselves at home, scoring 32 runs in three games in their first visit to RFK Stadium in 36 years. They wrapped up their three-game series last night by pounding the Washington Nationals pitching staff yet again, winning 8-4 to give Jeremy Bonderman his eighth straight victory.
"You're seeing what professional hitting is supposed to be like," manager Jim Leyland said. "But it's not that easy. We'll have our fights and have our battles; you don't just hit like that all the time."
If they did, the rest of the majors might have to shut down. The top-hitting club in baseball has won five of six, averaging nine runs over that span.
"You see them up close instead of just watching on TV, you realize you'd better play a pretty perfect game to win," Nationals outfielder Austin Kearns said. "They're good."
Detroit broke open last night's game with five runs in the sixth against Washington's bullpen. Magglio Ordonez finished with three hits and Carlos Guillen had two, including a fourth-inning golf-swing home run that bounced on the top of the left field wall.
Ordonez (7-for-10) and Guillen (6-for-12) were two of four Tigers to bat .500 or better in the series. Both players have eight-game hitting streaks.
"We may not have the best 3-4-5 or best 2-3-4 or 7-8-9," Leyland said. "But 1 through 9 we're pretty good."
Bonderman (8-0) has won eight straight starts after beginning the year with five no decisions, and once again he got plenty of run support. He only pitched five innings and allowed three runs and five hits. His ERA is 6.88 over his last three starts.
"We're scoring a lot of runs, so as pitchers we don't really have to do a ton," said Bonderman, who was removed for pinch hitter Gary Sheffield with the bases loaded in the sixth. "We just have to give them a chance to score a bunch of runs. We do that quite often it seems like."
The score was tied 3-3 when Bonderman completed the fifth, but Detroit sent nine men to the plate in the sixth. Washington manager Manny Acta felt he had the Tigers right where he wanted them. Starter Mike Bacsik had given him five innings, and Acta had set aside the rest of the game for his four best relievers: Saul Rivera, Jesus Colome, Jon Rauch and Chad Cordero.
But Rivera (1-2) opened the inning by giving up two walks and a single to the only three batters he faced. Brandon Inge then singled home a run off Colome to make it 4-3. Omar Infante battled through a 12-pitch at-bat before singling to right to give the Tigers a two-run lead. After Sheffield fouled out, Curtis Granderson singled home two more runs. Another scored on Craig Monroe's groundout to complete the five-run inning.
"Everything happened the way we wanted," Acta said. "We wanted to get through the fifth in the ballgame - it was actually tied - because we had our bullpen rested. We wanted to throw our four best guys at them, and unfortunately two of them were off today."