Cutler gets good news on leg
11/6/2007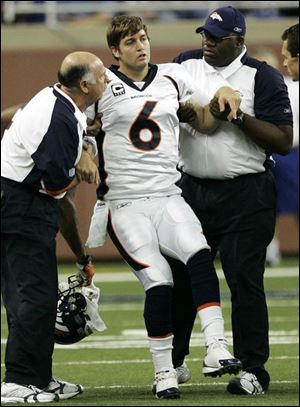 The Broncos' Jay Cutler was injured Sunday when he was sacked by the Lions' Shaun Rogers and Cory Redding. ASSOCIATED PRESS
ENGLEWOOD, Colo. - Broncos quarterback Jay Cutler doesn't have the hairline fracture in his left leg he feared.
An MRI yesterday was negative, but coach Mike Shanahan said he didn't know if Cutler would practice much this week or be under center Sunday at Kansas City.
"He doesn't have a stress fracture, which is a positive," Shanahan said. "The X-rays were negative, the MRI was negative. So, we'll see how sore he is. Right now he's quite sore."
Cutler, who declined to comment, took a helmet to his lower leg, which was badly bruised, in the first half of the Broncos' 44-7 loss at Detroit on Sunday. He was carted off the field, and although immediate X-rays were negative, Cutler said he feared his leg was broken.
"You never know for sure until you get an MRI if there's a stress fracture," Shanahan said. "There's no stress fracture. There is a bruise. It's badly bruised. We'll see what the recovery time is."
Defensive end Cory Redding dived at Cutler helmet-first at the end of the play in which Shaun Rogers sacked the second-year quarterback. Shanahan said he didn't see the hit, but "if he did do something illegal, obviously, he'll get fined for it."
CINCINNATI - Receiver Chris Henry was activated by the Cincinnati Bengals yesterday, having completed his eight-game suspension for violating the NFL's conduct policy.
Henry was in the locker room yesterday but declined comment because the Bengals hadn't yet added him to the active roster. The move was made later in the day.
The Bengals were looking forward to getting back Henry, hoping he could take some pressure off receivers Chad Johnson and T.J. Houshmandzadeh and help the offense get rolling. Instead, his return comes too late.
The Bengals fell to 2-6 on Sunday with a 33-21 loss in Buffalo. Henry's suspension played a role in the team's downfall, depriving the Bengals of one of their best threats near the goal line. Henry had nine touchdown catches in only 13 games last season, tying Houshmandzadeh for most by a Bengals receiver.
CHIEFS/JOHNSON: Larry Johnson spent yesterday undergoing treatment and tests on his injured right foot amid fears Kansas City's Pro Bowl running back could be sidelined for an extended period.
The Chiefs said Johnson sustained a mid-foot sprain when he was tackled from behind after a short gain in the fourth quarter of Sunday's 33-22 loss to Green Bay. He was helped off the field by two trainers and was unable to put any weight on the foot.
The fifth-year back, who set an NFL record last season with 416 carries, has been off to a slow start after missing camp before signing a six-year, $45 million contract.
COWBOYS/JOHNSON: Tank Johnson was activated by the Dallas Cowboys after completing an eight-game suspension and is set to play his first game with his new team.
Coach Wade Phillips said Johnson had been added to the 53-man roster and would play Sunday for the NFC East-leading Cowboys (7-1) at the New York Giants. Johnson had been on the reserve-suspended list since Sept. 19, the day after he signed a two-year deal with Dallas.
Johnson was allowed to start practicing with the Cowboys two weeks ago.
PANTHERS/CARR: Coach John Fox said David Carr sustained a concussion late in Sunday's loss to Tennessee and his status for next week's game against Atlanta is uncertain.
Fox also said center Justin Hartwig (broken right thumb), receiver Steve Smith (hip), and defensive end Julius Peppers (toe) were injured against the Titans. None has been ruled out of the Atlanta game.
VIKINGS/JACKSON: Test showed that Minnesota Vikings quarterback Tarvaris Jackson was recovering from the concussion that knocked him out of the game against San Diego.
The second-year quarterback was injured after scrambling and taking a hit to the head as he dived to the turf. Jackson said he was knocked unconscious and was frozen on the ground in a peculiar position, with his right arm sticking straight out.
PACKERS/LEE: Tight end Donald Lee signed a four-year extension worth just under $12 million, his agent said.
"He is really excited about the deal," agent Brian Levy said.
Lee, who has 29 receptions for 382 yards and a touchdown, has become an integral part of the Packers' offense with Bubba Franks out with a knee injury. Lee received a raise from his current salary of just over $1.4 million, meaning the bonus on his new deal was $3 million.
49ERS/JENNINGS: Left tackle Jonas Jennings has been put on injured reserve, ending another disappointing season for the oft-injured lineman.
Jennings has an ankle injury that requires surgery. Team doctors recommended shutting down Jennings, who has struggled with injuries almost every week since being given a seven-year, $36 million contract as a free agent from Buffalo in 2005.
RAIDERS/JANIKOWSKI: A day after he missed setting an NFL record when his kick bounced off the upright, Sebastian Janikowski said he's ready to try an even longer kick than the 64-yarder that failed.
"I'll kick whatever," Janikowski said. "I don't care if it's 80 yards. I want to attempt it."
Janikowski came within inches of breaking the record of 63 yards held by Tom Dempsey of New Orleans and Jason Elam of Denver when his kick late in the first half smacked off the right upright.
SAINTS/MARE: Fans in the Louisiana Superdome can boo Saints kicker Olindo Mare all they want. Coach Sean Payton is standing by him, even after he missed two more field goals - and heard about it from disgusted fans - during the Saints' 41-24 triumph over Jacksonville.
Payton preferred to focus on the 46 and 34-yard field goals Mare made, especially the second one, which put New Orleans ahead by 17 points in the fourth quarter.
"I was encouraged after those misses, when we really needed one in the second half to go up three scores ... I was happy he responded with that kick," Payton said.