40.71455
-74.00713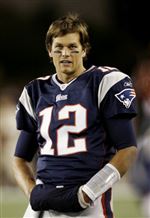 QB Tom Brady has led the Patriots to three Super Bowl titles and has the 16-0 team on the brink of a fourth.
Winslow Townson / AP Enlarge
NEW YORK - For all their achievements, past Most Valuable Players John Unitas, Dan Marino and Joe Montana never had a season like Tom Brady's 2007.
The New England Patriots' record-setting quarterback added The Associated Press NFL MVP award yesterday in the same manner his team romped through its schedule, going 16-0. On the way to the first unbeaten regular season since Miami went 14-0 in 1972, Brady put on a performance for the ages, which earned him all except one vote from a nationwide panel of 50 media members who regularly cover the league.
"I have always been a huge football fan and will always have great respect for the history of this game," Brady said. "I am flattered to join such an esteemed list of players, many of whom I consider the greatest of all time. I hope that I can set as great of an example for kids around the world as the previous MVPs did for me."
The eight-year veteran who already has won three Super Bowls helped the Patriots tear through the record books by throwing for 50 touchdowns. He beat Peyton Manning's league mark by one, and also threw 23 of those TD passes to Randy Moss, which lifted the receiver past Jerry Rice's record of 22.
New England scored 589 points, another record, as was the Patriots' 75 touchdowns. Brady led the NFL with a 117.2 passer rating - no, not another record, but close to Manning's 121.1 in 2004. Only one full-time AFC starter, Jacksonville's David Garrard, had fewer than Brady's eight interceptions. And Brady threw 253 more passes than Garrard.
Brady also was tops with a 68.9 completion percentage, and his 4,806 yards were 383 more than runner-up Drew Brees of New Orleans.
Brady joins a roster of AP MVPs that includes quarterbacks Unitas, Bart Starr, Fran Tarkenton, Marino, Montana, John Elway and Steve Young - all Hall of Famers.
Yet Brady insists individual accomplishments don't rule his world.
"As I have learned over the course of my time with the Patriots, the most meaningful accomplishments are always the ones I have celebrated with my teammates," he said. "I am certainly proud of the success that we have enjoyed so far this season."
There also was plenty of praise to go around from teammates, Patriots owner Robert Kraft and coach Bill Belichick.
"To be honest, I'm surprised it took so long for him to get this recognition because he's sort of been our MVP since he stepped on the field in '01, in my mind, and the way he just took over," Kraft said. "He treats everyone in that locker room the same way he treats me or the coaches.
"And the thing that I've found most interesting is if you talk to role players or backups how he talks to them and motivates them. He treats them like they're going to the Pro Bowl, with that kind of respect."
Guidelines: Please keep your comments smart and civil. Don't attack other readers personally, and keep your language decent. Comments that violate these standards, or our privacy statement or visitor's agreement, are subject to being removed and commenters are subject to being banned. To post comments, you must be a registered user on toledoblade.com. To find out more, please visit the FAQ.