Liriano regains form, helps Twins smother Tribe
8/4/2008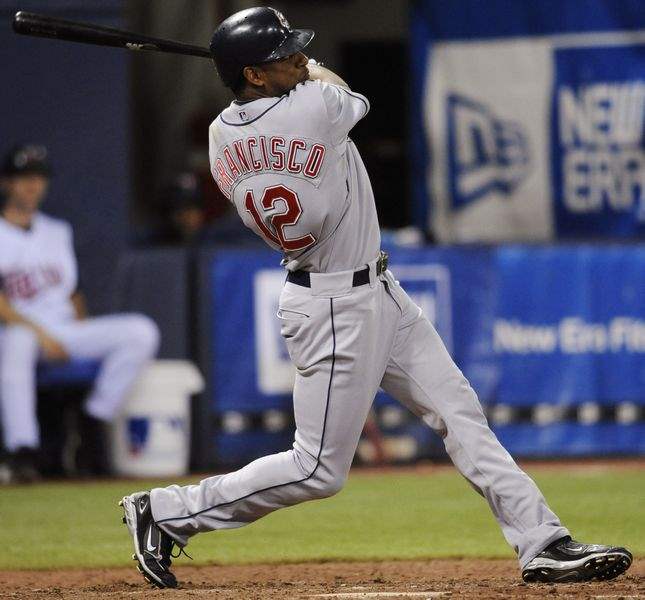 Indians outfielder Ben Francisco belts a solo home run against Twins pitcher Matt Guerrier in the eighth inning yesterday.
HANNAH FOSLIEN / AP
Indians outfielder Ben Francisco belts a solo home run against Twins pitcher Matt Guerrier in the eighth inning yesterday.
MINNEAPOLIS - The Minnesota Twins hope Francisco Liriano's return to the starting rotation will bolster their postseason push.
So far, so good: After Liriano's first major league action since April, the Twins have reclaimed first place in the AL Central.
Liriano, who missed all of last season after Tommy John surgery and struggled in three starts earlier this year, threw six scoreless innings yesterday, helping the Twins to a 6-2 victory over the Cleveland Indians.
Denard Span and Brendan Harris homered for Minnesota, which moved a half-game ahead of the White Sox. Chicago lost 14-3 at Kansas City.
"Been a long time," Liriano said, when reminded that his last major league victory was also against the Indians, on July 23, 2006.
Indeed, it's been a long road back for the hard-throwing lefty from the Dominican Republic. Two seasons ago, he went 12-3 with a 2.16 ERA and 144 strikeouts before arm problems cut short his rookie year. After taking off last season, he went 0-3 with an 11.32 ERA in three starts before being sent down in April.
But Liriano dominated at Triple-A Rochester, going 10-0 with a 2.67 ERA in his last 11 starts, and was openly frustrated as the Twins waited until Friday to call him up.
Mike Redmond caught Liriano's previous major league start, when he gave up six runs in less than an inning at Oakland on April 24.
"Amazing transformation," Redmond said. "He's improved so much. His arm strength, you know it's not what it was before he first got hurt. But it was pretty close."
Cheered loudly by the announced crowd of 39,818 during starting lineup introductions, Liriano allowed three hits, walked three and struck out five against the Indians. He drew a standing ovation after striking out Ben Francisco to end the first.
"That settled me down a little bit," he said. "I was really nervous."
After breezing through two innings on 19 pitches, Liriano was tested in the third, facing a bases-loaded situation after two walks and a throwing error by shortstop Harris. Liriano threw 34 pitches in the inning but got Francisco swinging again to end the threat.
"We made him work a little bit there in the middle innings, but we didn't take advantage of it. That was really the difference for us," Indians manager Eric Wedge said.
Liriano threw 96 pitches. Jesse Crain relieved him in the seventh after the Twins pulled ahead 3-0. With his first win in more than two years out of the way, he can concentrate on settling back into his old role.
"That's a good start to having him back in the rotation," manager Ron Gardenhire said.
Span went 2-for-4, and Nick Punto and Mike Lamb each had run-scoring triples for Minnesota.
Matt Ginter (1-3), making his fourth start of the season, allowed five runs and five hits in six innings for the Indians.
"In the fifth inning and sixth inning, I got the ball up a little bit," Ginter said. "They made me pay. They put some good swings on the ball."
Cleveland cut the lead to 5-1 in the seventh when Jason Kubel misplayed Grady Sizemore's long flyball in left field, allowing Franklin Gutierrez to score from first.
Francisco hit his 11th homer in the eighth but Span went deep for his second of the season in the bottom half.
NOTES: Cleveland has lost six of its last seven games in Minnesota and lost its third straight series at Metrodome. ... Jhonny Peralta has hit safely in 21 of his last 23 games. ... Gardenhire said OF Michael Cuddyer would report for his rehab assignment at Triple-A Rochester today. Gardenhire said he thinks Cuddyer, out since June 30 with a strained tendon in his left index finger, will need about four or five games in Rochester before he's ready to return. ... Cleveland has homered in 25 of its last 29 games. ... Span hit his homer off former teammate Juan Rincon, who made his first career appearance in Minnesota as a visiting player.