40.43834
-79.99746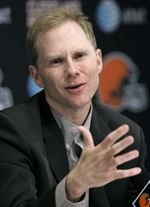 Savage
Tony Dejak / AP Enlarge
PITTSBURGH - Cleveland Browns general manager Phil Savage was fired yesterday, a source close to the team confirmed after a 4-12 season concluded with a 31-0 loss to the Pittsburgh Steelers.
Several incidents involving Savage in the past four months cast the Browns in an embarrassing light, including his e-mail to a disgruntled fan that included an abbreviated expletive after a Nov. 17 victory in Buffalo and his handling of tight end Kellen Winslow's staph infection in October.
Browns owner Randy Lerner is expected to address the situation today, when Lerner plans to meet with coach Romeo Crennel in Berea, according to the source.
The Browns are 24-40 in four seasons under Crennel and Savage, including 0-8 against the Steelers. The Browns concluded the season with six consecutive losses.
Savage signed a three-year contract extension May 2 that runs through 2012. Although the issue of salary owed Savage could get contentious, that has never been Lerner's style, even when Winslow suffered severe knee damage in a 2005 motorcycle accident.
Crennel received a two-year extension Jan. 29 that runs through 2011.
It might not have gone over well with Lerner when Savage addressed the team Nov. 26 and undercut Crennel, telling players essentially what he'd said on the radio that morning. During his weekly show on Cleveland's WTAM, he said, "My responsibility is the 53-man roster, and then it's Romeo and the rest of the coaching staff's decision how to utilize the 45 players who are dressed on Sunday. If I'm going to get involved in those decisions, then I may as well put a headset on and double my salary."
That day, Savage pointed out some of his high draft choices and asked them if they were good players. The Browns were 4-7 at the time.
Speaking before this season, Savage considered the high point of his tenure to be the 2007 NFL Draft, when he selected offensive tackle Joe Thomas with the third overall pick and orchestrated a trade with the Dallas Cowboys to get quarterback Brady Quinn at No. 22.
Thomas was voted to his second consecutive Pro Bowl this year, while Quinn has started only three games, sitting behind Derek Anderson for 1 1/2 seasons.
Savage also drafted Pro Bowl receiver Braylon Edwards third in 2005 and made a splash with undrafted rookie Joshua Cribbs, who turned into a Pro Bowl special teamer. Savage brought in valuable free agents such as running back Jamal Lewis and left guard Eric Steinbach and traded for Pro Bowl nose tackle Shaun Rogers this year.
But the Browns did not make the playoffs in Savage's four seasons, going 10-6 and falling a game short in 2007.
Savage, 43, was nearly fired in his first year as general manager, caught in a power struggle with President John Collins. But a groundswell of support from fans saved him.
Looking drawn and disappointed, Savage spent part of the game in the press box conferring with a friend. He did not ride home with the team.
Guidelines: Please keep your comments smart and civil. Don't attack other readers personally, and keep your language decent. Comments that violate these standards, or our privacy statement or visitor's agreement, are subject to being removed and commenters are subject to being banned. To post comments, you must be a registered user on toledoblade.com. To find out more, please visit the FAQ.