'‍Emotional' Keselowski fond of MIS
Mich. native still seeks 1st win on home track
6/11/2014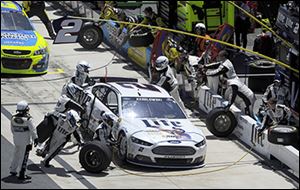 Brad Keselowski, a Michigan native, will aim for his first win at MIS on Sunday afternoon.
Brad Keselowski has thought about the day when he would win a Sprint Cup race at Michigan International Speedway.
It's a day that has yet to come. While Keselowski has won two Nationwide races on the two-mile oval at Brooklyn, Mich., the closest he's come to a Sprint Cup win on his home track is when he finished second in the Pure Michigan 400 in 2012.
"It doesn't really hit you until you've done it," Keselowski said. "I look at that race, flying in there and driving through the area and all the memories that pop up, and there's deep, deep emotional ties to running there. When you run well somewhere that you've had such emotional ties to, it just kind of really hits home in your stomach."
But, he added, "It's hard to explain those feelings without achieving them."
The Rochester Hills, Mich., native is part of the field for Sunday's Quicken Loans 400 and sits fifth in the Sprint Cup driver points standings. As Keselowski aims for his first win at MIS, his energies may also be a bit divided this weekend.
Keselowski has affixed his name to his own Camping World Truck Series team, which has Ryan Blaney and Tyler Reddick entered in Saturday's Drivin' for Linemen 200 in Madison, Ill.
Managing the logistics of a trucks team means putting trust in others to oversee day-to-day operations of the team, but also maintaining a certain reach over that team, whether it means Keselowski remains in constant communication with general manager Jeremy Thompson or occasionally asks his sister to provide updates on the comings and goings of the team and its personnel.
"You try to hire the best people you can, who can do their job," Keselowski said. "I'm very adamant with the truck teams that I want to be there to manage it when I can. When I can't, and that's more often than not, the team has got to be self-sustainable. It can't be a distraction. Because of that, I rely on great people."
The successes of Keselowski's race team also serves as a developmental platform.
"The first thing that comes to mind is winning races, winning championships," Keselowski said. "But it's a much bigger picture than that.
"One of the most rewarding things out there is to see someone who's 22 or 23 years old getting a start with my truck team and to do a good job on it. The next thing you know, they're changing the right front tire on my Cup car a couple weeks later. That's very rewarding for me, personally, and makes it all kind of make sense."
Sunday in Long Pond, Pa., Keselowski came a few laps within winning his second race of the season. A win would have helped his chances at securing a spot in the Chase for the Championship, but a piece of debris got caught in the grille of his car, which resulted in his engine overheating.
Keselowski dropped back in an attempt to clear the debris, and Dale Earnhardt, Jr., took over the lead with five laps left to win the Pocono 400.
"He had it won," Earnhardt said. "We weren't going to get to him. He was in good shape, and that had to have been a very challenging decision to make. That temperature must have been really high. The debris didn't come off the grille, and he made it to the end, and that can be hard on him and he can beat himself up.
"He's young enough, good enough, he's going to have plenty of opportunities to get his wins and enjoy more success in this sport. He'll get over this one over time, but yeah, it's got to be pretty difficult."
Now Keselowski returns to MIS, in pursuit of a spot in the Chase.
"We're two small steps away from, in my eyes, being a favorite," said Keselowski, who has six top-five finishes in 2014. "We need to be a little bit more consistent on pit road. We made some pretty significant changes to start the season with our lineup.
"We made another change about two weeks back, and that's all because we don't feel like we're where we need to be. We're not consistent enough and performing at the level we need to, and we're committed to getting that better."
MONTOYA AT MIS: Juan Pablo Montoya will drive the No. 12 Ford for Penske Racing this weekend at MIS. The Quicken Loans 400 is one of two Sprint Cup races Montoya will drive in this season; he's also scheduled to drive for Penske July 27 at Indianapolis Motor Speedway.
The former Formula One driver and Indianapolis 500 champion competed on the Sprint Cup circuit for eight seasons before returning to IndyCar this year. Montoya is seventh in the IndyCar driver points standings.
Contact Rachel Lenzi at: rlenzi@theblade.com, 419-724-6510, or on Twitter @RLenziBlade.