Home
→
Sports
→
Pro
Record-breaking wins at Glass City Marathon
Samantha Bluske had not competed in a marathon before today. An assistant cross country coach at the University of Toledo, she officially finished her first at the Glass City Marathon. She won the women's marathon by 21 seconds and set the course record by more than four minutes. Peter Chebet, of Kenya, won the overall marathon with a time of 2:21.05.
---
Tigers topple Indians 8-6
Miguel Cabrera homers, Lobstein gets win.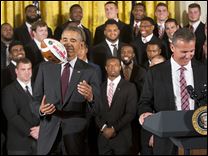 Buckeyes starstruck at White House
National champs reflect on memorable trip to Washington.
---
More Pro→
Loading Videos....
Dave Hackenberg
Cabrera strolls, Detroit rolls
Miggy will gladly take his walks.
Matt Markey
Erie's catch heavy with huge walleyes
PORT CLINTON — When someone comes through the door hefting a trophy class walleye, expect there to be gasps, shrieks of…
Matt Markey
UT sailors ready to take on the world
Seven members of the University of Toledo Sailing Club will board a plane in Windsor on Sunday and travel to France to take…