Toledo Crush to prove LFL is '‍real' sport
Toledo's women's team will open its season on Saturday
6/20/2014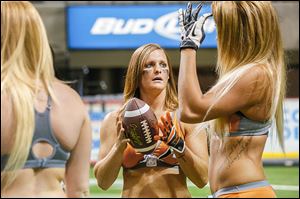 Crush quarterback Arika Hoffman, center, will lead Toledo in their season opener against the Baltimore Charm at the Huntington Center on Saturday.
The Legends Football League is not the National Football League.
But it's also not a women's football-league version of scripted professional wrestling.
Toledo Crush starting running back and LFL veteran Tamar Fennell said the Crush's debut at the Huntington Center on Saturday (8 p.m.) against the Baltimore Charm will showcase the LFL's brand of real football.
"This is real, absolutely," said Fennell, a 5-foot-3, 130-pound Cincinnati native who has played in the LFL for three seasons. "Like with anything — like with the NFL — there is entertainment and we're passionate about the big plays that we make, and we might want to show off a little bit. But it's all real. This is the real deal, so you see people getting injured, noses broken, ACLs torn because we're all working hard and are trying to beat the player in front of us."
Yet, the LFL, which began as the Lingerie Football League, gained notoriety primarily because of the uniforms. The players wear bikinis, shoulder pads and a hockey-style helmet.
Fennell said she hopes that anyone who comes to the Crush's first game looks beyond the bikinis and takes a close look at the play on the field.
"A lot of our girls have played volleyball and run track in college, and we're used to wearing uniforms that are very similar to what we're wearing now," said Fennell, who ran track at Ohio University. "If we're tackling and playing properly, then we're using our shoulder pads alone anyhow."
Fennell, who along with twins Alisha Linstrom and Amanda Linstrom are the only members of the Crush with at least one year experience in the LFL, dispels the idea the league is looking to appeal only to a particular crowd, primarily men.
"I would say it's for sports lovers," she said. "Anyone who is a fan of contact or competition is going to love this.
"When we're watching the Olympics, I don't think we're caught up on how small the beach volleyball uniforms are. We're not caught up on the track uniforms. We're there to see who is going to win. The same thing applies here.
"There will be some people who will come to see the novelty of the performance-wear that we wear, but once they see those first couple of plays and realize that we're out here playing, the perception changes."
The Crush's roster is made up of players mostly from Ohio, including 5-foot-3, 132-pound starting quarterback Arika Hoffman of Liberty Center. The 23-year-old, who played basketball, softball and ran cross country in high school at Liberty Center, is hoping for a good turnout for the game and expects plenty of family members and friends to be in attendance.
"I played when I was younger and I went to the [Crush] tryout and became the quarterback," Hoffman said. "Football is big in our family, and it just felt right."
The Linstroms, both about 5-10 and 155 pounds, are Livonia natives who played last season for the Chicago Bliss, which won the LFL championship. They played basketball and volleyball in high school, but grew up following football.
Alisha Linstrom said anyone who comes out to see the Crush should expect to see exciting football.
"It's going to be a hard-hitting game, and it's definitely going to be fast-paced like any other football," Alisha Linstrom said.
The Crush, which formerly played its home games in Cleveland, is one of 10 teams in the league. Atlanta, Baltimore, Chicago, Green Bay, Jacksonville, Las Vegas, Los Angeles, Omaha and Seattle also have teams. The season consists of four regular season games (two home, two away).
Crush first-year coach Ben Kelly is a Cleveland native who played a few seasons in the NFL for New England and Miami. He said his team has been practicing since winter and are tired of hitting each other in practice and are ready to take on an opponent. He's certain the Crush's game against Baltimore will convince plenty of naysayers that the LFL is not simply a performance without substance.
"For someone who hasn't seen it before, it looks more like a show than a game, until you start seeing them snatch each other down or smash three girls into a wall or over the wall," Kelly said.
Ticket prices range from $12-$77 and can be purchased at the Huntington Center box office from 10:00 a.m. to 5:30 p.m. today, or call the Huntington Center box office at 419-321-5007. Tickets are also available through Ticketmaster at 1-800-745-3000 or Ticketmaster.com.
Contact Donald Emmons at: demmons@theblade.com, 419-724-6302 or on Twitter @DemmonsBlade.