Walleye forward Erik Bradford's journey from Toledo and back again in less than a year included the lowest of the lows and highest of the highs.
Bradford started his second pro season of hockey in Toledo in 2016-17, sparking an ensuing odyssey that challenged the young player's confidence.

VIDEO: Highlights of Bradford's recent play
When coach Dan Watson signed Bradford before last season, expectations for the offensively skilled forward were high. But a lack of ice time on a team filled with offensively gifted players led Watson to trade Bradford to Utah in November, 2016.
"That was the lowest point in my hockey career," Bradford said. "I really enjoyed it here, and wanted to be part of this culture of winning. I knew they would be successful here. But I wasn't getting ice time. I applaud Watty for being upfront and honest with me. I was not blindsided when I was ultimately traded.
"I went home for a couple of days and thought about my future. I had to look in the mirror. It gave me extra motivation. I'm so thankful it all worked out."
While with Utah, Bradford flourished with 61 points (16 goals, 45 assists) in 57 contests. His efforts netted him a spot in the ECHL all-star game last season, where he played under Watson.
"I was able to get my confidence back in Utah," Bradford said. "The coaches and my teammates there … helped me to achieve my goals. It allowed me to ultimately come back here. I think Watty realized I was that good player. I'm so thankful he was willing to give me a second chance here."
On Nov. 19, Watson reacquired Bradford in a trade with Rapid City in exchange for forward Darian Dziurzynski.
Bradford, a 23-year-old from Orangeville, Ont., has made the move pay dividends for both sides. He has tallied 20 points with eight goals and 12 assists in 22 games for Toledo and 26 points in 27 games overall, most among Walleye players this season.
"I signed Erik last season because of work ethic, the amount he cares about his career, and where it is headed," Watson said. "He's a guy that lives and breathes hockey. Those are all of the things I want my players to have. He's willing to do whatever it takes when games are on the line."
Bradford, who played in just five games for Toledo last season, led all Walleye players with 12 points (seven goals, five assists) in 13 games in December. He had multiple points in three games during the month.
"I'm still hungry. I'm excited to find another gear," Bradford said.
When captain Alden Hirschfeld went down with a regular-season-ending injury, Watson's first call for a replacement was to Bradford.
"He has tremendous skill to go along with his work ethic, so when Hirschfeld went down with his injury, I knew Erik could come in and contribute right away," Watson said.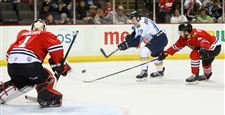 Toledo center Erik Bradford (19) challenges Indy Fuel goalie Etienne Marcoux during a game Dec. 27. Bradford has 20 points in 22 games with the Walleye.
BLADE/JEREMY WADSWORTH Enlarge
The 6-foot, 185-pound center led Utah in scoring last season. He then signed with Norfolk during the summer and had six points, including five assists, in seven games. Then on Nov. 2, Rapid City acquired Bradford in a trade with Norfolk. However, Bradford never suited up for the Rush and ended up back in Toledo.
"I've been cut and traded and knocked down as low as I can. But I'm a kid who has survived on my belief in my abilities," Bradford said. "I'm just trying to prove myself. Last year was tough, but I've made it through to the other side. All of the sudden I'm back here, and I can do what I thought I could do last year. I couldn't be more excited. I'm so grateful. I hope I can bring a good ending to this odyssey."
Bradford said Toledo (21-10-3), which leads the Central Division, has earned a reputation as one of the most highly-regarded franchises in the league. The Walleye continue a five-game homestand with three games this weekend at the Huntington Center.
"The biggest thing here is the winning culture," Bradford said. "It's a team-first group of guys. We have an amazing amount of skill and talent. Ten forwards have played AHL games. Last year, what stood out to me was that the top guys don't care who get the points. They just love playing here. They just want to win. Watty and [assistant coach Andy Delmore] are two of the best coaches I've ever had. They connect with you and they make you want to go through a wall for them."
Bradford has had dozens of coaches since he got serious about making a career of the sport at age 14.
"I grew up in a hockey family," he said.
Three of his cousins have played in the NHL. Bradford said he grew up watching the McGinn brothers, who are on his mom's side of the family. Jamie McGinn plays for the Florida Panthers, Tye McGinn has played for four NHL teams, and youngest brother Brock plays for the Carolina Hurricanes.
"I lived vicariously through them," Bradford said. "Watching them play in [Ontario Hockey League] games expanded my love for the game. I'm crazy for the game. I love looking at stats and reading about it. It's all I think about."
Bradford played four full seasons in the OHL, the top junior league in North America.
"I moved away from home at 14," he said. "I've been away from home for a while now. I'm pretty accustomed to it."
He turned pro in 2015-16 and played for Orlando of the ECHL, scoring 10 goals with 22 assists in 65 contests.
Bradford said he thinks he was trying to impress too much in his first stint in Toledo, which caused him to force things. He said he now is more relaxed and intends to be a reliable, complete player. Bradford said he considers himself a skilled player, who is willing to do anything to win.
"I still have aspirations to get to the American League and move forward from there," Bradford said. "But I hope to bring a championship here. The support we have from the city of Toledo gives us that extra boost. We're excited to go to the rink. The Walleye have set the standard of being a top team in the league with a good chance to win a championship."
Contact Mark Monroe at: mmonroe@theblade.com, 419-724-6354, or on Twitter @MonroeBlade.
Guidelines: Please keep your comments smart and civil. Don't attack other readers personally, and keep your language decent. Comments that violate these standards, or our privacy statement or visitor's agreement, are subject to being removed and commenters are subject to being banned. To post comments, you must be a registered user on toledoblade.com. To find out more, please visit the FAQ.