Steady rain, swirling winds, and frigid temperatures conspired to postpone the Toledo Mud Hens' scheduled game Sunday with Pawtucket at Fifth Third Field.
But even though Toledo is off to a 6-3 start to the season, manager Doug Mientkiewicz did not mind not playing.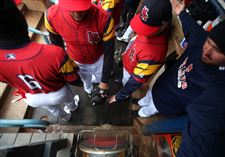 Mud Hens players huddle around a heater in the dugout during Saturday's game at Fifth Third Field. Toledo's contest with Pawtucket on Sunday was postponed by rain and cold weather.
Blade/Kurt Steiss Enlarge
"Our bullpen needed a day off, that's for sure," he said, noting Toledo's relievers had covered 17⅔ innings in the past three games in part because of a "bullpen" game in the home opener.
Because the game marked the final time Pawtucket was scheduled to play in Toledo this season, the game was called by the International League and the umpires scheduled to work the contest. Typically postponing a game is in the hands of the home team until the game begins, at which point the umpires take control.
IL rules indicate the contest will be played on the first date the two teams meet, which means there will be a doubleheader in Pawtucket at 4:35 p.m. April 23.
Although there was no game, that did not mean there was no work being done by the players.
"Hitters can hit in the cage, and pitchers got their throwing in," Mientkiewicz said. "In this game you have to adjust on the fly, and this was a day where we needed to do that."
Pawtucket manager Kevin Boles said he also was not concerned about his team staying sharp despite not playing.
"With the facilities they have here, we may do some pitching outside to get a throwing program in, but otherwise we can get our work in," he said. "Whether it's hitting in the cage, doing video work, or going over scouting reports, you can accomplish a lot — even on a day like this."
The one thing that cannot be accomplished is fielding work, but neither manager was concerned.
"You can do some 'short' drills in the cage, but it's primarily an offensive day," Boles said. "And you can make adjustments in your schedule down the road.
"If you've had several offensive days of work, you can change the schedule to get in some defensive work when the opportunity presents itself."
Mientkiewicz added not being able to take the field for back-to-back days is not a cause for worry.
"Those guys take so many ground balls, missing one day won't kill them," he said. "Even with good weather there are days when we just hit in the cage to get players off their feet. …
"And guys have been going at it since Valentine's Day. They know what they have to do, and they will be prepared."
Boles added managers who are not prepared to deal with inclement weather in April are making a major mistake.
"This happens every year — that's just how it is," he said. "You have to make the adjustment to get your work in.
"This happens all the time, so there's no sense in getting frustrated by it."
NOTES: The rainout meant the Mud Hens adjusted their rotation for their upcoming series with Durham. Right-hander Warwick Saupold will start Monday against the Bulls, followed by left-handers Ryan Carpenter on Tuesday and Blaine Hardy on Wednesday. … Earlier Sunday, the Mud Hens added left-hander Josh Turley to the roster from Double-A Erie. Toledo sent right-hander Phillippe Aumont to the SeaWolves to open a roster spot for Turley.
Contact John Wagner at: jwagner@theblade.com, 419-724-6481, or on Twitter @jwagnerblade.
Guidelines: Please keep your comments smart and civil. Don't attack other readers personally, and keep your language decent. Comments that violate these standards, or our privacy statement or visitor's agreement, are subject to being removed and commenters are subject to being banned. To post comments, you must be a registered user on toledoblade.com. To find out more, please visit the FAQ.