MOOSIC, Pa. — The Toledo Mud Hens scored six runs in the second inning and held on to claim a 6-5 victory Saturday at Scranton/Wilkes-Barre.
Toledo claimed its sixth consecutive victory and improved to 11-3 on the season, giving them the best record in the International League and the franchise's best start since joining the IL in 1965.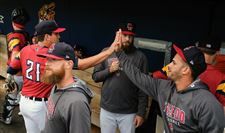 Mud Hens pitcher A.J. Ladwig, left, high fives teammates during a start late last season. Ladwig improved to 3-0 this season with a win at Scranton/Wilkes-Barre Saturday.
Blade/Jeremy Wadsworth Enlarge
The Hens sent 10 batters to the plate in the second against RailRiders starter Brody Koerner. Christin Stewart got the rally started with a leadoff walk, and singles by Edwin Espinal and Ronny Rodriguez loaded the bases.
Jason Krizan singled in the first run, and Jarrod Saltalamacchia drew a walk to force home the second. Back-to-back singles by Pete Kozma and Mikie Mahtook scored two more runs, and RBI groundouts by Mike Gerber and Dawel Lugo finished the scoring.
RELATED CONTENT: Christin Stewart is adjusting to his first season in Triple-A ■ Toledo Zoo has acquired real Mud Hen

Koerner got the third out on a groundout, and retired the final 14 Toledo batters he faced before leaving the game in the sixth.
Mud Hens starter A.J. Ladwig kept Scranton/Wilkes-Barre off the scoreboard until the fifth, when the RailRiders scored three times to cut the lead in half. Zack Zehner and L.J. Mazzilli singled to put two on with one out, and Shane Robinson doubled home Zehner.
Then an out later, Kyle Higashioka singled to right that scored Mazzilli and Robinson.
The game remained 6-3 until a hairy ninth, when Toledo reliever Johnny Barbato allowed a single to Robinson before Ryan McBroom reached first base when catcher's interference was called on Saltalamacchia. A wild pitch moved the runners up a base before Barbato walked Higashioka to load the bases with no one out.
A sacrifice fly by Mike Ford scored Robinson, and Abiatal Avelino's groundout scored McBroom while forcing Higashioka at second base.
Avelino stole second base to put the potential tying run in scoring position with two outs, but Barbato struck out Billy Fleming to notch his first save of the season.
The Mud Hens will look to complete a three-game sweep at 2:05 p.m. Sunday.
Guidelines: Please keep your comments smart and civil. Don't attack other readers personally, and keep your language decent. Comments that violate these standards, or our privacy statement or visitor's agreement, are subject to being removed and commenters are subject to being banned. To post comments, you must be a registered user on toledoblade.com. To find out more, please visit the FAQ.