Expect an offseason of change for the Toledo Walleye.
It looks to be end of an era for the franchise that likely will bid farewell to several mainstays. The future for the group of veterans that helped turned the franchise around and one day will be in the organization's hall of fame currently is up in the air.
"My initial thoughts from talking to the guys is that we will not have a lot of guys returning," head coach Dan Watson said. "It will be the biggest turnover we've had since 2014-15, when we only kept two players from that 2013-14 team. Some of the older guys will not dress in a Walleye uniform again."
Toledo's A.J. Jenks avoids pressure from Fort Wayne's Jason Binkley during Game 2 of the teams' recently completed playoff series. Jenks has spent four years with the Walleye and is considered an ECHL veteran.
Blade/Katie Rausch Enlarge
Change is inevitable in the ECHL, a Double-A league where roster turnover is common. The league also has a rule that allows teams to keep just four veterans — players who have played in more than 260 professional games — on the roster.
So such names as Shane Berschbach, A.J. Jenks, Alden Hirschfeld, and Kyle Bonis that will be inextricably linked to the establishment of a winning culture at the Huntington Center may soon be gone. Some may retire, others will opt to make more money playing in Europe.
"It's too fresh. We met [for exit meetings] 12 hours after we lost," Watson said. "So that's still weighing on guys' minds. It's too early to tell which guys will go other places because of the seasons they had here. That's just natural. There will be guys that will want to get into the working world because of their degrees."
The 2017-18 team once again fell short of the lofty expectations those veterans helped create.
"The biggest thing is that our expectations and standards here in Toledo — from the organization and its fans — is that if you don't win a championship, you've failed," Watson said. "We have had great regular seasons. We've been to the conference finals twice in the last four years. But we are missing one thing, and it's the one thing we will continue to chase year after year."
The franchise that started play in 2009-10 did not make the playoffs in three of its first five seasons. Toledo has experienced unprecedented success since then. The Walleye have made the playoff four consecutive seasons and have won the Brabham Cup, awarded to the team with the most points in the regular season, twice.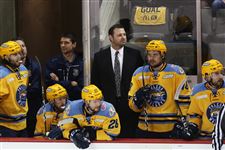 Toledo Walleye head coach Dan Watson, top center, said one of his "sole purposes is to bring a championship to Toledo."
Blade/Katie Rausch Enlarge
Jenks, who played the past four seasons for the Walleye, said he's proud to be part of the turnaround, which this year included finishing with the best record in the Central Division and Western Conference.
"Guys have been around here for a long time and we've had a lot of good teams and good groups and opportunities to make good things happen," Jenks said. "But it's been a great ride while it's lasted."
The Walleye reached the conference finals in the Kelly Cup playoffs in 2015 and again last season. Still Watson retooled his team, making it bigger and more physical to withstand the grind of the playoffs.
The Walleye appeared on their way to another deep playoff run, sweeping Indy in the first round and taking a 2-1 lead in the Central Division final series against rival Fort Wayne. But the Komets willed their way to three straight wins to eliminate Toledo.
"I feel bad, obviously," Watson said. "You want to go as far as you can in the playoffs. I still think we had a championship-caliber team. But everything has to work for you. In today's hockey, if you are a lower seed you have an opportunity to win.
"I know we finished in first place and all that good stuff. But at the end of the day, we just weren't good enough. I thought Fort Wayne was the better team. And the bottom line is that's what happened."
Toledo now has a large group of players considered to be veterans by the ECHL rules although none is older than 30. Forwards Berschbach, Hirschfeld, Jenks, Bonis, and Mike Embach and defenseman Beau Schmitz all now qualify.
Goaltenders are exempt from the ruling, but veteran goalie Pat Nagle is an unrestricted free agent.
The Walleye also will be impacted by moves made by the Detroit Red Wings, their NHL affiliate.
There will be re-tooling within the entire Red Wings organization. The team's American Hockey League affiliate in Grand Rapids also fell short of a deep playoff run and is expected to get younger, letting veterans move to new teams.
Two players from the current Toledo team — forward Dylan Sadowy and defenseman Trevor Hamilton — are under contract with Grand Rapids for next season and could be back in Toledo. Forward Zach Nastasiuk, who spent parts of the past three seasons with the Walleye, is a restricted free agent and the Red Wings could opt to retain him.
Nagle, forward Mike Borkowski, and defensemen Kevin Tansey and Patrick McCarron are now unrestricted free agents. They could re-sign with Red Wings and wind up back in Toledo, but they also are free to move to other organizations.
Watson said he has doubled down his resolve to capture the elusive championship. Toledo has not celebrated a playoff title since the Storm won the ECHL crown in 1994.
"To win a championship is extremely hard," he said. "Only one team in this league is going to say they had a successful season. One team. I wish it was us. But it's not, so it's disappointing. It's frustrating. We own it. We understand we weren't good enough to do it."
Watson, who has been with the organization since its inception and is known for the countless hours of video work he puts in, embraces the challenge.
"It's my career. It's not just a job. It's something I love doing," he said. "I've been involved in hockey since I was 5 years old. It is my life outside my family. Family is No. 1, 100 percent. And then there is hockey. It is a massive part of who I am. So it is hard. You want to win. That's the bottom line."
Watson, who was named the ECHL's coach of the year in his first season, said he is seeking the right talent that will provide the perfect combo of skill, speed, and finesse along with size and physicality.
"We're looking for the best players," said Watson, who was on the recruiting trail the day after the team was eliminated. "I've already made a dozen phone calls to players for next year that currently aren't on the roster. The recruiting trail has already started. You can't fall behind in that."
Watson said he takes great pride in the growth of Walleye hockey in the community and the fan support of the team.
"Every year we become hungrier and hungrier," Watson said. "The biggest thing for me is that I've been here now for nine years. I've seen the transition from a new team into a failing on-ice product to now everyone only talks championships. So one of my sole purposes is to bring a championship to Toledo. That's what I work for. It's not about winning divisions and conferences in the regular season. I want to win the championship. And I won't stop until we finally win one."
Contact Mark Monroe at: mmonroe@theblade.com, 419-724-6354, or on Twitter @MonroeBlade.
Guidelines: Please keep your comments smart and civil. Don't attack other readers personally, and keep your language decent. Comments that violate these standards, or our privacy statement or visitor's agreement, are subject to being removed and commenters are subject to being banned. To post comments, you must be a registered user on toledoblade.com. To find out more, please visit the FAQ.