Roethlisberger holds celebrity charity softball game in Findlay
6/10/2018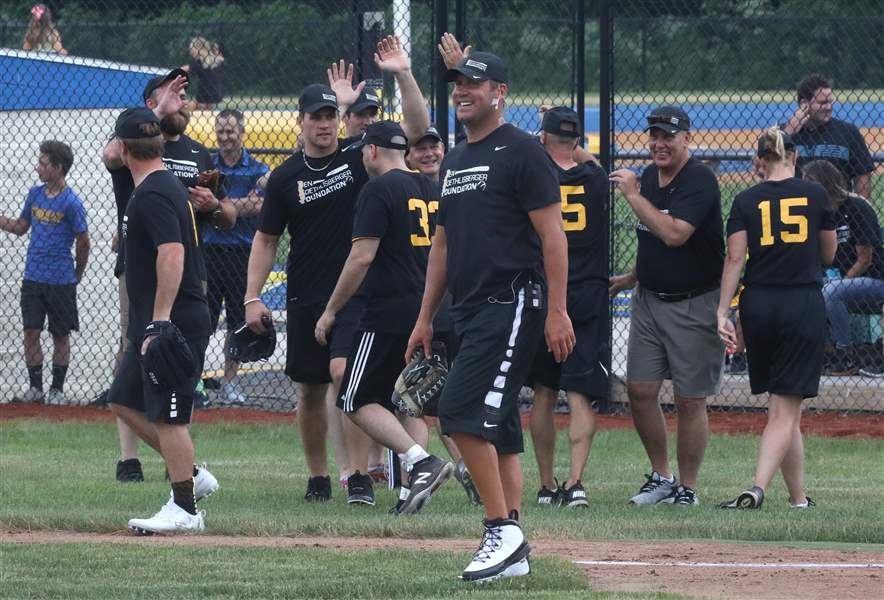 Ben Roethlisberger reacts to a home run by his teammate during a charity softball game at Findlay High School.
The Blade/Amy E. Voigt
Buy This Image
T.J. Watt of the Pittsburgh Steelers gets ready to hit the ball during a charity softball game at the Findlay High School.
FINDLAY — A few times during his celebrity charity softball game, Pittsburgh Steelers quarterback Ben Roethlisberger went to the outfield fence to speak with fans.
Roethlisberger, who was playing in the outfield and wore a live microphone during the game, talked with a boy one of those times and asked him if he was having fun.
It's hard to imagine anyone at Findlay's high school baseball field wasn't.
Roethlisberger held his first charity softball game Sunday, and about 2,000 tickets at $10 were sold. Proceeds from the game benefited the Ben Roethlisberger Foundation and Findlay High School athletics.
VIDEO: Ben Roethlisberger Foundation fund-raiser in Findlay
The foundation strives to support police and fire K-9 units across the country, and it donated $173,440 overall to K-9 units during the 2017 season. As Roethlisberger gave back to his hometown of Findlay, he was glad to see the community come out to watch.
"The support is awesome," Roethlisberger said before the game started. "You know it feels really good to have the support. My family's all here, we all drove over."
In November, 2006, a Belgian Malinois police dog was shot and killed in Findlay. Roethlisberger and his father bought a dog for the police department. Since, Roethlisberger's foundation has grown.
During the NFL season in 2017, the foundation gave more than $48,000 to K-9 units in Ohio and more than $66,000 to units in Pennsylvania.
Roethlisberger also bought a dog named Kevin for the Hancock County Sheriff's Office. Sergeant Tom Miller, who worked with Kevin, said Kevin recently died. Miller is appreciative of Roethlisberger buying the dog, and he's also appreciative of what Roethlisberger has done for the community.
"It's been a great sight here," Miller said of the softball game. "One, the public [support] in Findlay is tremendous for the K-9 program. So to see them come out, I kind of expect it because they're so great with the K-9s and local law enforcement."
The two teams were the Steelers and the Trojans, the nickname for the athletics teams in Findlay City Schools.
Roethlisberger brought current and former Steelers players, including JuJu Smith-Schuster, Brett Keisel, Al Villaneuva, and T.J. Watt among others to play.
Fans wave and take pictures as Ben Roethlisberger takes the field.
The Trojans were made up mostly of Findlay community officials and figures, including Findlay Fire Chief Josh Eberle, who coached the team. Also, Findlay High School head football coach Mark Ritzler played on the Trojans.
Watt showed some power as he hit home runs throughout the game. And as Smith-Schuster missed a catch in the outfield once, Roethlisberger said, "Hey JuJu, it's OK. Because I know you can catch a football."
The day was light-hearted, and it was a good time for fans and the community's residents to come out.
Joseph Brown of Toledo came with his nephew and great nephew; Brown's nephew and great nephew are from Detroit.
"I didn't know that this was the first one," Brown said after the game. "I'll be back next year, hopefully with some better seats, but we had fun. And it was for a good cause."
Contact Cameron Fields at cfields@theblade.com, 330-689-9373, or on Twitter @CameronFields_