Any Mud Hens player who arrived at the ballpark before 4 p.m. Saturday met an obstacle.
The clubhouse doors at Fifth Third Field were locked.
"I felt guys were tired a little bit, and I wanted to let them go out and be humans," Toledo manager Doug Mientkiewicz said to explain the unusual move. "I wanted them to go do something besides baseball for a day. ...
"I felt guys needed to be refreshed."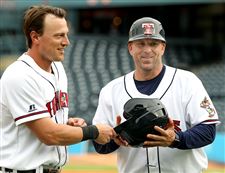 Jim Adduci hands his batting helmet to Mud Hens manager Doug Mientkiewicz during a game earlier this season. Mientkiewicz closed the Toledo clubhouse before the team's game against Louisville Saturday.
BLADE/JEREMY WADSWORTH Enlarge
The Hens have lost four in a row, their longest losing streak this season, as well as seven of their last nine games.
"I didn't even know we had lost seven of nine," Mientkiewicz said when asked for the reasoning behind the move. "The season is so long, you don't think of things that way.
"The stress level, from a coaching standpoint, doesn't change if you've won 10 in a row or lost 10 in a row. It just so happened that we went through a bad streak and Indy got hot.
"Being the hunter is different than doing the hunting. We had a no-so-great 10 days, and we're still where we want to be."
The Mud Hens did not take batting practice Saturday, an unusual move for a Saturday during a homestand.
"We usually do the cage work on Sunday, but we'll do it a day early," Mientkiewicz said.
Toledo's first-year manager said he does not know what effect the atypical move will have on the team.
"Just because we did that doesn't mean we'll score 10 tonight — we might, and we might not," Mientkiewicz said. "It just lets our guys get back to zero."
TURLEY RETIRED: Toledo pitcher Josh Turley retired after Friday's contest against Louisville. The left-handed knuckleballer surrendered five hits and five walks and resulted in four earned runs in the Hens' 5-2 loss.
The 27-year-old was 5-3 with a 4.90 ERA in 12 appearances for Toledo this season, including nine starts. While opponents were batting just ,241 against him this season, his 46 walks allowed are the most in the International League.
Contact John Wagner at jwagner@theblade.com, 419-724-6481, or on Twitter @jwagnerblade.
Guidelines: Please keep your comments smart and civil. Don't attack other readers personally, and keep your language decent. Comments that violate these standards, or our privacy statement or visitor's agreement, are subject to being removed and commenters are subject to being banned. To post comments, you must be a registered user on toledoblade.com. To find out more, please visit the FAQ.