Mud Hens add to team history with IL West title
9/2/2018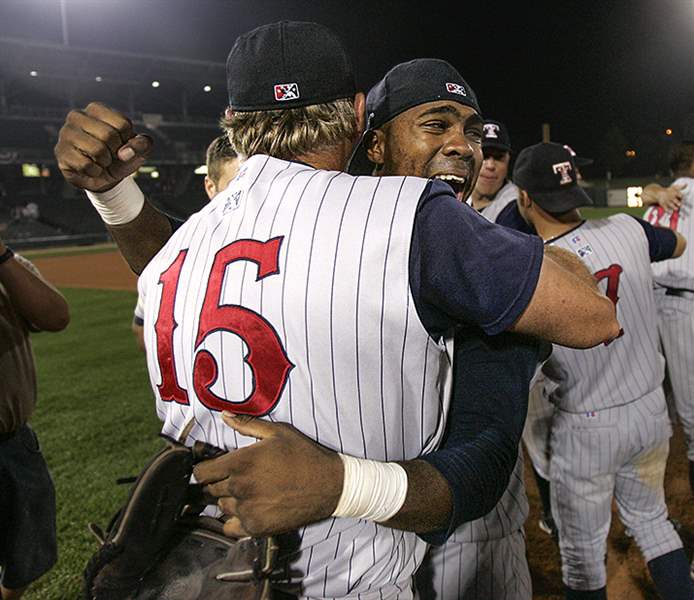 Mud Hens manager Larry Parrish, left, celebrates with Marcus Thames after winning the Governors Cup in 2005 by beating Indianapolis in the International League finals.
THE BLADE
Buy This Image
For the first time since 2007, the Toledo Mud Hens are division champions.
With a furious rally in the final two weeks behind Toledo native and manager Doug Mientkiewicz, the Mud Hens overcame Indianapolis and Columbus to clinch the International League's West Division, joining an illustrious group of Glass City baseball teams to earn championships either of their league or their division of play.
The list goes all the way back to 1883 — 135 years ago — but hadn't been updated since 2007, when the Hens captured the IL West for the third season in a row.
Here's a look at the Toledo baseball teams to earn division or league titles.
■ 1883 Blue Stockings: Northwestern League champions; managers William Voltz/​Charles Morton
■ 1896 Mud Hens: Inter-State League (won pennant and playoffs); managers Frank Torreyson/​Charles Strobel
■ 1897 Mud Hens: ISL (won pennant and playoffs); manager Charles Strobel
■ 1927 Mud Hens: American Association and Junior World Series champions; manager Casey Stengel
■ 1953 Sox: AA (won pennant, lost in playoff finals); managers Tommy Holmes/​George Selkirk
■ 1967 Mud Hens: International League (third in regular season; won Governors' Cup); manager Jack Tighe
■ 1968 Mud Hens: IL (won pennant, lost in first round of playoffs); manager Jack Tighe
■ 2002 Mud Hens: IL (won West Division, lost in first round of playoffs); manager Bruce Fields
■ 2005 Mud Hens: IL (won West Division and Governors' Cup); manager Larry Parrish
■ 2006 Mud Hens: IL (won West Division and Governors' Cup); manager Larry Parrish
■ 2007 Mud Hens: IL (won West Division, lost in first round of playoffs); manager Mike Rojas
■ 2018 Mud Hens: IL (won West Division); manager Doug Mientkiewicz