Mud Hens on brink of elimination after 4-2 loss to Bulls
9/7/2018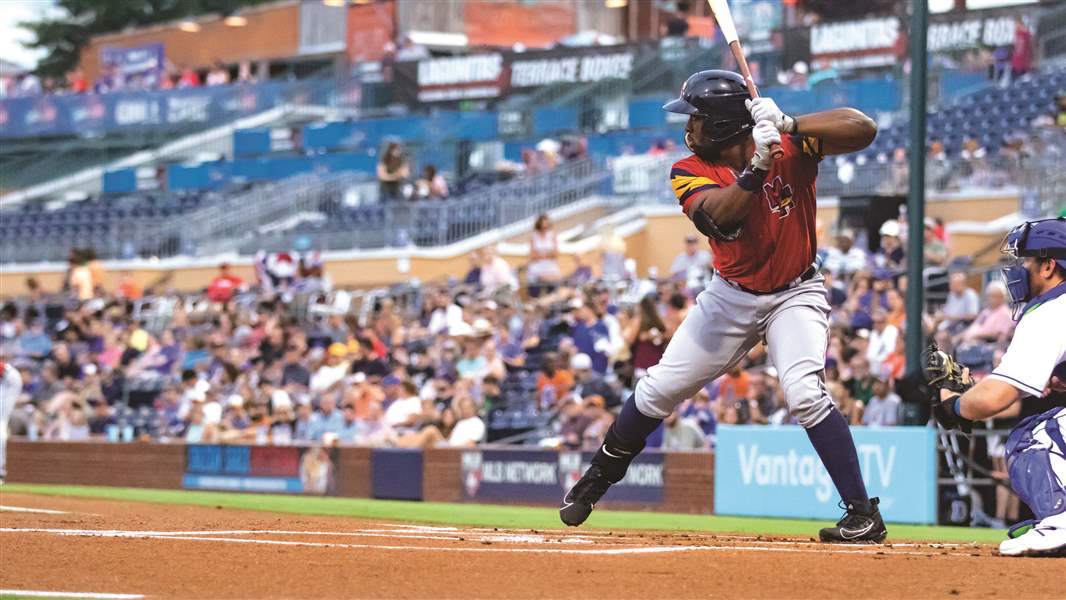 Toledo's Christian Stewart prepares to make contact during the first inning of Game 3 of an International League first-round playoff series at Durham.Stewart hit a third-inning, two-run home run for the Mud Hens.
SPECIAL TO THE BLADE/PATRICK NORWOOD
Buy This Image
DURHAM, N.C. — The Toledo Mud Hens were one of the hottest teams in baseball in the final two weeks of the regular season.
Now, they must win back-to-back road games this weekend or their season will end.
Aside from one long ball, the Mud Hens were handcuffed by Durham Bulls pitching in a 4-2 loss in Game 3 of an International League first-round series Friday night at Durham Bulls Athletic Park.
"Just trying to win a game," Mud Hens manager Doug Mientkiewicz said. "That's how it works. One game has no bearing for the next one. With our backs against the wall, we usually play our best baseball."
By losing Game 2 on Thursday and this one, the Mud Hens dropped back-to-back games for the first time since Aug. 15 and 16.
"We've been playing our best," right fielder Jacob Robson said of entering the postseason. "We've had to win a lot of games [recently]. We're used to this situation."
Game 4 is at 6:35 p.m. Saturday.
VIDEO: Post-game reaction to Mud Hens' Game 3 loss
Toledo starter Spencer Turnbull, making just his third Triple-A appearance, worked 5⅔ innings with a few glitches. He struck out six, and only three of the four runs he allowed were charged as earned.
However, the Mud Hens managed only four hits.
"We had good at-bats the whole game," Robson said. "Some didn't fall for us. … It's slim pickings for your opportunities to win."
Christin Stewart launched the Mud Hens into the lead with a two-run home run in the third inning. That came two batters after Pete Kozma's leadoff double off the left-field wall.
Stewart, who tied for the regular-season lead with 23 homers, drilled Chih-Wei Hu's pitch to right-center field.
But Joe McCarthy's two-run blast before an out was recorded in the bottom of the inning gave the lead back to the Bulls.
"We answered right back and then it was just nothing [for either team]," McCarthy said. "Both sides locking in."
Durham stretched the lead to 4-2 in the fourth, when second baseman Kozma mishandled Mac James' two-out roller.
The Mud Hens were stymied the rest of the way. After Stewart's blast, they managed only Harold Castro's single in the fourth.
"They put the right pitchers in at the right time," Robson said.
Durham relievers Jordan Harrison, Colin Poche, and Hoby Milner — all left-handers — held Toledo without a hit. Milner also closed Thursday's game, escaping a ninth-inning mess in the 6-5 Bulls' win.
"We knew going into the series their bullpen is very good," Mientkiewicz said. "If you keep it within a run in this ballpark, anything can happen."
Perhaps some of Durham's momentum from the previous night carried into this game, but players on both sides noted it had been a long period of travel from Toledo in between those matchups.
"[Thursday night] was a huge win from a momentum standpoint and a physiological standpoint," Bulls manager Jared Sandberg said.
Turnbull allowed Kean Wong's leadoff double and almost escaped the first-inning jam until Nate Lowe's two-out, run-scoring single.
Hu lasted five innings for the victory. He's 4-0 across his past seven outings, but he left with a deficit in each of the no-decisions.
"Against Hu, we hit some balls hard and didn't fall," Mientkiewicz said.
The Mud Hens will send left-hander Matt Hall (4-0, 2.67 ERA) to the mound for Game 4 to try to keep the series alive. Andrew Moore (6-7, 4.34 ERA) starts for Durham.