Walleye sign three-time ECHL defenseman of the year Matt Register
9/11/2018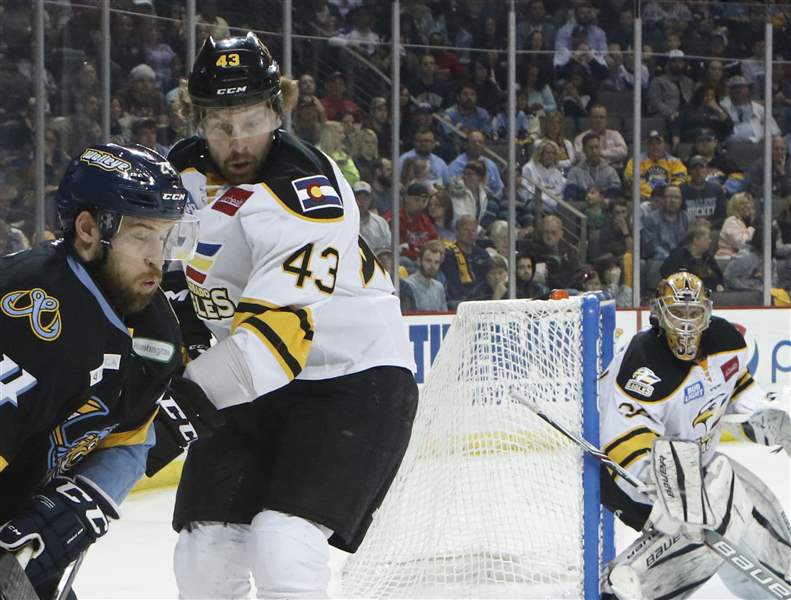 The Walleye have signed former Colorado Eagles defenseman Matt Register (43).
Blade/Andy Morrison
Matt Register (43) knocks down Toledo Walleye player Tyson Spink (12) during a game in May 2017.
The Toledo Walleye announced Tuesday the signing of highly productive defenseman Matt Register.
Register, who has been part of three consecutive Kelly Cup championship teams, has been named the ECHL's defenseman of the year three times.
The Calgary native played the past two years for the Colorado Eagles. Last season, Register posted 65 points with 17 goals and a career-high 48 assists in 72 contests and earned the league's top defenseman award. Register then tallied 20 points (three goals, 17 assists) in 24 playoff games, helping the Eagles capture their second consecutive Kelly Cup title.
Register, who also was named the league's top defenseman in 2017, helped lead Allen to the 2016 Kelly Cup title. He also earned the ECHL defenseman of the year honor in 2014, when he was with the Ontario Reign.
"This is an outstanding add for the Walleye," Toledo coach Dan Watson said. "The proof is in the championship pedigree and skill set that Matt will bring to the blue line. It is through hard work, talent, and dedication that a player gets honored with being the best at his position."
The 29-year-old has produced 273 points (74 goals, 199 assists) in 341 games in his ECHL career. He also has picked up 272 career penalty minutes and has a plus-minus rating of plus-82.
Register, who is 6-feet-2 and 194 pounds, has appeared in 100 Kelly Cup playoff contests and has 75 points (21 goals, 54 assists).
In the 2016-17, Register scored a career-best 18 goals to go along with 46 assists over another 72 contests.
The Walleye have now signed 14 players for the 2018-19 season and it's shaping up to be the biggest lineup Toledo has ever put on the ice. The team now has eight players who are 6-foot-2 or taller and weigh more than 195 pounds: forwards Ben Storm (6-6, 220), Hayden Hodgson (6-2, 207), and A.J. Jenks (6-2, 205) as well as defensemen Brenden Kotyk (6-5, 225), Kevin Lohan (6-5, 216), Kevin Tansey (6-4, 225), Mackenze Stewart (6-4, 215), and Register.
The team also has re-signed forward Shane Berschbach, the organization's all-time leader in points (267). Jenks also is back up front along with fellow forward Charlie O'Connor (6-0, 183). The Walleye also have signed forwards Daniel Leavens (6-1, 200), Tyler Spezia (5-10, 171), and Greg Wolfe (5-10, 183).
The team also re-signed defenseman Ryan Obuchowski (6-1, 185).
The average size of the players who have signed so far is 6-foot-2 and 202 pounds. No other Walleye team has averaged out to taller than 6-foot-1 and more than 200 pounds.
The Detroit Red Wings, who are the Walleye's NHL parent club, are expected to assign two goaltenders Toledo this season. Detroit currently has six goaltenders signed in its system.
Veteran Pat Nagle, who played all of last season for the Walleye, will be competing for a spot in Grand Rapids of the American Hockey League. Nagle led the league in wins last season with 37, a Toledo ECHL record. The native of Bloomfield, Mich., helped lead the Walleye to a Central Division title with a 37-6-4 record.
Young goaltender Kaden Fulcher also will likely suit up for the Walleye this season with Detroit having signed veteran Harry Sateri and Slovakian prospect Patrik Rybar to compete with Nagle for the two spots at Grand Rapids.
Fulcher, a 20-year-old netminder, was signed by Detroit last October and led Hamilton to the Ontario Hockey League title last season. Red Wings insider George Malik wrote on Tuesday that the 6-foot-4, 183-pound native of Brigden, Ontario is "bound for the ECHL's Toledo Walleye."
The organization's 10th anniversary begins with a preseason game at Kalamazoo on Oct. 5. Toledo then hosts the K-Wings on Oct. 6 in its second preseason game. The season opener is on the road at Greenville on Oct. 12. Toledo's home opener is Oct. 27 against rival Fort Wayne.
Contact Mark Monroe at mmonroe@theblade.com, 419-724-6354, or on Twitter @MonroeBlade.