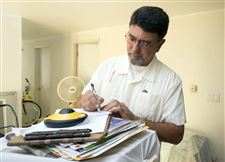 Certified general real estate appraiser Gilbert Valdez of Coast Appraisal Network evaluates a home in Fountain Valley, California. Realtors complain that they see inaccurate appraisals that are not keeping up with the changing housing market.
Orange County Register Enlarge
LOS ANGELES — When Cris Robinson put her Rancho Santa Margarita, Calif., townhouse on the market, she noticed that the only nearby houses selling were foreclosures and short sales.
"There wasn't a single standard sale to [compare] me with," said Ms. Robinson, who has equity in her house.
Ms. Robinson said a buyer offered her $317,000, but the appraisal came in at $310,000, the price at which another house in the neighborhood recently sold.
That townhouse was the same model, Ms. Robinson said, but it was distressed and needed work.
By contrast, she said her residence had thousands of dollars in custom upgrades, including marble floors.
The National Association of Realtors says a recent survey indicated that in some cases appraisals are lagging the recovering housing market.
Appraisers aren't always familiar with neighborhoods, and some use foreclosures and short sales as comparable sales without adjusting for them, the association's survey noted.
Real estate agents note that the low inventory of homes for sale has created bidding wars for many houses, pushing prices higher than recent comparable sales.
In the survey, 11 percent of association members said that within the previous three months a contract was canceled because an appraised value came in below the price negotiated between the buyer and seller; 9 percent reported a contract was delayed, and 15 percent said a contract was renegotiated to a lower selling price as a result of a lower appraisal.
Appraisers say they don't set the value of a property; they reflect it. They say neither real estate agents nor homeowners are trained to appraise homes.
The Appraisal Institute, a nationwide appraisers' professional association, meanwhile, cites problems in the way appraisal management companies are assigning and paying appraisers.
Appraisers say they are the only people involved in real estate transactions who don't have a stake in the price of a property or whether it sells.
Gilbert Valdez, the owner of a southern California appraisal firm who has been appraising homes for nearly 30 years, said a house's location typically is given the most weight, followed by size and condition.
Mr. Valdez noted that upgrades don't necessarily pay off as much as a homeowner may expect. He also said the price gap has been closing between foreclosures and standard sales.
Short sales, he said, have been "iffy" and "all over the place," but even short sales are improving.
Ideally, Mr. Valdez said, he'll use three sales that closed in recent months, a pending sale, and a listing most comparable to the home in question. He emphasized the word "ideally."
In the case of Ms. Robinson's townhome, the appraiser could not be reached for comment, and it's unclear what adjustments might have been made.
The townhome eventually sold, Ms. Robinson said, but for about $6,000 less than what she and the buyer initially agreed on.
Appraisers were among those blamed for the housing bubble — and bust.
In turn, appraisers said they felt pressured by mortgage brokers to bump up valuations, which helped to drive deals and got borrowers bigger loans.
In 2007, then-New York State Attorney General Andrew Cuomo filed a lawsuit against an appraisal company, which led to housing giants Fannie Mae and Freddie Mac implementing the Home Valuation Code of Conduct of 2009.
The code required that lenders use a third party, typically an appraisal management company, to arrange for an appraisal. The code also prohibited lenders from speaking directly with the appraiser about the valuation process.
The valuation code was replaced by provisions in the Dodd-Frank Wall Street Reform and Consumer Protection Act of 2010. In addition to working with appraisal management companies, lenders now can set up their own firms.
There still are standards to ensure appraisal independence, and the firewall between the lender and the appraiser on any specific appraisal is supposed to remain intact.
Appraisers complain that management companies pay them lower fees, and that many appraisers, after seeing their incomes reduced, have left the business.
The Appraisal Institute, the professional association, offers a few tips for consumers.
● Make sure your lender hires a qualified appraiser. Ask the lender for an appraiser's qualifications and whether he or she has a designation from an appraisal organization.
● Accompany the appraiser during the inspection.
"Did the appraiser spend enough time at the property to observe important features or improvements or potential problems?" the institute says.
● Ask for a copy of the appraisal report.
"Federal law requires lenders provide routine delivery of the appraisal to consumers whether credit is granted, denied, or the application is withdrawn," the institute says.
● Examine the appraisal report.
"Appraising the Appraisal: The Art of Appraisal Review," says common errors in appraisals include "misuse of adjustments to comparables, disregarding special financing and concessions, or miscalculation of … living area."
● Ask yourself:
Do adjacent homes add or detract from the value of the subject property? Is the subject property equal to or lower in price than surrounding homes? Does the floor plan have any functional problems? Does the house — particularly the kitchen and bathrooms — require major remodeling to make it comparable with similar homes in the same price range?
● Appeal the appraisal if you believe it is incorrect, or ask your lender to review the report.
● If problems were found with the first appraisal, you should get a second one.
Guidelines: Please keep your comments smart and civil. Don't attack other readers personally, and keep your language decent. Comments that violate these standards, or our privacy statement or visitor's agreement, are subject to being removed and commenters are subject to being banned. To post comments, you must be a registered user on toledoblade.com. To find out more, please visit the FAQ.