LMHA shows off new senior building in central Toledo
6/4/2013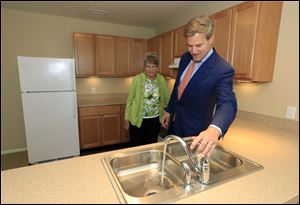 Tom Seeman and his mother Virginia Seeman, Sylvania, view an apartment during a dedication ceremony and open house for the new Collingwood Green Senior Community. Mr. Seeman, a St. Francis de Sales graduate, and his 11 siblings, lived in LMHA public housing developments until he was 18 years old.
The Lucas Metropolitan Housing Authority showed off the new Collingwood Green Senior Community at a ribbon cutting ceremony today.
The 65-unit building, which cost $12.7 million and was completed Friday, is located on the corner of Division Street and Belmont Avenue in central Toledo and replaces former LMHA residencies Brand Whitlock and Albertus Brown.
Mayor Mike Bell called the ceremony a "great day for Toledo" in front of dozens of community residents and representatives from project partners, including Rudolph/Libbe, Inc., Boulevard Group, Inc., and the Ohio Capital Corporation for Housing.
"[This project] was a win-win from the standpoint of being able to uplift some people in an area that needed to be uplifted," Mr. Bell said. "It's a win-win from the standpoint of being able to put people to work to be able to create this great project, and it's a win-win for the people who are going to be living inside who have now a higher quality of life than maybe they had before."
The building is the first phase in a $46 million project at Collingwood Green. The entire project will include 272 housing units for mixed-income families, a community building offering services to residents, and a seven-acre park.
The senior community will house residents 55 and older. Thirty-three units have income-based rent, while 32 units start at $569 per month. Amenities within the building include a television lounge, a library, a community room, and a fitness center. One-third of the units were pre-leased and residents will be able to move in on June 24.