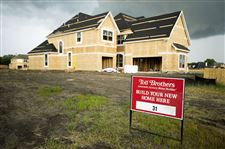 Toll Brothers Inc. is the largest U.S. builder of luxury homes. This home is part of a development in Coppell, Texas. Builders are adding features that assure luxury and convenience.
Builders are busy again now that the housing market is rebounding. More importantly, buyers are buying. Sitting on the sidelines for years didn't stop future homeowners from dreaming big, with a long list of bells and whistles on their wish lists.
Now that buyers are spending money, they want what they want. Items that were once rare expensive add-ons are now becoming more commonplace.
And when buyers demand it, builders deliver it, often as part of the base price of a new home.
Now, with the touch of a button, you can dim the lights and close the blinds as a movie screen lowers from above.
Or if you're out of town, a high-tech security system lets you log onto a computer and view the inside and outside of your house from many angles.
"It's part of the mentality now," said Truly Burton, executive vice president of the Florida Atlantic Building Association, a Hollywood, Fla.-based trade group. "People have begun to expect that in their homes."
First-time buyers and young professionals aren't likely to find these amenities when shopping for new homes priced at $300,000 or less. But the extras are becoming more common for move-up buyers looking for properties below $1 million.
That wouldn't have been the case before the bust.
"Higher-end homebuyers have been the ones who have seen the biggest rebound and improvement in their overall financial situations," said Greg McBride, a senior financial analyst with Bankrate.com. "They're not only able, but willing, to make these luxury purchases."
Home construction was largely dormant during the six-year housing bust.
Builders sought bankruptcy relief or went out of business entirely. But now the survivors are trying to out-do one another in an effort to capture buyers willing to pay for luxury and convenience, said Ken H. Johnson, an economist and real estate professor at Florida International University.
"They're upping the ante to remain competitive with other builders," Mr. Johnson said. "The reason they're doing this is so they can say, 'My product is better than the other builders — choose me.' "
Ronen Gabbay and his family moved in February to an upscale development being built by GL Homes near Delray Beach, Fla. Prices there range from $600,000 to $1.6 million.
Mr. Gabbay, 46, has a home-automation system that lets him control lights and temperature remotely. He can even activate his pool pump from an app on his smart phone.
A decade ago, an owner would have to shell out thousands of dollars to have a home-automation system installed, Mr. Gabbay said. Now that cost is included in the price of many homes.
But Mr. Gabbay said one of the best parts of his house has nothing to do with technology. It's a so-called summer kitchen, with a gas grill and sink built into the patio — another feature that builders have started offering in recent years.
Mr. Gabbay, a New York native, figured it'd be foolish to move to Florida and not take advantage of the backyard on a year-round basis.
"We love it," he said. "If you're not enjoying the outside more, you could be living anywhere."
Lennar Corp. and other builders also are offering homes with separate living quarters to accommodate families with parents or adult children living with them. These "multigenerational" properties have a private entry, kitchenette, bedroom, and bathroom.
Not only are buyers insisting on more amenities, they're also taking active roles in home design, said Jim Carr, principal of CC Devco, the builder of the Monterra development in Cooper City, Fla.
"What we're seeing is that customers want more choices," he said. "They want to customize their homes far more now than they did in the past."
Guidelines: Please keep your comments smart and civil. Don't attack other readers personally, and keep your language decent. Comments that violate these standards, or our privacy statement or visitor's agreement, are subject to being removed and commenters are subject to being banned. To post comments, you must be a registered user on toledoblade.com. To find out more, please visit the FAQ.