Storied Bowling Green windmill for sale
Former tenants recall living in the 75-year-old structure
6/9/2014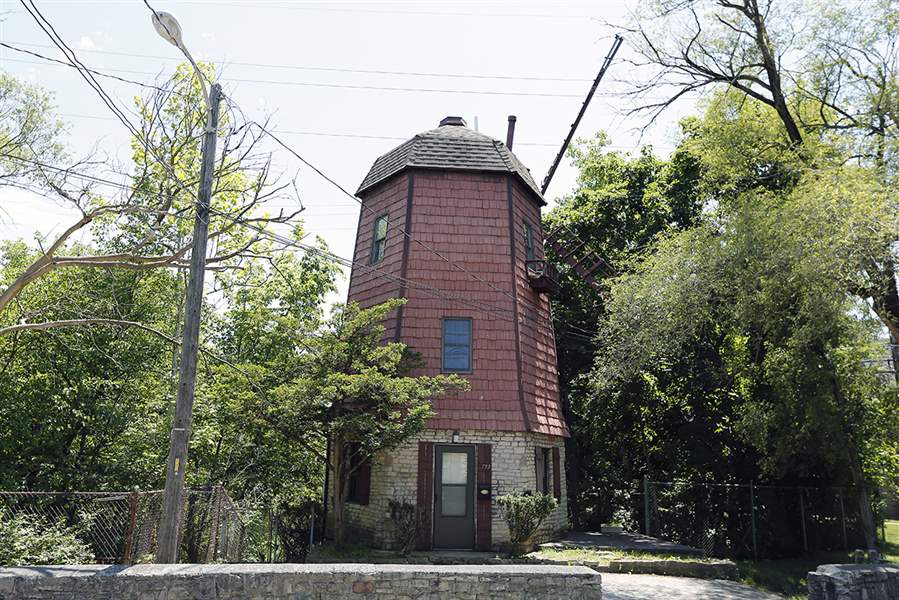 The exterior of the windmill apartment is shown on Clough Street in Bowling Green. The landmark, built in 1939, has accommodated renters in its cozy quarters since at least 1950.
THE BLADE/JEREMY WADSWORTH
Buy This Image
The exterior of the windmill apartment is shown on Clough Street in Bowling Green. The landmark, built in 1939, has accommodated renters in its cozy quarters since at least 1950.
BOWLING GREEN — A well-known windmill near the Bowling Green State University campus that has housed students for decades in Dutch distinction is for sale.
The quaint landmark was built in 1939 to hide equipment that generated heat for nearby residences. It has accommodated renters in its cozy quarters since at least 1950. The Clough Street tower, located alongside an old quarry, is one of several properties available for purchase as a package deal.
"It's unique so people want to live there. It's like an attraction ...," said Stephen Foraker of Bowling Green, who for 25 years has managed real estate owned by his family.
Newlyweds, fraternity brothers, and even — according to one newspaper account — a de-scented pet skunk named Miss Chanel have lived inside the hexagonal rooms of the roughly 45-foot-tall windmill.
The storybook dwelling provided a happy home for Beth and Frank Luchsinger in 1976-77, during their senior years at BGSU. Recently married, the two cooked meals in the first-floor kitchen, climbed to a second-floor living room, and slept in a third-floor bedroom.
Beth and Frank Luchsinger in their first floor kitchen in the windmill house in June, 1977.
Ms. Luchsinger learned about the windmill her freshman year, after a friend returned from a bicycle ride and announced she had spotted the perfect place to rent. There was a waiting list, but by senior year she and her groom were calling the windmill home and welcoming passers-by who would wander over to take a peek.
"We'd have people come all times of day and night; people would ask if they could see it," she said.
The long blades were tied down to the structure, but when it was breezy the windmill creaked. That was part of its fairy-tale charm, said Ms. Luchsinger, who now lives in New Albany, Ohio, where her husband is a pastor.
"It felt like it was alive … [like] you are made out of gingerbread when you go in," she said.
Dave Bomeli's memories of living in the windmill in 1979-80 are not as rose-colored, but the 60-year-old Army veteran, currently a BGSU student, recalls the period he spent living within the structure vividly.
The windmill hosted a lot of parties back then, though there was a rule — he thinks it was the landlord's — that only a dozen people could be inside at one time.
The rooms were too cramped to want to live there again, but the address did come with a few perks.
"Generally everybody knows where the windmill is. It's pretty much a landmark," Mr. Bomeli said.
The blades on the 75-year-old landmark may have once spun for aesthetic reasons, but it was never a working windmill, Mr. Foraker said. Built by Bertis Urschel to enclose the boiler system that heated nearby apartments, it was constructed using stone from the nearby quarry, according to historical records.
When World War II ended and returning soldiers descended on campus, a housing shortage prompted some students to ask if they could live there in exchange for tending the boiler, Mr. Foraker said. By the early 1950s, the equipment was no longer in use and and the windmill's interior was converted into an apartment, he said.
Mr. Foraker's grandfather, the late George Russell, purchased the tower after it had been converted, and Mr. Foraker said the time is now right for the family to sell.
The windmill is presently unoccupied. It's listed for sale, along with two other apartment buildings, for $350,000 by Newlove Realty Inc.
Broker Andrew Newlove said buyers have been especially interested in the windmill, which went on the market this spring.
"I could have sold the windmill alone probably 30 times, but they want to sell it as a package which I think is wise," he said.
Beth and Frank Luchsinger in their third-floor bedroom of the windmill house in Bowling Green in June, 1977.
The scenic spot is both a local curiosity and a piece of area history, said Eric Honneffer, document conservator at BGSU's Center for Archival Collections. The nearby quarry was dug out for its stone and used to surface major Bowling Green streets. Once filled with water, it became a swimming hole in the summer and skating rink in the winter.
In 1950, six male students and their mascot skunk stayed in the windmill, sleeping in built-in bunkbeds, displaying their fraternity letters on the oddly angled wall, and fishing in the quarry, according to an old story in the Cleveland Plain-Dealer.
The windmill as currently configured is a one-unit apartment, with a first-floor kitchen and bathroom and a half-bathroom on the third floor, Mr. Newlove said.
Ms. Luchsinger felt like a steward of a special place during her stay.
"It was just fun. Everyday you would walk back and just think, 'This is once in a lifetime chance,' " she said.
Contact Vanessa McCray at: vmccray@theblade.com or 419-724-6065, or on Twitter @vanmccray.