39.93318
-122.0545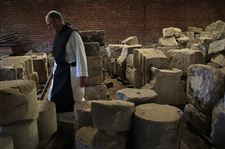 The Rev. Thomas X. Davis, a monk at a Trappist monastery in California, walks among stones from a 12th-century Spanish monastery that will be used to rebuild the chapel at the American monastery.
Robert Gauthier / MCT Enlarge
VINA, Calif. -- For Trappist monks at the Abbey of New Clairvaux, life follows a pattern centuries old.
They spend their days in the field and their nights in silence. They gather in prayer seven times daily, starting at 3:30 a.m. In many of their affairs, they are still guided by the 6th-century Rule of St. Benedict -- but not one of its 73 chapters deals with their current travails.
Benedict offers no words of wisdom on how the monks might find the funds to complete their most passionate pursuit: the resurrection of a medieval monastery from a jumble of stones William Randolph Hearst shipped over from Spain.
He is silent too on negotiating deals with a major brewery.
The 23 monks at the rustic abbey north of Chico, Calif., are seasoned winemakers but, until a recent agreement with Sierra Nevada, all they knew of beer was how, on occasion, to drink it.
They are learning.
In partnership with the monks, Sierra Nevada next year will release an ale that pays tribute to the renowned Trappist beers of Europe. The brew also will be a boost to New Clairvaux, with the company pouring some of the venture's profits into the monastery reconstruction project. Sierra Nevada will train Father Thomas X. Davis, New Clairvaux's 77-year-old abbot emeritus, as a "sensory professional" -- a beer taster who knows his phenols from his esters.
The alliance was forged in the last year when the monks contacted the brewery, one of Chico's biggest businesses.
"We approached them for a fundraiser," said Father Davis, the abbey's forklift operator. "I felt so outlandish." But what's one outlandish moment in a saga spanning more than 800 years?
In 1190, monks started building the Santa Maria de Ovila monastery about 90 miles northeast of Madrid. For centuries, the complex thrived, but by 1835 it was left to decay..
Nearly a century later, an art dealer working for Mr. Hearst stumbled across the ruins and purchased them. Never one to think small, the newspaper publisher planned to use Ovila's limestone blocks in a grand redesign of Wyntoon, his family retreat at the base of Mt. Shasta.
In 1931, more than 100 workers dismantled the monastery and 11 freighters hauled the stones -- 2,200 tons in all -- to San Francisco. Under Mr. Hearst's plan, they were to be used for a palace that would outshine San Simeon. Ovila's 1,800-square-foot chapter house was to be reconstructed as a reception hall for an eight-story castle. Its chapel was to be transformed into a swimming pool 150 feet long.
The Depression scuttled the vision. Ultimately, he gave the stones to San Francisco for construction of a medieval museum. But for decades, they sat in Golden Gate Park.
In 1955, Father Davis was passing through San Francisco when a friend pointed out crates of stones piled in a eucalyptus grove behind the de Young Museum. The friend told him they were the remnants of a Cistercian monastery.
When Father Davis took over as abbot 15 years later, he hadn't forgotten the stones. He never quit thinking that somehow they could be put to good use on the abbey's 590 acres of vines and prune trees.
Sometime in the 1980s, a group of monks drove to San Francisco and, with permission from parks officials, loaded a pickup with about 20 stones. "I thought we'd use them artistically around the abbey somewhere," Father Davis said.
In 1994, museum officials gave them the go-ahead to take the lot. The only requirement was they start work within 10 years on a project that would be open to the public.
The next year, the last of 19 truckloads left San Francisco for Vina. When the dust cleared, the abbey had about 1,300 stones -- a fraction of the shipment from Spain.
Father Davis became the plan's overseer, champion, fund-raiser, and publicist. So far, about $6 million has come in, with $1 million more needed to complete the chapter house by 2012.
It's exacting work, made even more complex by the need for a concrete superstructure to brace the medieval building against earthquakes. Craftsmen familiar with dramatically vaulted Gothic ceilings are rare in the farm country around Vina. The building is about three-quarters done.
At Sierra Nevada's headquarters in Chico, 20 miles south of the abbey, executives have been keeping an eye on the progress. Neither the abbey nor the brewery says how much money the ale will generate.
At about $10 per champagne-style bottle, that's up to consumers who have a taste for Belgium or a soft spot for medieval monastic history.
"Who knows?" Father Davis said with a smile. "It depends on how much they drink."
Guidelines: Please keep your comments smart and civil. Don't attack other readers personally, and keep your language decent. Comments that violate these standards, or our privacy statement or visitor's agreement, are subject to being removed and commenters are subject to being banned. To post comments, you must be a registered user on toledoblade.com. To find out more, please visit the FAQ.