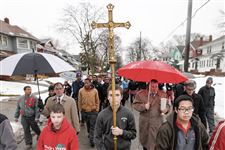 .
THE BLADE/KATIE RAUSCH
Enlarge | Buy This Image
Head Server Tony Mossing, 17, center, and his fellow servers Jonathon Hrifko, 15, left, and Sam Meier, 16, lead Central Catholic High School's 40th annual Advent Pilgrimage to Rosary Cathedral in Toledo. Nearly 1,000 students, faculty, and staff joined Friday's procession, which was followed by a Mass.
PHOTO GALLERY: Click here.