Ramadan coincides with conclusion of Imam Farooq's service
6/21/2014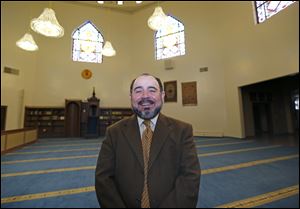 The Imam in the prayer room.
The Islamic month of Ramadan, which starts this year on June 28, is a time for purification of and reflection by Muslims. Fasting during daylight is one tradition Muslims practice in part as a help to understand suffering. Traditionally, lore says, fighting has stopped during Ramadan.
At the Islamic Center of Greater Toledo in Perrysburg, congregation members might make extra efforts this Ramadan at coming together to get past suffering and fighting within the mosque about their imam, Farooq Abo Elzahab.
The start of the holy month aligns with the conclusion of Imam Farooq's 16 years of service there, as his contract ends June 30 and he will leave mosque leadership but remain in Toledo. The Islamic Center's council, a 13-member body of unpaid volunteers elected by the Islamic Center's members, also known as the board, with Cherrefe Kadri serving as council president, chose to seek a new imam and not renew Imam Farooq'‍s contract. Many members of the congregation would prefer to keep Imam Farooq there and for all members to vote rather than have this be a council decision. That has produced congregational conflict, which the council expected, Ms. Kadri said.
"I think we're just in that cyclical period that we need to look at a transition. Out of fairness to the imam, this is something that emotion gets in the way of," Ms. Kadri said. "The board said it's time for us to start looking; change is good. Our membership is down, attendance is down, but that goes for every church and synagogue. … And now there are more mosques [in the area]. … You've got to travel a long way to get there, so we better provide something special to make it worth your while." But the imam disagrees about lower attendance. And Facebook is on the screen, too.
"For the past several years what we've been trying to do as a council or board is, maybe, up our game," Ms. Kadri said. Imam Farooq worked many years without a contract. "In the past more than 10 years, we've been talking about the need to get a contract together, a job description … so that everything's very clear."
At contract'‍s end, there is not clarity, however. And Imam Farooq sees another challenge with the council'‍s upping its game. "The problem is—I want this to go on the record," he said—"control. Control and envy of the imam for his position. Can you believe that? They don't know what to do with the community the way it loves the imam. … Is that a sin? That the people love the imam?"
"It's not a surprise what's going on," Ms. Kadri said, "but it's also not necessarily a negative reflection on Imam Farooq because he's been with us—my goodness, his children grew up in our community and their children are growing up there."
The Islamic Center had a fire Sept. 30, 2012, which was found to be arson; Randolph Linn of St. Joe, Ind., pleaded guilty in December 2012 and is serving a 20-year prison sentence. "After the fire," Imam Farooq said, "I was worrried that people would go to other mosques and not come back. One week after we came here [when the Islamic Center reopened in March 2013], the mosque was full again. If people do not find a good service here and a good sermon here, do you think they would come back? No."
However, continuing with Imam Farooq was not what the council wanted. Facebook helped members of the congregation say that their desire is to have him remain. The page "Please Keep Imam Farooq at the Islamic Center of Greater Toledo" was created anonymously April 12, and a posting says it was formed without the imam's knowledge. As this article went to press, the page has 305 likes (not all of them from mosque members) and the most recent posting was of photographs of supporters of Imam Farooq at a demonstration at the mosque on June 3. "Choosing a different Imam is NOT WRONG and is NOT disrespectful," an April 23 posting stated. "What we have a problem with is the disrespect that our beloved Imam has received," it continued.
Imam Farooq said he was insulted when his current contract was originally offered for only a three-month term, before it was eventually revised to a year-long one, and he then signed it. He spoke of wanting "to get to the bottom of this problem, really, what in me they did not like." He commented about his fiscal achievements, raising $600,000 in one month to build the Islamic Center's minarets and having a single donor offer $350,000 to connect the mosque to the Perrysburg water utility; he said the ally, whom he didn't name, started the Facebook page.
"The community does not want to lose me," Imam Farooq said. "They asked me, 'Imam, are you going to stay here?' I said, 'Yes, I am staying here.'" When a new imam comes, Imam Farooq will be in attendance, he said. "I'm going to pray here five times a day with the people. Of course, I will not stand in front as an imam; anybody can lead, not me, even if the imam is not there. … Even if the imam says something wrong, I will never correct it."
The Islamic Center will begin Ramadan without an imam. "The council is not reversing itself," Ms. Kadri said, "because we really put a lot of thought and consideration into the future: Where do we want to be and how will we get there?"
The council will search for "hopefully somebody who can relate to that American-born Muslim and, not that Imam Farooq [who is a naturalized U.S. citizen who came from Egypt] doesn't, but we need someone who can draw them in and actually make religion cool."
Both Ms. Kadri and Imam Farooq recognize that greater Toledo appreciates the mosque and its members. Imam Farooq said, "I feel I'm working for the whole community, not only the Islamic Center."
Ms. Kadri said, "I always hear from non-Muslims and people in the community. … They'll refer to the Center as 'our mosque,' like Toledo's mosque, and I think—well, that's kind of neat.'"
The Islamic Center's community is working to retain that respect—whether that means finding a new imam or keeping Imam Farooq.
Contact TK Barger @ tkbarger@theblade.com, 419-724-6278 or on Twitter @TK_Barger.