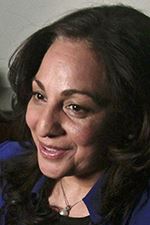 Khan
ASSOCIATED PRESS Enlarge
Daisy Khan wants to teach people that Islam is not everything that's seen on TV.
Ms. Khan, who writes and lectures frequently on the role of women in Islam as well as the religion in modernity, will be at the Islamic Center of Greater Toledo on Saturday to discuss taking a stand against extremist groups.
Her talk, "Islam, not ISIS: taking a stand against violent extremism," invites a discussion about how women and young people can bring peace and social justice while fighting extremist views held by terrorist groups such as ISIS and Boko Haram.
"None of these people [like ISIS] have a serious presence in the United States, but they have a very strong recruiting tactics online, and that is one of the things we want to make sure that our community is insulated from," said Ms. Khan of New York.
The messages spread by extremist groups express a twisted view of Islam not supported by theology or scripture, said Ms. Khan, who is the founder and executive director of the Women's Islamic Initiative in Spirituality and Equality.
"We want to inform people about what the truth of Islam is," she said of her talk. "It will be very educational for young people to know what true Islam is, what the ISIS brand is, and to distinguish between the two. So if anyone accidentally falls on a website, they will know."
She plans to travel around the country to give talks similar to the one she will offer in Toledo, with the hope that those who listen become ambassadors for peace and equality, and to correct misconceptions about Islam.
Ms. Khan received significant conservative backlash after news that she and her husband, Imam Feisal Abdul Rauf, were involved in plans for a Muslim-led, multifaith community center in Manhattan near Ground Zero.
The couple is no longer affiliated with the project, but Ms. Khan said their mission to educate and build community will continue outside a brick-and-mortar space.
"The backlash was a result of ignorance of Islam and who Muslims are," she said. "We know that the most important thing that Muslims have to do is extend a hand and have a dialogue."
Dialogues like the one that will happen Saturday.
Cherrefe Kadri, president of the Islamic Center of Greater Toledo, said she hopes the event sparks a discussion and provides "ways to be an active participant against extremism."
"These days, what we see a lot of is extremists in Islam, they always get top billing and front page news," she said. "That's what people think is the face of Islam and it's not. They are the exception and not the rule."
The event begins at 7 p.m. Saturday, at the Islamic Center of Greater Toledo, 25877 Scheider Rd., Perrysburg. It is sponsored in part by a grant from the Toledo Community Foundation and is free and open to the public.
Guidelines: Please keep your comments smart and civil. Don't attack other readers personally, and keep your language decent. Comments that violate these standards, or our privacy statement or visitor's agreement, are subject to being removed and commenters are subject to being banned. To post comments, you must be a registered user on toledoblade.com. To find out more, please visit the FAQ.