Pastor Daniel Bellavia, left, and author Steve Christie stand in the sanctuary of the First Baptist Church of Greater Toledo in Holland. Mr. Christie, a registered nurse, has published 'Not Really "Of" Us,' which grapples with the topic of children leaving the church.
The Blade/Katie Rausch
Enlarge | Buy This Image
Local Christian author Steve Christie and the Rev. Daniel Bellavia, who is the pastor of First Baptist Church of Greater Toledo, have been in conversation about how young people might stay in a congregation rather than leaving the church at childhood's end.
They have seen the trends, such as reports based on Pew Research Center's religious landscape studies, that detail an increase in what have come to be called "nones." Pew describes the term as "the growing minority of Americans, particularly in the Millennial generation, who say they do not belong to any organized faith," in a report released Tuesday titled "U.S. Public Becoming Less Religious."
The report says that the rates of religious believers and those with faith practices dropped a bit in their 2014 study, compared with a 2007 study, but Americans who are religiously affiliated — institutional — are stable in number.
"Throughout church history there have always been people who have walked away from the faith, but this particular generation, the generation of the Millennials, those ages 20 to 29, there seems to be this upsurge. … I started thinking to myself, why is this happening?" Mr. Christie said. That prompted him to write a book offering some suggestions to draw people to church and keep the doubters and skeptics from leaving.
Mr. Christie's approach to the topic was a little different from Pew Research's. His was faith-based rather than scientifically oriented. Not Really "Of" Us: Why Do Children of Christian Parents Abandon the Faith? was printed in 2014 as a $19.95 paperback by WestBow Press, a national Christian self-publishing imprint. There is also a website, notreallyofus.com. Mr. Christie said that his book was published 10 years after he converted to Christianity; though he was a good Catholic child, he had left the church, and much of the book is based on his experience.
"Steve brings up some pretty good ways not only of articulating what's happening, but also giving some solutions," Pastor Bellavia said. "[That includes] asking the parents to be Christian, to be disciples, to live their faith in the presence of their kids."
"Although it is important to pray, and it is true God is in control," Mr. Christie said, "there's also things we can do while we're waiting [for God to act] to reach our kids — both when they're at home and even after they've left the faith."
"One of the reasons that we're really looking at this," Pastor Bellavia said, "is because we believe that living a Christian life is a positive thing. It's not just good for you, but for the nation, it's good for the world around us, and one of the things that's so difficult with people that have been in the church and have walked away from it is that oftentimes they walked away for a reason.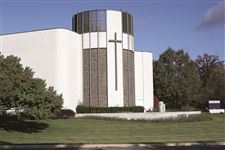 The first Baptist Church of Greater Toledo is at 6520 Pilliod Rd., Holland.
The Blade/Katie Rausch
Enlarge | Buy This Image
"Sometimes it's been an injury; it's been a hurt; it's been something that's either been said or done. Sometimes when someone expresses a doubt or a fear, oftentimes those doubts and fears are kind of minimized.
"As parents we kind of say, 'Oh, we all go through that,' not really seriously considering what the kid is telling us. So sometimes because we're not engaged in what other people are going through, or let's also speak to the fact that sometimes as a church we don't always do what we should and we don't always present to the world the loving, the grace of God, the love of Jesus, we don't really do that as well as we can.
"So some of the people have walked away and they've never really experienced what's good about our faith and Jesus Christ.
"In looking at these things, part of the solution that Steve is really putting out there is really having our people be more Christ-like, and starting essentially in the home with their own kids."
"That's the focus," Mr. Christie said.
The men also talked about how children might not have had their own conversion experiences, so they're not strongly tied to the religion other than as the family faith. The men said that is reason for parents and grandparents to show their belief.
"How do we take people who have been Christian and turn them into disciples who actually take the words of Jesus seriously and try to live by them?" Pastor Bellavia asked. "It's something that if the church would do, we could see a reformation and a renaissance in the church today."
Mr. Christie will speak at 10:30 a.m. and 6 p.m. Sunday, at First Baptist Church of Greater Toledo, 6520 Pilliod Rd., Holland. At 5 p.m., a free chili dinner will be served, and after both services, signed copies of Mr. Christie's book will be available.
"Both of the services are going to include Steve sharing for a period of time, and then some question-and-answer [time]," Pastor Bellavia said. "In the morning worship, I'll be doing an interview, and in the evening time it will be a little more open ended."
"In the morning, the benefit is going to be the kind of question-and-answer session that Pastor Dan is going to give me," said Mr. Christie. "In the evening service, after I do an extended sermon that covers the topic of the book, then it's going to be open to any questions that they might have."
Mr. Christie, 44, a registered nurse who works the night shift at Mercy St. Anne Hospital and who has a master of business administration degree from the University of Toledo, regularly worships at Emmanuel Baptist Church and has held a Bible study in the basement of his home for eight years; his wife dubbed the Bible study the Toledo Underground Church. He is also a YMCA chaplain for the Y's Silver Sneakers program.
Mr. Christie will have another speaking and signing session from 11:45 a.m. to 12:30 p.m. Tuesday when he meets with the Silver Sneakers at the West Toledo YMCA, 2110 Tremainsville Rd.
Contact TK Barger at tkbarger@theblade.com, 419-724-6278 or on Twitter @TK_Barger.
Guidelines: Please keep your comments smart and civil. Don't attack other readers personally, and keep your language decent. Comments that violate these standards, or our privacy statement or visitor's agreement, are subject to being removed and commenters are subject to being banned. To post comments, you must be a registered user on toledoblade.com. To find out more, please visit the FAQ.