For nearly a half century, Linda Greene has dedicated herself to Christian-based outreach across northwest Ohio and to humanitarian relief efforts around the world.
The 68-year-old president and chief executive officer of Impact With Hope, formerly ISOH/IMPACT, is the founder, leader, and spark plug behind a group best known for its famous "bucket brigade" (bit.ly/2irSbDl).
The group — which has origins dating to 1958 — has specialized in rapid response to hurricanes, tsunamis, earthquakes, tornadoes, and other disasters with pre-packed buckets of donated canned goods, toiletries, cleaning supplies, and other items. Aid has been sent all across North America and to parts of South America, Europe, Asia, and Africa.
That's only part of what Impact With Hope does, though.
VIDEO: Linda Greene of Impact With Hope
It also distributes warm blankets and coats around the world. It provides food to starving refugees. It offers sanctuary and medical care through its LightHouse ministry that was created in 2000 and its Children's Medical Rehabilitation Program that was created in 1991, often to children and adults who have come to the United States from poor or war-stricken countries.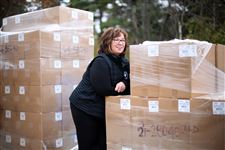 Linda Greene, founder and leader of Impact With Hope, stands with a shipment of diapers and other personal items ready to be delievered to Puerto Rico while working at the distribution center on November 15, 2017.
The Blade/Amy E. Voigt
Enlarge | Buy This Image
In 2005, it distributed $10 million of donated supplies to victims of Hurricane Katrina, anywhere from South Florida to New Orleans, and to people in Asia devastated by a major tsunami in the South Pacific.
In addition to various forms of disaster and relief aid, Impact With Hope has organized several short-term medical missions for physicians, nurses, dentists, and other professionals willing to donate services to those in disadvantaged countries while also promoting education, small business ownership, job training, and self-sufficiency.
The group has visited 96 countries in person. It now has advisory board members from as far away as Tajikistan and Bulgaria. For a closer look at its programs, go to impactwithhope.org. For an interactive map that shows which nations it has visited, go to bit.ly/2hy3rx1.
Impact With Hope has only four paid employees, but hundreds of volunteers. Those who draw a salary make $11 an hour or less — not enough to live off exclusively, but enough to supplement their incomes. Ms. Greene said she draws an annual salary of $900, then donates it all back to the group.
"It was always a heart passion of mine to see if I could run a nonprofit without high salaries," Ms. Greene said during an interview while seated at the dining room table of her historic Perrysburg Township home, which also serves as Impact With Hope's headquarters. "So many people get turned off from donating when they see a lot of their money going toward salaries."
Karen S. Smith, Impact With Hope event coordinator, said all group meetings begin with a devotional reading and end with prayer requests and group prayer.
"Linda routinely asks us about our church involvement, volunteer work, and spiritual disciplines. She has been an encouragement to me by being an example of a believer who truly lives out her faith," Ms. Smith said. "God has placed an amazing ministry in her hands, and she does her best to give Him the glory for the incredible amount of help it supplies to those in need around the world."
Ms. Smith said she also admires Ms. Greene's "resilience, persistence, and trust in the Lord" in overseeing a busy warehouse, supervising an office, and for routinely hosting medically fragile people on a live-in basis even 10 years after her husband and business partner, Stan Greene, died of a heart defect.
"Impact With Hope exists due to her fortitude and overwhelming supply of empathy," Ms. Smith added, saying Ms. Greene repeatedly shows she has "great confidence" in God. "People here in Toledo and others in far corners of the globe [have] been blessed for decades by her caring spirit."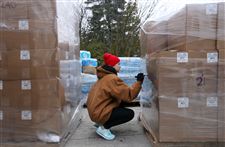 Impact With Hope volunteer Susie Geiger numbers boxes of diaper and personal item donations ready to be delivered to Puerto Rico while working at the distribution center on November 15.
The Blade/Amy E. Voigt
Enlarge | Buy This Image
One volunteer, Richard Ward, is a spry 80-year-old Sylvania Township man who spoke passionately about the experience while helping sort and pack relief shipments at Impact With Hope's warehouse in Waterville.
"I think one of the objectives of Christians is to help others in need, and that's what I do," said Mr. Ward, a former employee of the Lucas County auditor's office who has served as a property valuation consultant in South Africa the past 20 years.
Walt Wilson, who's been with the group the past five years as its warehouse manager, said he's amazed by Ms. Greene's connections and how efficient the group has become at sorting, packaging, and distributing donations. It recently shipped out 40 truckloads of supplies to hurricane victims from a Waterville warehouse that can only hold three truckloads of goods at a time.
"It's a great feeling, what we do. It's a fun place to be. She can be kind of demanding, but that's her job," Mr. Wilson said. "She's got a vast network of people."
Recipients have said the bucket brigade is especially useful because it makes supplies easy to distribute, he said.
"We don't like to send problems to people already knee-deep in problems," Mr. Wilson said.
Ms. Greene has twice had her life threatened overseas, but perseveres.
She is, in fact, is driven to do more.
"I don't think I've done enough," Ms. Greene said. "This is a race to the end. I'm in love with the Lord, Jesus Christ. If he can give up his life on the cross, I can help people see him, see his heartbeat."
She said she wants people to see God's love through her group's work.
"When I look back and see the hundreds and thousands of children we've helped, it makes me want to do more, not less," Ms. Greene said. "I want to teach others to help themselves."
The life story of Linda Greene might appear like it was set up to follow a predictable path: She was born in Bowling Green and raised in Findlay by evangelists Aaron and Jean Delph, who in 1958 founded a group called Impact With God Crusades Inc. to help spread the word of God through crusades, counseling, and community outreach.
But there was a bump in the road, one involving youthful rebellion that Ms. Greene now chuckles about.
"My husband and I were hippies," she confesses. "Stan was at Woodstock. I wasn't, but he was."
She smirks as she recalls how a young, strapping Stan Greene showed up on his motorcycle with a red bandana around his head one day around 1970. It was the first time he met Linda's parents.
Mr. Delph, anticipating the two youths were headed toward marriage, figured the best thing to do was put his daughter's free-spirited boyfriend to work with a construction company he owned.
"I thought it was amazing Stan would do that a whole year," Ms. Greene said, explaining how her future husband showed his love for her by commuting daily to job sites on his motorcycle and doing back-aching construction work.
The two were married in 1972. She credits him for making the group's relief aid and medical-mission programs strong enough to continue well past his death.
Ms. Greene received a degree as a licensed practical nurse from the Bowling Green School of Practical Nursing in 1982; an associate in applied science for nursing from State University of New York-Albany in 1992, and her PhD from LaSalle University in Mandeville, La., in 1996.
In 1981, she became president of the group her parents founded. She and Stan eventually became administrators of an area group called International Services of Hope, or ISOH, founded in 1982 to help families living in poverty in Haiti and Guatemala.
In 1998, those two groups were merged to form ISOH/IMPACT, which, in turn, was renamed Impact With Hope in 2016.
Ms. Greene recalls the look on her parents' faces when she and Stan announced the couple's plans to become missionaries in Haiti, the first foreign country they would work in together.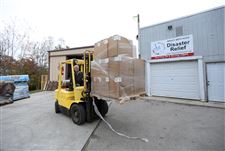 Impact With Hope volunteer Walt Wilson unloads a truck filled with donations of diapers and other personal items to be delivered to Puerto Rico while working at the distribution center on November 15.
The Blade/Amy E. Voigt
Enlarge | Buy This Image
Though impressed they were eager to serve the Lord, Ms. Greene's parents weren't quite sure if Linda and Stan would make a go of it. They knew that doing successful missionary work requires a lot of business acumen, not just compassion.
"What matters is we came out of the drug-hazed world into reaching out and serving the Lord," Ms. Greene said. "I thought it would be more difficult, but it wasn't."
To whatever degree Ms. Greene and her husband actually embraced the hippie counterculture, their lives have unquestionably been rooted in education and religious principles.
In 1988, Ms. Greene coordinated a team of cardiac surgeons who performed the first cardiac bypass surgery in Fuzhou, China. From 1988 to 1994, she coordinated medical teams that treated patients and helped local doctors learn how to improve patient care.
Her group's Children's Medical Rehabilitation Program has brought poverty-stricken children from other countries to the United States for medical care for 26 years. It works with hospitals to provide life-saving care to children who do not have access to it in the countries where they live.
While faith guided her actions, so did her questions about organized religion.
"I didn't understand evangelism," Ms. Greene said. "If there's somebody who's hungry, why wouldn't you feed them? I wanted to be actively involved in serving people like Jesus said in the Sermon on the Mount."
Her bio on the group's website said she committed herself to Christ at age 23 "after a period of rebellion and almost dying."
"The Holy Spirit was calling me to do this. And it's never wavered," Ms. Greene said. "I'm still actively serving the Lord and trying to serve people however I can."
Over the past three years, Impact With Hope's focus has been more in the United States and the Western hemisphere, in large part because there has been no shortage of need with hurricanes and other disasters in places such as Houston, Puerto Rico, and Haiti.
Though relief agencies are a lot of hard work, they're also rewarding spiritually, Ms. Greene said. She believes it's still possible to create those and other faith-based nonprofits from scratch in today's economy by people who are determined enough.
"You really, really have to have an inner strength, and that has to come from the Lord or you won't succeed," Ms. Greene said.
Contact Tom Henry at thenry@theblade.com, 419-724-6079, or via Twitter @ecowriterohio.
Guidelines: Please keep your comments smart and civil. Don't attack other readers personally, and keep your language decent. Comments that violate these standards, or our privacy statement or visitor's agreement, are subject to being removed and commenters are subject to being banned. To post comments, you must be a registered user on toledoblade.com. To find out more, please visit the FAQ.