Documentary premiere
Bread and Roses Too, a documentary on domestic violence and the history of Bethany House, will premiere at the Franciscan Center at Lourdes University, 6832 Convent Blvd., Sylvania, at 3 p.m. Sunday. The public is invited to attend the free viewing.
Bethany House provides long-term transitional shelter for local victims of domestic violence. It was founded by the Sisters of Saint Francis in 1984 and remains a sponsored ministry.
Two Sylvania Franciscans are the executive producers of the documentary: Sister Mary Jon Wagner, congregational minister of the Sisters of St. Francis, and Sister Theresa Darga, assistant congregational minister.
Pastor in 'Nutcracker'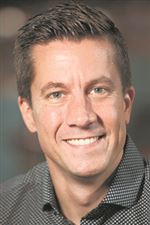 Snyder
CedarCreek Church Lead Pastor Ben Snyder is among the community leaders selected to appear as Mother Ginger in a Toledo Ballet performance of the Nutcracker this season. Pastor Snyder will perform the light-hearted role in the second act of the performance at 2 p.m. Dec. 9.
"Toledo Ballet's Nutcracker has a rich history of community participation," Felecia Kanney, director of marketing for the Toledo Symphony, said in a statement. "For decades, the Toledo Symphony has collaborated with Toledo Ballet to bring Tchaikovsky's iconic score to life. The involvement of community leaders as Mother Ginger adds another facet to the production that makes this truly a production by the community for the community."
Jim White, of Shumaker, Loop & Kendrick LLP; Dan Watson, head coach of the Toledo Walleye; and Makayla Calgie, a sophomore at St. Ursula Academy, will appear as Mother Ginger in other performances this season. Tickets, $24-$56, are available by calling 419-246-8000 or visiting toledosymphony.com.
Holiday giveaway
Bibleway Church in Toledo is coordinating a holiday giveaway this month. Needy families are invited to put their names into a lottery on Friday for a chance to win one of 10 living room sets donated by giveaway sponsor and church member Larry Parker, Jr. Each living room set includes a couch, loveseat, lamp, and end table.
Ten winners will be drawn on Dec. 15. They will pick up their furniture on Dec. 18.
To enter the lottery, families must fill out an application at Bibleway Church, 2335 Collingwood Blvd., between 10 a.m. and 4 p.m. Friday. For more information, call 567-315-8911 or contact biblewaytemple419@gmail.com.
Mayes
Advent reflection
The Rev. James Bacik will present an Advent reflection on Thursday. "Learning to be Patient," a continuation of the Catholic theologian's lecture series, will explore day-to-day annoyances and suggest more patient and charitable ways to respond to them.
The lecture is 5:30 to 7 p.m. at the Franciscan Center at Lourdes University, 6832 Convent Blvd., Sylvania. Tickets are $10 per lecture in advance or $15 at the door. Register at sylvaniafranciscanvillage.org or by contacting Elizabeth Reiter at ereiter@sistersosf.org or 419-824-3515.
Pastoral anniversary
Macedonia Baptist Church will recognize the 16th pastoral anniversary of the Rev. Clifford Mayes on Sunday. The church is at 1501 S. Cove Blvd.
In recognition of the anniversary, Roy Brackins, of Greater Tabernacle Missionary Baptist Church in Fort Worth will guest preach at the 10 a.m. service. Tellis Chapman, of Galilee Missionary Baptist Church in Detroit, will guest preach at the 4 p.m. service.
Guidelines: Please keep your comments smart and civil. Don't attack other readers personally, and keep your language decent. Comments that violate these standards, or our privacy statement or visitor's agreement, are subject to being removed and commenters are subject to being banned. To post comments, you must be a registered user on toledoblade.com. To find out more, please visit the FAQ.