Marian Mulligan likes to think of herself as an "after" person.
After a loved one dies. After a spouse admits an affair. After a couple welcomes a new baby or after an individual struggles to acclimate to a new city.
"You can fill in the blank any way you want," said Ms. Mulligan, a Stephen minister through Hope Lutheran Church in Toledo. "A Stephen minister would help in that way."
Hope Lutheran Church is one of more than 12,000 congregations worldwide where an individual who is going through a difficult or painful time can connect with a Stephen minister, a typically non-ordained community member who is trained to provide one-on-one care and comfort.
VIDEO: Paula Ballmer on Stephen ministry
That care and comfort comes by way of weekly meetings in which Stephen ministers, such as Ms. Mulligan, invite their partners to talk about whatever they are experiencing. When appropriate, they'll also gently remind them about the love and presence of God.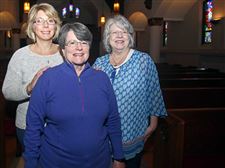 From left, Stephen Ministers Sande Klepzig, Marian Mulligan and Cathie Sommer at Hope Lutheran Church in Toledo on Nov. 20.
The Blade/Kurt Steiss
Enlarge | Buy This Image
"We're not problem solvers," said Bob Beers, another Stephen minister at Hope Lutheran Church. "We can't fix things."
"But we can walk along with them and guide them toward someone who can."
Stephen Ministry takes its name from St. Stephen, who is recognized as the first layperson whom the apostles commissioned to provide care to those in need. It traces its roots to 1975, when its founder, the Rev. Kenneth Haugk, a pastor and clinical psychologist in St. Louis, trained nine members of his congregation to assist him in his pastoral role of providing spiritual support to struggling members of their community.
The enthusiasm and success of these initial trainees led Mr. Haugk to train additional community members, according to a history provided by Stephen Ministries of St. Louis. In 1978, efficiency pushed Mr. Haugk to begin training leaders who would carry the ministry further by teaching and supervising additional ministers to serve their own multi-denominational congregations.
Stephen Ministries of St. Louis, which Mr. Haugk continues to oversee as executive director, today boasts of having trained more than 600,000 Stephen ministers and having cared for millions of "care receivers," as the nonprofit refers to the individuals it serves.
It is active in more than 620 congregations in Ohio, including several in the northwestern part of the state. These include Hope Lutheran Church, which has six active Stephen ministers; McCord Road Christian Church, which has 17; and Aldersgate United Methodist Church, which has about a dozen.
Each Stephen minister is typically paired with a single care receiver, whom they might meet for an hour or so each week at a residence or other space where it's unlikely they'll be overheard.
Confidentiality is key with Stephen Ministry; ministers do not identify their care receivers even to each other in the supervision meetings that their churches arrange twice each month.
At McCord Road Christian Church, Micah Sutton described the work that Stephen ministers do as an extension of his work as senior pastor.
He offered the example of a grieving widow or widower. While he would typically meet with the individual in the days leading up to a funeral, he might suggest that he or she connect with a Stephen Minister in the grief-filled months that follow.
"On [a recent] Sunday, we had 774 people in church," Mr. Sutton said. "There's not enough time in the day for me to meet each person — or in the week. But yet we don't want to remove the personal connection."
Stephen Ministry, then, gives the pastor "a place to send a person who is hurting, desperately, in life," he said, adding that the extensive training each Stephen minister undergoes leaves him confident that they will be able to handle the situation.
Each minister completes 50 hours of training sessions at his or her congregation, led by a Stephen Leader who has gone through even more extensive training through Stephen Ministries of St. Louis, before connecting with a care receiver.
Training covers listening skills, role-play exercises, and more. It is specifically Christian.
"A Stephen minister is there to remind [you] that you can put your burdens onto Jesus Christ," said Cathie Sommer, a Stephen minister through Hope Lutheran Church.
"He's got you," Stephen Minister Sande Klepzig added.
While Larry Godfrey and Paula Ballmer, Stephen leaders at Aldersgate United Methodist Church and McCord Road Christian Church, respectively, said that care receivers need not be Christian, they would go into the relationship understanding the ministry is Christ-based.
Hope Lutheran Church's Barbara Peters, for example, said she typically opens and closes with a prayer when she meets with her care receiver. She also likes to find relevant Bible passages to enrich their conversations.
Much of the responsibility of a Stephen minister, though, lies in listening without judgment. Unlike a therapist, counselor, or even a friend, a Stephen minister does not offer advice.
"The phrase, 'All you have to do is ...' is banned," Mr. Beers said.
That can be a difficult mindset to adopt, as he and Ms. Mulligan readily admit. Both are retired from technical careers, to which they attribute a tendency to think linearly.
"If we put X amount of effort into relationships, we get Y amount of output," Mr. Beers said.
"Well, it doesn't work that way," he continued with a laugh. "We eternally struggle about that."
A relationship between a Stephen minister and a care receiver can continue, formally, from a few months to a few years, depending on circumstances. Ms. Ballmer, of McCord Road Christian Church, said nine months is fairly typical.
Referring to written surveys that care receivers have returned to her, as a coordinator, after a relationship has closed, she said she's seen care receivers respond well to the ministry.
"It's wonderful when I can feel the healing hand of God work in my life," one replied within the past year. "Each time we met I could feel the burden lighten."
To learn more about Stephen Ministries, visit stephenministries.org.
Contact Nicki Gorny at ngorny@theblade.com or 419-724-6133.
Guidelines: Please keep your comments smart and civil. Don't attack other readers personally, and keep your language decent. Comments that violate these standards, or our privacy statement or visitor's agreement, are subject to being removed and commenters are subject to being banned. To post comments, you must be a registered user on toledoblade.com. To find out more, please visit the FAQ.