'Celebrating the Divine'
Jobin
The MultiFaith Council of Northwest Ohio is organizing a free screening of a documentary, Celebrating the Divine: The Caravan of Peace Visits the Holy Land, at the Toledo Museum of Art GlasSalon on Sunday. The British film follows a multi-faith peace initiative in which two local musicians, Sara Jobin and Lauraine Carpenter, participated in 2016.
Ms. Jobin, who is resident conductor of the Toledo Symphony, and Ms. Carpenter, principal trumpet, joined 150 performers from around the world in Jerusalem, Bethlehem, and Nazareth. The musicians performed Johann Sebastian Bach's Mass in B Minor, with Ms. Jobin conducting, outside the concentration memorial site in Dachau, Germany.
The 45-minute documentary will be introduced by Ms. Jobin and Ms. Carpenter. It will be followed by a short discussion in which representatives of several faiths will participate. Th e 2:30 p.m. screening is free.
'Blood: A River of Life'
Dr. Bahu Shaikh will present on the medical and religious aspects of blood on Sunday at the Islamic Center of Greater Toledo. In addition to addressing common medical disorders related to blood, "Blood: A River of Life" will consider how it is viewed in the Qur'an and the Bible.
Dr. Shaikh is a hematology and oncology specialist with almost 50 years of experience in the Toledo area. His lecture is free. It begins at 12:30 p.m. at the mosque, 25877 Scheider Rd., Perrysburg. Zuhr noon prayer will begin 1:30 p.m.
'Fill the Freezer'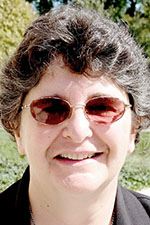 Vano
THE BLADE
Enlarge | Buy This Image
Lourdes University kicks off a 24-hour "Fill the Freezer" casserole-making marathon on Friday. The meals will benefit Toledo Labre, a weekly outreach ministry at the university in which students bring "food, friendship, and faith" to residents of two local neighborhoods. It is inspired by Saint Benedict Joseph Labre, the patron saint of the homeless.
"The 'Fill the Freezer' marathon allows us to more quickly restock supplies and continue offering warm, nutritious food during the cold winter months," Sister Barbara Vano, OSF, director of campus ministry and service learning, said in a statement.
The casserole marathon kicks off the university's commemoration of the Rev. Martin Luther King, Jr. It begins at 3 p.m., with students, faculty and staff working in shifts to continuously make casseroles over 24 hours.
Donations of casseroles and casserole ingredients are accepted Jan. 8-19. To arrange a donation or for more information, contact Sister Barbara at bvano@lourdes.edu or 419-824-3861.
TED Talks
Sylvania Franciscan Village and Lourdes Lifelong Learning present a recorded TED Talk, followed by a discussion, over lunch each month. The next talk, on Jan. 16, features Charles Robbins on "Social Justice: Is it still Relevant in the 21st Century?"
TED is a nonprofi t that launched in 1984. It invites and encourages infl uential speakers to present on a wide variety of topics, typically in short recorded speeches that can be viewed online. More than 2,600 videos can be viewed on ted.com.
The TED Talks, presented in the Franciscan Center Board Room at Lourdes University, 6832 Convent Blvd, Sylvania, between noon and 1 p.m., are free. Attendees are invited to bring their own lunch. For more information, contact Laura Megeath at 419-824-3707 or lifelong@lourdes.edu.
Guidelines: Please keep your comments smart and civil. Don't attack other readers personally, and keep your language decent. Comments that violate these standards, or our privacy statement or visitor's agreement, are subject to being removed and commenters are subject to being banned. To post comments, you must be a registered user on toledoblade.com. To find out more, please visit the FAQ.