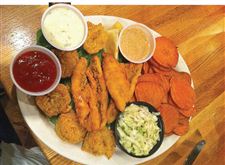 Fried perch and shrimp with cole slaw and sweet potato chips.
THE BLADE
Enlarge | Buy This Image
Chowders 'N Moor, a seafood shack with the kitschy Key West theme, is a go-to neighborhood restaurant in Waterville.
A case could be made that the establishment is most well known for its white chicken chili ($6.50 bowl; $4.60 cup; $15.75 quart). The dish is served with tortilla chips and is creamy and cheesey and unlike any chili I have ever eaten. The waitress wore a T-shirt that boasted the chili's popularity on the back of it. Now I know why.
But back to the main reason we decided to visit Chowders 'N Moor: seafood. With a name like that, it's got to be good, right?
The fish basket ($9.99) is a delicious version of the traditional fish and chips. The light beer batter, in this case with Corona, is delicious and keeps the cod moist and tender. If you opt for the seasoned fries, know that it is an Italian herb seasoning rather than the paprika spice mixture you might expect from a burger joint. The cole slaw is nice because the cabbage still has some crunch, but it is a little heavy on the pepper.
RELATED CONTENT: Chowders 'n Moor menu
The fried perch and shrimp ($17.99) were coated in a cornmeal flour which made for a crunchy coating. The shrimp were butterflied and were perfect companions for the fish. The sweet potato chips ($3 upcharge) were thin and had ruffled edges with a dash of cinnamon. They were delicious by themselves and didn't need the caramel dipping sauce.
The crab cakes ($12.99) are worth the extra money for the higher-end appetizer. Full of crab meat with little filler, they have a nice blend of complementary seasoning and vegetables and are served with a creamy red pepper sauce with a nice kick. The only complaint is they were a bit oily and could have benefited from a rest on a paper towel before serving.
The summer seasonal pie ($4.49), strawberry rhubarb, was refreshing without being overly sweet, thanks to the tart counterpoint of the rhubarb, in a great flaky crust.
We were just as pleased during a lunch visit.
The Mellie's Philly ($5.55 for a half-sandwich and soup or salad) featured toasted sourdough, thin slices of sauteed roast beef, melted provolone, and grilled onions, green peppers and other veggies, and oozed a semi-sweet homemade deli sauce for a different but welcomed flavor. The skin-on homemade fries for $1.50 extra were crisp and fresh.
The clam chowder ($6.50 bowl; $4.60 cup; $15.75 quart) was thick, creamy, and yummy, but would have been better had it been served at a warmer temperature. It was balanced and satisfying enough, but the addition of more chunks of clams would have improved the texture.
The cup of chowder was paired with a half Commodore club sandwich ($10.29). The club had a generous pile of deli-style turkey, two strips of perfectly cooked thick-cut bacon, choice of cheese, lettuce, tomato, and mayonnaise on Texas-style buttered sourdough toast.
We also enjoyed the onion rings appetizer ($5.99) served with a horseradish-style dipping sauce: They were large and lightly battered, crunchy and filling and are highly recommend.
The only disappointment during our two dining trips was the tilapia taco, which came lightly breaded and topped with a tomato salsa and cheddar cheese. It looked appetizing, but something was amiss with the seasoning because I tasted an undesirable anise flavor on more than one bite and the tortilla seemed stale.
Overall, Chowders 'N Moor had a friendly atmosphere with an attentive staff. The restaurant has daily specials, including Mexican Mondays. It also serves breakfast every day until 2 p.m.
CHOWDERS 'N MOOR
* * *
Address: 312 South St., Waterville
Phone: 419-878-9105
Category: Casual
Menu: American/seafood.
Hours: 7 a.m. to 9 p.m. Monday through Thursday; 7 a.m. to 10 p.m. Friday and Saturday; 8 a.m. to 9 p.m. on Sunday.
Wheelchair access: Yes
Average Price: $$
Credit Cards: AE, Dis, MC, V
Web site: Facebook page
Contact Bill of Fare at fare@theblade.com.
Guidelines: Please keep your comments smart and civil. Don't attack other readers personally, and keep your language decent. Comments that violate these standards, or our privacy statement or visitor's agreement, are subject to being removed and commenters are subject to being banned. To post comments, you must be a registered user on toledoblade.com. To find out more, please visit the FAQ.