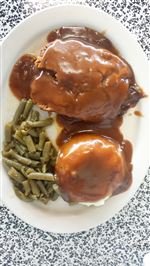 Meatloaf with mashed potatoes, gravy, and green beans from Monroe Street Diner.
Summaries of recently reviewed area restaurants, in the order in which they were reviewed, with the most recent at the top.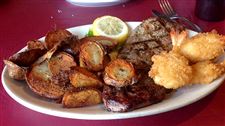 A 10-ounce sirloin with shrimp from Doc's Food & Spirits in Tontogany.
●Los Dos Gallos lacks in the decor you find at other restaurants. However, the inexpensive lunch/​brunch experience was a hit, only to be disappointed by the overcooked meat options at dinnertime. If you go on the right day, take advantage of Los Dos Gallos' specials and it could make for a good night out in Toledo. $$ 3 stars.
Bird's Nest Stir Fry from Flower Drum Restaurant on Byrne Road.
●Poco Piatti, 3155 Chappel Drive in Levis Commons, at times reminds you of an assembly line of food that has lost its individual touch. Despite this, the restaurant offers enough menu items for everyone to find their niche, and there was more great than not-so-great. Diners choose from a vast menu of small plates and entrees, including traditional hummus, tuna, lamb sliders, kafka, and kabobs. The pillowy bread is not to be missed. In the end, this Mediterranean eatery is worth visiting. $$-$$$. 3.5 stars.
●Treo, 5703 Main St., Sylvania, wouldn't be out of place in one of Manhattan's trendier neighborhoods, say Tribeca or SoHo. The delicious food spans Italian, American, and French-inspired dishes, and the atmosphere is amiably upscale and pleasantly low key. Your biggest challenge will be deciding what dish to order — pasta? beef Wellington? filet mignon? — or to skip dinner altogether and go for the decidedly affordable Sunday brunch menu. $$-$$$. 4.5 stars.
●Kyoto Ka's downtown location, 300 Madison Ave., is a scaled down version of the popular Sylvania Township original. For sushi and sashimi, freshness is key, and Kyoto$$-$$$ 4 stars. Ka delivers while managing to stay budget-friendly. The menu offers a variety of rolls and several options for diners who choose to skip the raw fish.
●Angelo's Northwood Villa has not updated its decor probably since its speakeasy years, but that is half of its charm. Tucked away in Erie, it has several elegant eating rooms and honors the old reliables of supper clubs, which were once popular from the 1930s to the 1970s: seafood, steak, and glistening pastas. Opt for the house-made tiramisu to polish off your fine dinner. It also pays homage to some delicacies, such as frog legs and escargot. It has a convivial atmosphere on Friday and Saturday nights with live music. Be sure to check out the hidden cigar room. $$$ 5 stars.
●The Monroe Street Diner is happy to serve omelettes, hearty meals, soups, and salads to the early-risers and a lunch crowd. But those looking for a bite to eat later in the evening will find the diner closed — even with a slogan "breakfast anytime." In our two visits, we missed the boat with our orders and will chalk it up as the diner being off its game those days. $ 2 stars.
●Yala Kol, 3200 N. Holland-Sylvania Rd. You might breeze by if you don't know any better, but the food at Yala Kol is worth checking out. From traditional Mediterranean fare that includes gyros, garlicky hummus, and chicken shawarma, to rich, savory dinners of succulent meats and fluffy rice, this newly established restaurant is worth checking out. Ask for the homemade garlic sauce on the side with everything. $$ 4 stars.
●Two Foxes Gastropub, 121 S. Main St., in Bowling Green has 11 burgers and a handful of pub sandwich favorites on the menu — we highly recommend the Poblano Pollo Loco and liked the burgers for the most part. It's a friendly spot to enjoy a craft beer and an ever-changing menu. $$ 3.5 stars.
●Mancy's Bluewater Grille, 461 W. Dussel Dr., Maumee, is the sort of place you go for special occasions, with its low-key lighting and upscale pricing. Although you can get delicious steaks and pork chops, the menu mostly stresses seafood, from mahi mahi and walleye to oysters, lobster, and everything in between. The made-from-scratch pizza dough rolls help make up for the occasional misstep, such as a bowl of soup served lukewarm instead of hot. A small quibble for an otherwise exceptional eatery. $$$ 4.5 stars
●Doc's Food & Spirits, 18625 Main St., Tontogany, Ohio, is everything you might expect from a small-town restaurant bar. The tender fall-off-the-bone ribs, beef tips, and sirloin stand out on varied menu of traditional comfort foods and Americanized Mexican favorites. The welcoming and friendly service makes the 30-minute drive from Toledo well worth the trip. $$-$$$ 3.5 stars
●The extensive menu of the Flower Drum, 49 S. Byrne Rd., offers a variety of American-Chinese cuisine selections. However, with the long list of entrees, you will find hits and misses. So if you order right, the Flower Drum can be a pleasant dining experience in South Toledo. $ 2½ stars.
●Ventura's, "the Original Mexican Restaurant and Cantina," 7742 W. Bancroft St., has been serving enchiladas, burritos (including its own Adela's Wet Burritos, a favorite), fajitas, and more since 1984, but it can also credit its margaritas for its success. In addition to its Tex-Mex-style fare, it serves a Heart Smart Chicken Enchilada made with fat-free cheese and sauce. 419-841-7523. $$ 3 stars.
●Authenticity is the name of the game at Rose Thai, 5333 Monroe St., which excels at the myriad flavors of the region ranging from sweet and sour to hot and salty. Whether your taste runs to pork and chicken or vegetarian and seafood, the fare here is delivered with ample flavor. Standouts include the Pad Thai and grilled shrimp fantasy. For something different, check out the duck curry. The serene, understated atmosphere is a bonus. $$ 4 stars.
●Chubby's American Grill, 535 W. Alexis Rd., is a new West Toledo restaurant serving large portions of deliciousness that your doctor may not approve of, but your gullet most assuredly will. Highlights are the signature Reuben balls and pulled pork sliders; the Mac & Crack — mac & cheese with andouille sausage and nice-size shrimp in a five-cheese sauce — is comfort food on steroids; the gigantic Chubby's Slammer, one of four plate-filling chicken chunk options, and the towering Ernie's Chubby Double Decker cheeseburger, featuring two 8-ounce patties and plenty of fixings. $$ 4 stars.
●Kengo Sushi & Yakitori, 38 S. St. Clair St., has made its mark in the Warehouse District since its opening in February. Chef Kengo Kato serves up fresh sushi and grilled items daily to the cozy crowd that visits the 23-seat restaurant, including fresh raw fish and grilled chicken and vegetable items. The flavors cover all the taste-bud fronts and are a culinary experience not to be missed. $$$ 5 stars.
●POP Grille, 3309 Holland-Sylvania Rd., specializes in inventive Asian fusion dishes that pack plenty of POP, perfectly blending sweetness with a touch of heat. The salmon, smoked in house, is among the highlights in the Smoke Salmon Wrap ($14) and the Pagoda Salmon ($9). The wontons, available in pork or chicken ($11), also shouldn't be missed. $$-$$$ 4 stars.
●The Flying Joe has found a home in the Levis Commons area. Come to the Perrysburg coffee house to build your own custom fare, try a pretzel croissant sandwich, or venture in to try the plethora of caffeinated beverages The Flying Joe has to offer. The Flying Joe supports veterans with a 10 percent discount on drinks and meals. $ 3 stars.
●BleakHouse Coffee serves downtown Toledo tasty treats, sandwiches, and fresh-brewed coffee in a petite shop on Adams Street. Named after the eponymous Charles Dickens novel, the coffee shop features tasty beans, a cozy setting, and a laid-back demeanor. It also features limited hours, so be sure to check when BleakHouse is open. $ 3 stars.
●Greg's Grill, 3243 Sylvania Ave., serves up mom and pop classics with flair. The BBQ burger and Cuban sandwich won us over during lunch, and you can't miss with the breakfast menu. $$ 4 stars.
●Palacio Maya Bar & Grill, 5125 Monroe St., has changed names in the last year, but may also have dropped a notch or two in the quality of its food. The West Toledo Mexican restaurant is solid with traditional food and drink, but falls short when trying to dazzle its customers on entrees with a twist. $$ 2½ stars.
●M Osteria, 609 Monroe St., is situated a stone's throw from Fifth Third Field and offers the swank atmosphere of a SoHo trattoria with its emphasis on Italian foods. Whether your taste runs to sublime beet salad, personal pizzas, or heftier entrees such as a bistro steak sandwich or Tagliatelle Carbonara, you'll find it here, along with an expansive wine selection. The eatery sometimes stumbles on the details — foods aren't always delivered at the right temperature — but those growing pains should eventually dissipate, allowing this upstart to live up to its promise. $$-$$$ 3 stars.
●Public House, 138 N. Monroe St., is a risk-taking restaurant open 7 a.m. to 10 p.m. daily in downtown Monroe. The New American menu is full of locally made fare that dares you to try something different each visit. The Public House Burger, hangar steak, and mac & cheese are can't-miss items. Most breakfast selections are top-notch as well. $$-$$$ 4 stars.
●Easystreet Cafe, 104 S. Main St., has been a Bowling Green staple for decades as a result of its top-notch sandwiches. The burgers (made with beef, buffalo, or elk) alone are worth a trip. The Chubby Checker Club — featuring a smorgasbord of deli favorites — the rich, beefy French onion soup, and the fried pickle appetizer also stand out on the lengthy menu. $$ 3½ stars.
●Muna Market, 5434 Monroe St., Sylvania Township, is like a corner bodega, with the bonus of a cafeteria-style restaurant. It serves traditional Lebanese and Mediterranean dishes that are fragranced with herbs and spices, made on the spot, and crowned with fruity olive oil. All the usual suspects are here: Lemony hummus, grape leaves, minty fresh tabbouleh, chickpea and other legume based dishes. It also uses fresh halal meats for its shish kebabs and kibbe recipes. Traditional desserts are made in-house. Weekend specials are chocolate and strawberry cream croissants. After dinner, check out its olive bar, specialty imported foods, and fruit display. $-$$ 4 stars.
●Local Thyme, 6719 Providence St., Whitehouse, is homey, friendly, and does a brisk business but it appears the servers and cooks are overwhelmed. Some dishes (broiled fish, clam chowder) are heavily spiced. BBQ ribs were fatty and chewy. Thursday's lasagna is a huge meaty slab. $$ 2 stars.
●Inky's Italian Restaurant, 3945 N. Detroit St., would be right at home in a Godfather movie, with its soft lighting, red decor and menu heavy on foods from the Old Country. Abundance is the name of the game, whether it be heaping plates of spaghetti and meatballs or palate-pleasing chicken Parmesan. There's an occasional miscue on the spices, and the dessert menu is limited to cheesecake. Still, you'll readily forgive those flaws given what you get for your money. $$. 4 stars.
●Manhattan's Restaurant, 1516 Adams St., brings a taste of the Big Apple to the Uptown neighborhood. Dinnertime at the restaurant offers intricate appetizers, main dishes, and desserts that offset the more subtle lunch options. For something that screams New York, a short trip to Toledo might do the trick to satisfy the East Coast craving. $$-$$$ 3½ stars.
●Calvino's Restaurant and Wine Bar, 3143 W. Central Ave., combines Mediterranean with Italian, and throws in a wine bar — yet the mix works. From the strombolis to the specialty pizzas to the mix-and-match pasta dishes, everything is served fresh and hot in a crowded, casual atmosphere. The warm, soft breads alone are what makes a visit to this restaurant worth it. $$ 3½ stars.
●El Tipico Restaurant, 1444 South Ave., was one of the first Mexican restaurants in the area when it opened its doors in 1968. A family operation it treats food as a labor of love and makes every effort to transport your taste buds to Mexico by using fresh and organic ingredients. All the usual suspects are here, tacos, tamales, homemade mole sauce, burritos, and signature rice and beans, as well as fish-based dishes. Children, gluten-free eaters, and vegans can all find something here that will satisfy the tummy. It also offers a full breakfast menu on Saturdays. $$, 4 stars.
●Moe's Place, 620 Dixie Hwy., Rossford, has a compendium of loyal customers who will keep business booming. But, with its proximity to Hollywood Casino Toledo, maybe stop in and try a burger or another entree from its many selections if you are in the area. There are some misses on the menu, but the prices are affordable enough. $, 3 stars.
●Martini & Nuzzi's, 6023 Manley Rd., has the long hours and unpretentious feel of a suburban neighborhood bar but its kitchen is a cut above, offering pasta, sandwiches, and a hummus appetizer in addition to several deep-fried cheesy starters. From 5 to 7 p.m. weekdays, there are discounted appetizers, martinis, and beer ($1 domestics). Dancing to live bands on several nights. $$, 3 stars.
●La Chalupa, 6186 N. Summit St. In a city with no shortage of Mexican restaurants, this Point Place eatery stands out for its robust food, pleasant decor, and solid service. Whether your taste runs to vegetarian fajitas or meat-filled chimichangas the size of a baby's forearm, La Chalupa delivers on volume and taste. Standout dishes include the Chorizo con Queso appetizer and Chile Colorado, tender beef spicy enough to make your taste buds do a hat dance. $$, 3½ stars.
●Jamaican Spice, 1223 N. Byrne Rd., puts an emphasis on unique carryout dining. However, it lacked a bit in the taste department on a few of its sides and entrees. But when you order right, the restaurant can be a good experience, especially when looking for somewhere different to eat in Toledo. $$, 2½ stars.
● Freshness rules at the Orchard Restaurant & Bar, 3266 Northeast Catawba Rd., in Ottawa County's Catawba Island Township. Both food and drink involved fresh fruits, vegetables, herbs, and spices for an exceptional clean eating experience. Dishes are well thought out and prepared with care. $$$, 4 stars.
●Schmucker's Good Food, 2103 N. Reynolds Rd. Schmucker's has been serving robust comfort food in South Toledo since 1948, offering a menu for just about every taste. There are filling breakfast specials, burgers to do Wimpy proud, homestyle dinners (roast beef, breaded scallops), and steaks that maintain their flavor even when a tad overcooked. If you're a pie lover, this is truly the place to go, with 23 varieties offered by the slice most days, and a catalog of 55 that the restaurant draws from. Schmucker's may not be the fanciest gal at the ball, but it surely knows how to dance. $, 3½ stars.
● La Autentica Michoacana,1218 Broadway, is the newest kid on the block serving Mexican fare, and as the second word in its name indicates, it could easily be a transplant from south of the border. The menu at this little family-owned place has all the usual suspects as well as Mexican breakfasts, fried fish, and weekend specials such as aguas frescas, menudo (tripe soup), and birria (goat soup). $, 3 stars.
● Hot Sizzling Wok, 2333 W. Laskey Rd. After 24 years in business, this west Toledo Chinese restaurant has gotten the basics down pat: Good service, abundant food, and a pleasant atmosphere. The glazes may be a bit heavy on dishes like sesame chicken and beef, but the expansive menu and delicious soups (especially the egg drop) make it a welcome destination for dishes ranging from wood-smoked duck to Kung Pao shrimp and scallops. Even if you arrive hungry, you can pretty much count on having leftovers. $$, 3½ stars.
● Rock'N Whiskey, 2640 W. Laskey Rd., is the place to go for good grub and a diverse menu of drinks. While there is nothing remarkable about the menu here, the classic sandwiches, burgers, appetizers, and wings will satisfy. A laundry list of beers, whiskey, moonshine, and other specialty drinks dot the saloon's menu, and almost nightly entertainment rounds out the eating event here. $$, 3½ stars.
● Amaya's Fresh Mexican Grill, 1470 Ford St., borrows a page from the chain burrito joints but the family restaurant features a far more extensive menu. The enchiladas, tacos, and Mexican pizza are among the standouts. $-$$, 3½ stars.
● J & G's Pizza Palace, 5692 Main St., Sylvania, has been serving up its tiny-square sliced pizzas for decades. The sweet sauce and thin crust pizzas are a staple cuisine in the Toledo food scene. It also specializes in shishkebobs, phyllo dough wrapped spinach and chicken pies, and spicy lamb, beef, and chicken gyros. The shop is a small comfortable atmosphere and often has a line of people waiting out the door to be seated; however its quick staff aim to serve up hefty plates of food fast. $$, 3½ stars.
● Miss Cue South, 1720 S. Reynolds Rd. The unimpressive food at Miss Cue didn't meet much expectations. It is best to stick to the cheap drinks and reasonably priced pool at the establishment. $, 2 stars.
● Timber's Bowling, 1246 Conant St., Maumee. Timbers Bowling's food was decent for a social gathering. With burgers, baskets, and other sandwiches, it is not a bad complement to the bowling. $, 2½ stars.
● Veritas Cork & Craft, 505 Jefferson Ave. at Superior Street, does a brisk after-work trade of youngish types drinking craft beers and wines (good variety) and cocktails. To slake the appetite: small-plate appetizers and boards with intriguing cheeses and sausages. $$-$$$, 4 stars.
● Star of India, 415 S. Reynolds, Rd. There's nothing flashy about this south Toledo restaurant, yet it delivers where it counts: Steaming plates of Punjabi-style pleasure that will take your mouth to the subcontinent. The menu is rife with vegetarian choices, along with plenty of chicken and lamb dishes. From curries to vindaloos, you can order your Indian cuisine mildly spicy or hot enough to melt your face. $$, 4 stars.
● Sebastiano's Italiano, 4448 Heatherdowns Blvd, is a casual but refined Italian restaurant that is comfortable in its own skin. Ownership recently changed hands, and the new owners have found a good meld between the old and the new. They offer a variety of traditional Italian dishes and much of the salad dressings, pasta, and sauces are made in-house. $$, 4 stars.
● T-Town Pub-n-Grub, 513 W. Jefferson Ave., offers hockey fans, concert-goers, and casual diners a new downtown spot to enjoy a burger, sandwiches, and pizza. $$, 2½ stars.
● Yoko Japanese Restaurant, $$, 3 stars.465 Dussel Dr., Maumee. This unassuming restaurant deserves a chance. Its Bento Boxes overflow with food, its tempura battered fish and vegetables are a hit, along with its specialty rolls. The only thing to beware of is a long wait for your food to reach the table.
● Mulvaney's Bunker Irish Pub and Grub, 4941 Dorr St., offers Toledo-area diners multiple choices of Irish and American dishes. It is best to arrive earlier in the evening to avoid the University of Toledo rush at night. $$, 3 stars.
● Reverend's Bar & Grill, 130 E. Wooster St., Bowling Green, turns modern pub grub into heavenly cuisine. The restaurant, which opened in 2007, focuses on burgers, and sandwiches, with some other entrées mixed in. What makes the menu stand out are the extras that add a surprising level of flavor. The wings are top notch, and the burgers and goat mac also stood out. The restaurant also features 12 beers — many of them microbrews — on tap and routinely changes out the selections. $$, 4½ stars.
● Ice, 405 Madison Ave., with a lovely contemporary decor, bustles at lunch and is sleepy at dinner. We had hit-and-miss experiences here, both with eats and service. It has a well-rounded lunch menu, dinner fare, and a full bar. Favorites: chili mac, steak, and chocolate Oreo cheesecake. $$, 3 stars.
● Josephine's Kitchen, 902 Lagrange St. The menu changes often, and the wait may be a bit longer than usual, but what comes out of the kitchen at Josephine's is more than worth the wait. Everything at Josephine's is made in house and it comes through in every bite. We enjoyed the fried catfish and smothered pork chops, and the menu almost always features other soul food staples such as fried chicken, greens, or green beans, candied yams, and mac and cheese. Barbecue ribs are served on Sunday, when the spread resembles a Thanksgiving feast. More suited for carry-out than dine in. $$, 4 stars.
● J'Mae's Home Cooking, 3117 Lagrange St., is a laid-back dining room and kitchen offering true home cooking, just like your mother and grandmother used to make. Don't expect fancy table cloths and fine china, but do expect good food and service at a price that's affordable. Get your soul food fix with all the southern favorites and dishes like black-eyed peas, salmon cakes, meatloaf, and pigs feet. $$, 3½ stars.
● It's all hail to the burger and bourbon at Bar 145, 5305 Monroe St., where patrons can build a customized burger with more than 50 toppings that include several forms of bread, vegetables, cheeses, other meats, house-made sauces, and rubs. $$, 4 stars.
● Black Kite Coffee and Pies, 2499 Collingwood Blvd.,offers a unique dining experience in Toledo's Old West End. With its ever-changing brunch menu that offers diners a selection of choices and excellent coffee, it is worth trying if you have the time on a Saturday or Sunday. Be wary, some dishes are more filling than others, so it might be best to ask the portion size before you order. $-$$, 3½ stars.
Guidelines: Please keep your comments smart and civil. Don't attack other readers personally, and keep your language decent. Comments that violate these standards, or our privacy statement or visitor's agreement, are subject to being removed and commenters are subject to being banned. To post comments, you must be a registered user on toledoblade.com. To find out more, please visit the FAQ.