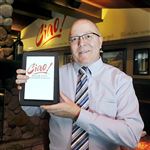 Ciao! Ristorante general manager Terry Kretz holds an Acer tablet menu in use at the restaurant.
THE BLADE/LORI KING
Enlarge | Buy This Image
Politeness dictates you stash the digital devices and focus on your companions when out to dinner — but only after you order.
As the proliferation of technology continues, it's only natural that tablet computers are finding their way to the dinner table as digital menus and wine lists.
Several Toledo-area restaurants have put their drink lists on tablets. Mancy's Steakhouse in Toledo was an early adopter, moving its beer and wine list to iPads more than a year and a half ago.
With almost 300 options for wine alone, printing detailed information on every variety in a paper wine list would be like publishing a small book. The digital list lets co-owner Gus Mancy give guests as much information as they want. It also allows for much easier updates.
Though he keeps some traditional paper lists on hand, Mr. Mancy said the digital list has been a hit. It also has steered patrons to try a wine they might not otherwise have sampled.
"You're able to give more information, which then gives the guests the opportunity to go off the beaten path and try a wine they've never heard of because they're able to read a little more about it," he said.
Most local restaurants haven't yet replaced traditional printed menus with digital versions. But there are at least two exceptions.
Ann Arbor restaurant group Mainstreet Ventures Inc. opened Revolution Grille with tablet menus last summer and later added them at its other Sylvania establishment, Ciao! Ristorante.
"It's something that's here to stay," said Mike Gibbons, president and chief executive officer of Mainstreet Ventures.
For Mr. Gibbons, the idea started with an algorithm that took taste cues in foods and paired them with wine. The program worked well — so well that Mr. Gibbons decided to further develop the application and use tablets for everything.
He and a software developer started a company to create a program that can show diners not only what's on the menu, but what's in the dish, its nutritional information, and more. Mainstreet Ventures first tested tablet menus at the Chop House in Ann Arbor. Mr. Gibbons said it was hugely successful, both for patrons and staff.
A diner uses an Acer tablet to select an entree at Ciao! Ristorante in Sylvania.
THE BLADE/LORI KING
Enlarge | Buy This Image
"One thing that it did was it leveled the playing field for someone who started working for us a month ago and someone who had been working for us eight years, because everything they needed to know was in there."
The restaurant group slowly has been adding the tablets to its 16 locations. Mainstreet Ventures has worked out a deal to lease them, making the switch far more economical.
David Lindsley, a retired University of Toledo professor and administrator, said he'd read about tablet menus but first encountered them at Ciao! in December.
"I thought it was kind of cool," he said. "I liked them, but I like a lot of tech things so that's not really a big surprise."
As a matter of practicality, Mr. Lindsley had mixed emotions about the tablets. He liked the detailed descriptions and photos of each dish, but thought there was an awful lot of swiping to see all the choices, taking him longer to get through the menu.
"It was more informative than a regular menu, but it didn't change what I ordered," he said.
Mr. Gibbons said his restaurants keep traditional paper menus on hand for those who prefer them. But he firmly believes the menus are the wave of the future, especially at restaurants that have multiple daily specials or seasonal menus.
Mr. Gibbons said Mainstreet Ventures was spending an average of $26,000 a year at each of its seafood restaurants printing food and drink menus. Being able to instantly update the menus also gives restaurateurs freedom to tweak prices up or down in line with increasingly volatile food prices.
Beyond that, he sees them as a visual marketing tool, and said check averages have risen in restaurants that have started using them.
Mr. Gibbons said the tablets eventually will show up in Real Seafood and Zia's at The Docks complex in East Toledo, but right now the facility doesn't have the Internet bandwidth.
It could be easy to dismiss Mr. Gibbons' optimism about tablet menus, seeing as he has some skin in the game. But even restaurateurs who aren't using digital menus say they can see it in the future.
"I think there's probably more pros than cons," said Moussa Saloukh, co-owner and chef at LaScola Italian Grill in Toledo.
While it's not something LaScola is currently looking at, it's something to consider.
"It's a cool set-up," he said. "I think it's going to be something for the future. I think a lot of people are going to be going to it."
Still, not everyone is ready to replace leather-bound paper with leather-bound tablets.
Peter Swick, assistant general manager at Toledo's Inverness Club, said the club's restaurant has successfully been using an iPad wine list, but he's not sure Inverness is ready to go full-on digital.
"I love the idea that if something changes, with the click of a button all your menus can change instantaneously," he said.
"That's huge. But part of me likes the nostalgic piece with the menu. I don't see us going to it any time soon."
Mr. Mancy also said he likes the idea of a nice, leather-bound embossed menu in his hand when he's ordering his favorite steak. But he concedes that the digital tide isn't likely to be stopped.
"Right now they're great for wine lists and some day we'll look at them for menus," he said.
Contact Tyrel Linkhorn at: tlinkhorn@theblade.com or 419-724-6134.
Guidelines: Please keep your comments smart and civil. Don't attack other readers personally, and keep your language decent. Comments that violate these standards, or our privacy statement or visitor's agreement, are subject to being removed and commenters are subject to being banned. To post comments, you must be a registered user on toledoblade.com. To find out more, please visit the FAQ.