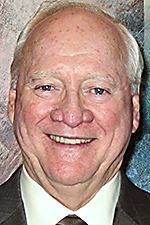 Bennett
Robert G. Bennett, who founded one of the largest food franchise firms in the Toledo area and who rode to the rescue nearly two years ago and bought Tony Packo's, the legendary Toledo restaurant group, died Wednesday in the Cleveland Clinic. He was 76.
Family members said his death was unexpected and came after a short illness.
Mr. Bennett of Sylvania was chairman and chief executive of Bennett Management Corp, a Maumee firm that owns 26 Burger King stores in three states. He retired in 1995 — although he was still active in the business, his wife, Emily said.
About 2½ weeks ago, he called David Chandler, who retired as Bennett's president and chief operations officer, and said that he was ill, Mr. Chandler said Wednesday night.
"I've been stunned that he [is] gone. It's difficult," Mr. Chandler said. "The family atmosphere that he created and the loyalty to his employees and his business was just unbelievable."
Mr. Bennett made a splash in October, 2011, when he won a $5.5 million bid in the court-ordered sale of Tony Packo's, Inc.
"It's exciting. It's a good company and it's a natural fit," he told The Blade.
The preceding 15 months had been marked by legal battles among Packo family members for control of the business.
The sale included three full-sized restaurants, two Packo's Express eateries in The Andersons stores in Toledo and Maumee, and a wholesale business.
Mr. Bennett saw himself as a "white knight" who could preserve and improve the eatery begun in 1932 and known worldwide since the 1970s, thanks to the television program, M*A*S*H.
"I thought I could protect the brand and maybe grow the brand in the future," he told The Blade. "It seemed like something that would fit my organization well. It's Toledo-based. It affords me a chance to invest in the Toledo market and put money back into where I earned all my money from."
That sale was reaffirmed last week in Lucas County Common Pleas Court.
Tony Packo, Jr., the son of the founder of the Tony Packo's restaurant in East Toledo, said Mr. Bennett was an innovator in the food service industry.
"He had incredible high integrity and character," said Mr. Packo, who is vice president of restaurant and retail operations for TP Foods, LLC., a Bennett Management subsidiary that oversees the Packo restaurant operations.
Mr. Packo said it was too early to speculate about the future of the business. He said Mr. Bennett was achieving his goal of expanding the business.
"We have to get through this first phase, which is giving our support to Emily Bennett and supporting the Bennett family. That is where we are focused right now," he said.
The Bennetts had been snowbirds — winters in Fort Lauderdale, Fla.; summers in Sylvania, his wife said. With the acquisition of Packo's, "he was involved 100 percent," his wife said. "We never went back to Florida. He worked every day.
"He thrived on it. He was a man who loved a challenge," his wife said. "He was creative and a visionary in many ways.
"He was a highly ethical man who always saw the potential in people and nurtured it," his wife said.
Mr. Bennett had degrees in accounting and law from the University of Miami when in his 30s he embarked on a third career. He'd been a tax accountant and an associate with a Miami law firm. He had noticed the profit potential of restaurants as he audited establishments and, on his own time, studied prospectuses of 80 chains.
He chose Burger King, which was founded in Florida. He aimed for the Toledo market, but opened his first Burger King in Kalamazoo in 1966. With partners, he opened his first Toledo unit in 1967, and by early 1968, left his law practice and moved to town.
"He fell in love with the city right away. It was a wonderful place for him to raise the children," his wife said.
As Mr. Bennett told The Blade in 1970: "I left an 80-hour-a-week job to go into a 100-hour-a-week job."
He bought out his partners in the early 1980s from what had become a Burger King empire and invested in 18 Long John Silver eateries in northern Ohio and southern Michigan. He sold them back to the company in 1990 after a chainwide menu change drove customers away.
"What I marveled about Bob was his entrepreneurship and his ability," Mr. Chandler said. "He basically was my mentor and taught me how to run fast-food hamburger restaurants. He was extremely innovative in the business from the very beginning."
Mr. Bennett was a longtime benefactor of Central Catholic High School. In 1988, a science classroom was named in his honor. His firm's fund-raising efforts had brought more than $1 million to the school. He served on the board of trustees, and the school later awarded him its highest honor.
He was a member of Historic St. Patrick Church downtown and served on the local board of the Boy Scouts of America and was a supporter of the Salvation Army, the Cherry Street Mission, and the Toledo Northwestern Ohio Food Bank.
"Any way he could support the community he would, because the community supported him," his wife said.
He was born Feb. 28, 1937, in the Bronx to Mary and Lloyd Bennett, but grew up in Miami and was a graduate of Coral Gables, Fla., high school.
He fished all over the country and was a bow hunter. He liked power boating. He golfed at the Inverness Club and he played tennis.
"He was extremely smart. He was always thinking and analyzing," his wife said. "He had a wonderful sense of humor and had the best laugh of anyone."
He was formerly married to Cecile Bennett.
Surviving are his wife, Emily Bennett, whom he married in 1996; daughters, Teri Giacci and Laura Swafford; sons, Keith and Bob Bennett; brother, Jack Bennett; sister, Jane Duval, and four grandchildren.
Services are pending at the Walker Funeral Home.
Staff writer Kelly McLendon contributed to this report.
Contact Mark Zaborney at: mzaborney@theblade.com or 419-724-6182.
Guidelines: Please keep your comments smart and civil. Don't attack other readers personally, and keep your language decent. Comments that violate these standards, or our privacy statement or visitor's agreement, are subject to being removed and commenters are subject to being banned. To post comments, you must be a registered user on toledoblade.com. To find out more, please visit the FAQ.