Family business takes pride in promoting local products
Richfield Township market functions as general store
3/4/2014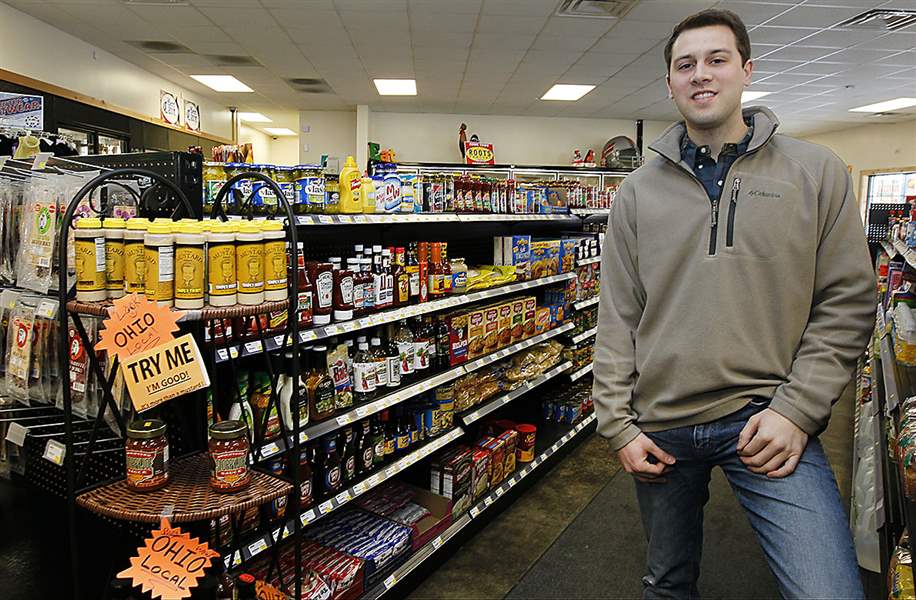 Zac Oswald wants the family owned Ozzie's General Store in Richfield Township to become a destination for customers looking for products made by local and Ohio businesses.
THE BLADE/JETTA FRASER
Buy This Image
Zac Oswald wants the family owned Ozzie's General Store in Richfield Township to become a destination for customers looking for products made by local and Ohio businesses.
David Oswald
Ozzie's Market is a little bit of a lot of things.
It's a convenience store with gas pumps. But it has some elements of an old-fashioned general store.
PHOTO GALLERY: Ozzie's in action
There are two fast-food places inside, and an ice cream shop. There's a drive-thru and a walk-in beer cooler.
But it is also a place for a local family to show its pride in Toledo-area products and to try to help the community.
The market sits on nine acres at 9980 W. Central Ave. in Richfield Township, across the road from Secor Metropark. It's a few miles west of the busy retail area on Central Avenue in Sylvania Township.
The store opened in June and has about 30 employees, David Oswald said. He came up with the concept for the store along with his wife, Dana, his sister, Sue Bartolett, and Sue's husband, Tom Bartolett. The Oswalds live in Berkey, not far from the market. The Bartoletts live in Sylvania.
All have been heavily involved in trying to get the store up and running. Sue and Tom oversee the Subway franchise. Dana Oswald is a bit of a wine expert so she oversees the store's wine section. David Oswald knows his cigars, so he makes sure the store's humidor is well-stocked.
In addition to their time, family members have invested about $2 million into the store. David Oswald says PNC Bank has played a big role in making the dream become a reality.
The next generation of the family is also heavily involved. David and Dana's oldest son, Zac Oswald, manages the store. His sister Ingrid helped get the Charley Biggs' Chicken n' Sauce franchise started last summer before resuming her studies at Ohio State University. Their brother Max and sister Greta have worked there part time.
They are the fourth generation to be involved in family businesses. The Oswald family has operated the A.H. Jamra Co., a Toledo tobacco and grocery wholesaler for decades. They also own several Butt Hut stores, which sell tobacco products.
The convenience store business isn't entirely new to the family. David and Sue's brother, Tom Oswald, owned and operated a place called Ozzie's in Sylvania before moving on to other business ventures. That store had a Charley Biggs' Chicken franchise and its loyalists pushed for Ozzie's Market to include the eatery.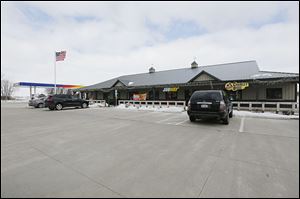 Ozzie's Market has a Charley Biggs' Chicken n' Sauce franchise and a Subway inside. Its store goods include wine and cigar selections.
The market also has Hershey's hand-dipped ice cream and will resume soft-serve ice cream sales in about a month.
"We're trying to market the place so that it's more of a destination," Zac Oswald says.
"This is about old-fashioned fun," his father adds. "We want people to come in and smile, have fun."
Zac Oswald estimates that about 70 percent of customers are local, with the others being travelers on State Rt. 20.
The market has become popular with truck drivers who use State Rt. 20. Not only can they grab a meal or a snack, but the fuel area has plenty of room for them to turn their rigs around, unlike some of the stations a few miles east in Sylvania Township.
Ozzie's takes pride in showcasing locally made products.
"We're using our store to help local guys get their product out," Zac Oswald says.
Among the local products customers can buy are meat from St. Mary's Meats (Assumption), shredded chicken from Roots Poultry (Fremont), homemade tamales from Nacho Danny (Elmore), baked beans from We Be Ribs (Toledo), and North Coast Beer Cheese (Bowling Green).
David Oswald is fiercely proud of the Toledo area, and he's tired of seeing national chains take local customers' cash back to wherever their headquarters are.
"We're trying to make sure the money stays in our territory," Mr. Oswald says. "You're seeing more big chains, and we've lost our personality and our identity like we used to have. We're all about leaving the money here in this territory."
Ozzie's Market is a work in progress. The owners recently got their license for Sunday wine sales. They've applied for another license that will allow them to hold wine and craft beer sampling events. They're planning to put some picnic tables outside this spring, and they hope to sell Christmas trees in December.
Contact Chip Towns at: ctowns@theblade.com or 419-724-6194.