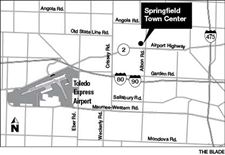 The Paragon will be located in the Springfield Town Center. Construction is scheduled to be complete by October.
The second phase of the Springfield Town Center development gets under way today with the groundbreaking for a $3 million building called the Paragon.
The 22,500-square-foot facility will be leased by Glass City Athletics. It will feature four indoor volleyball courts with flexible space for basketball and baseball instruction and other athletic events.
The building is expected to be completed in October.
Dana Hooper, the owner and director of Glass City Athletics, said her club has rented space from a variety of gyms for its first 20 years and it will be nice to have one facility from which to operate.
Ms. Hooper said her club has concentrated on volleyball recently, although it has done basketball and baseball instruction in the past.
Stephanie Kuhlman of Northwood-based Industrial Developers Ltd. said the facility will bring hundreds of people to town for youth volleyball tournaments, a boon to area restaurants and hotels.
Industrial Developers helped bring Ms. Hooper together with Greg Repass and Rich Iott, the owners of the Springfield Town Center land.
The first phase of the development was the Springfield Business Condominiums, commonly referred to as the Mancaves, which opened in 2010.
The mancaves are climate-controlled units that are used for a variety of purposes. Some house small businesses, while others hold collectible cars or, as the name suggests, a place to hang out with friends.
Next up, Ms. Kulhman said, will be a 27,000-square-foot indoor athletic facility. After that, the owners hope to add offices, retailers, and restaurants on the 15-acre site.
Guidelines: Please keep your comments smart and civil. Don't attack other readers personally, and keep your language decent. Comments that violate these standards, or our privacy statement or visitor's agreement, are subject to being removed and commenters are subject to being banned. To post comments, you must be a registered user on toledoblade.com. To find out more, please visit the FAQ.