Westgate Village identifies new tenants
2 eateries set to open in beginning of 2015
7/18/2014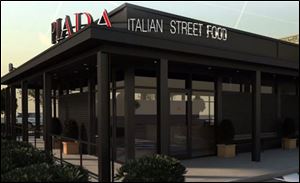 Piada Iltalian Street Food and Wingstop are coming to the Shoppes at Westgate Village next year.
Piada Italian Street Food and Wingstop are the first two tenants announced for the new Shoppes at Westgate Village. Both eateries are scheduled to open early next year.
The new retail area will be on the north side of West Central Avenue, west of Secor Road. El Nuevo Vallarta Mexican restaurant and Arnie's Again bar have been demolished to make room for three new buildings.
Piada and Wingstop will be in the building closest to Central Avenue, which will be the first building to be built.
"We're a fast-casual Italian eatery that makes made-to-order chopped salads, pasta bowls, and piada," said Matt Eisenacher, director of marketing for Piada.
He said piada is a thin-crust Italian dough, cooked on a stone and brushed with olive oil.
Like the salads and bowls, a customer can choose what kinds of meat, vegetables, and other ingredients are added to their rolled piada.
Some have called it an Italian version of the popular Chipotle chain.
Piada started in Columbus in 2010 and has grown quickly. It has 17 location open in Ohio, two in the Detroit area, and one in Indiana.
Mr. Eisenacher said the company has heard from many northwest Ohio residents who have visited one of Piada's restaurants and wanted a location closer to home.
At Wingstop, the main focus is on chicken wings and most of the business is takeout, although there will be some tables in the aviation-themed restaurant.
Wingstop Restaurants Inc. was founded in Texas in 1994. It has more than 600 restaurants in the United States, Mexico, Russia, and Singapore.
Westgate is attractive to restaurant companies because it is close to the University of Toledo and high-income residential areas and it is in a high-traffic area throughout the day, said Tom Walsh, the director of leasing for Abbell Associates in Chicago, which owns Westgate.
"It's really a perfect confluence of trade," Mr. Walsh said.
He said the existing fast-casual restaurants at Westgate — Chipotle, Five Guys, Barry Bagels, Starbucks, and the new Jamba Juice — are doing well, and Abbell wanted to add more variety.
Contact Chip Towns at: ctowns@theblade.com or 419-724-6194.