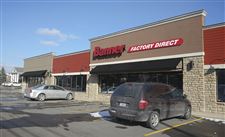 Banner Factory Direct opened an 18,000-square foot retail store in the former Bedland Mattress and Furniture location at 2544 N. Reynolds Rd., and the new owners plan to expand.
THE BLADE/JEREMY WADSWORTH
Enlarge | Buy This Image
The remnants of the former Banner Mattress & Furniture Co., which closed earlier this fall, have reopened as a new employee-owned company, Banner Factory Direct LLC.
The new company has purchased the former Banner Mattress factory at 3320 Bishop St., and also opened an 18,000-square foot retail store in the former Bedland Mattress and Furniture location at 2544 N. Reynolds Rd. Bedland closed in January.
The Banner Factory Direct store opened a week ago. A deal to buy the factory for $20,000 closed Friday, records show.
The company said the new store will offer a mattress gallery plus a showroom of home furnishings.
"We are thrilled to be a part of Toledo, a city that takes pride in local craftsmanship, a city that supports local business," said Bard Strand, the former general manager of Banner Mattress and one of four former employees who bought the old company.
Banner used to have upward of 100 employees. In June, when the company announced it was going out of business under its old ownership, it was down to about 50 employees.
The new company has 10 employees, but the owners plan to expand once Banner Factory Direct is established.
The owners would like to add a second retail location, and Mr. Strand said the company has plans to regionally wholesale its Toledo-made mattresses.
Earlier this fall, Banner Mattress — which had been in business since 1929 — announced plans to close its operations including retail stores on Hill Avenue and West Alexis Road in Toledo, and on East South Boundary in Perrysburg.
Matthew Karp, president of the mattress and furniture company that had been owned by his family since 1972, decided it was time to exit the business.
But Mr. Strand, who had been with the company since 2005 and is director of sales of the new firm, put together a group to buy the firm's mattress manufacturing assets, including the factory, equipment, and warehouse on Bishop Street.
Guidelines: Please keep your comments smart and civil. Don't attack other readers personally, and keep your language decent. Comments that violate these standards, or our privacy statement or visitor's agreement, are subject to being removed and commenters are subject to being banned. To post comments, you must be a registered user on toledoblade.com. To find out more, please visit the FAQ.