When Abby Bronowski ordered groceries online last week and had them delivered to her Walbridge home by a grocery delivery firm new to the Toledo area, she wasn't trying to be a trendsetter.
"I have a hectic schedule," Mrs. Bronowski said. "I've done clothes shopping, but just try going to a store and trying on clothes with a toddler," she added, turning to smile at her 2-year-old son, Logan. "I do a lot of online shopping and when I heard I could get groceries delivered to my door? I couldn't get online fast enough."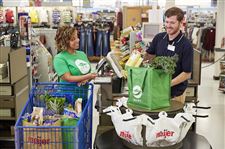 Shoppers for Meijer vendor Shipt come to Ohio, which has a customer base of 2 million.
With a delivery of bags containing lettuce, apples, eggs, Gatorade, and a giant box of baby wipes from a firm called Instacart, Mrs. Bronowski joined a rising number of consumers who are tired of pushing a cart down a supermarket aisle and ready to let a third party shop for them and deliver groceries to their door.
"We're essentially bringing our store to our customer's door," said Art Sebastian, vice president of digital shopping for Meijer stores, which has partnered with a company named Shipt to deliver groceries in all major markets in the six states where the Grand Rapids, Mich.-based chain operates, including Toledo as of June.
RELATED: Grocery delivery service Instacart comes to Toledo ■ Meijer home delivery offered in Toledo area ■ Kroger adds preorder service to more stores
Instacart, Shipt, and AmazonFresh are among the biggest third-party operators in home delivery in the United States, with the first two operating in the Toledo area. But several Kroger stores in the Toledo area have a related service called ClilckList, where items are ordered online, packaged, and then picked up at the storefront.
Overall, annual spending online on food, beverages, and alcohol will total about $20 billion in 2017, but it is forecast to reach $66 billion in just five years, according to U.S. Commerce Department figures and analysis by consulting firm Kantar Retail.
"Shoppers really want their time back. They don't want to be involved in these monotonous things that are taking all their time," said Kantar analyst Elley Symme. "That's why delivery is growing at an exponential rate."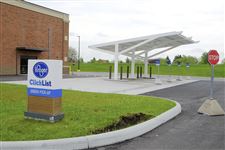 Kroger ClickList customers drive to a special area at the store, and their items are brought to them.
THE BLADE Enlarge
The driving force behind home delivery is the Millennial generation, those born between 1982 and 2004, experts say.
"Millennials are very naturally already engaged on subscription-based [phone app] packages. It's part of that same kind of world," said Ana Serafin Smith, a spokesman for the National Retail Federation.
But while grocery delivery appeals to the Millennial shoppers, Ms. Symme said Baby Boomers and others are not keen to use an Instacart or even learn about it.
However, retailers hope to change that.
"A Millennial isn't the most profitable customer for these services," Ms. Symme said. "They are spending $20 to $30 a week on groceries and barely eating at home. There are no school lunches and family dinners. The family with kids — that's the target they want to get."
Online grocery shopping has four competing delivery models, Ms. Symme said. There is first-party home delivery dominated by Peapod LLC, which delivers groceries from warehouses or stores owned by its owner, Ahold Delhaize. There are Click & Collect services such as Kroger's ClickList, which provide grocery collection at a store that a customer picks up later. There is auto-replenishment, such as Amazon Subscribe & Save, where consumers place orders online and items, such as laundry soap, are shipped to the customers.
And there is third-party delivery, such as Shipt and Instacart, the latter of which dominates because of a relationship with Whole Foods Stores. Third-party delivery is used by about 3 percent of grocery shoppers, according to Kantar Retail's ShopperScape monthly survey.
But Ms. Symme said that the third-party model is most likely to grow rapidly in the next five years.
Companies such as Instacart, Shipt, and AmazonFresh offer customers annual or monthly subscriptions for their service, or a fee for a one-time use.
Instacart charges $149 annually, $15 monthly, or $6 for a one-time delivery on orders over $30. Shipt charges $99 annually, $14 monthly on orders above $35. AmazonFresh, whose service requires a customer to be an Amazon Prime subscriber first, charges $15 a month for grocery delivery service on orders above $40.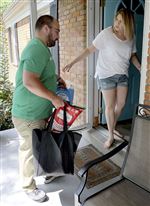 Abby Bronowski, taking delivery of Costco merchandise at her Walbridge, Ohio, home from Instacart's Kevin Duff, said she couldn't sign up for the service fast enough.
THE BLADE/LORI KING
Enlarge | Buy This Image
Instacart partners with Costco Wholesale, CVS pharmacy chain, and the Petco chain, but its shoppers also will go to Kroger and Meijer stores, if requested. Shipt partners with Meijer, while AmazonFresh, which is in only a limited number of markets, has partnerships with multiple local stores.
The convenience of third-party delivery is a personal shopper who will stay connected to ensure delivery coincides with a customer's daily routine, and most deliver groceries within two hours of the placement of an order.
"You get online, you select your groceries, you pick the time you want to receive them, and we deliver within one to two hours after you place the order," said Kevin Duff, Ohio operations manager for Instacart. "The one thing we hear that people don't like about grocery shopping is it takes up their time. I can give you back that time."
Instacart, which will try to tap customers from the 220,000 households in the Toledo area and Bowling Green, promises to deliver groceries within one to two hours.
Meijer, which began by offering its delivery service for fresh produce, meat, dairy, frozen food, pet food, and health and beauty-care items, has expanded its offerings to include nearly everything in its stores.
"Just recently we expanded to offer back-to-school items — school supplies like notebooks, paper, pens glue, crayons. We've delivered an awful lot of crayons these past few weeks," Mr. Sebastian said.
Meijer, which has an Ohio customer base of nearly 2 million households, has tracked the growth of home delivery since it began a pilot test in Detroit last year. Since January, the company estimates it and Shipt have processed more than 250,000 home deliveries.
"And the service has just really started. What that tells you is the customers are responding well to this," Mr. Sebastian said.
Bill Bishop, the head of Chicago grocery consulting firm Brick Meets Click, said when given the option for home delivery, most consumers like the idea.
"Our research shows that when a customer has a choice to either pick up or have groceries delivered from the same retailer, it usually is 60 percent delivery and 40 percent pickup," he said. "The data shows that in the end the consumer finds valuable the total convenience of delivery, somewhat above the convenience of pickup."
Given that, Kroger's ClickList service might present a dilemma. Kroger, the largest U.S. supermarket chain at $115 billion a year in revenue, began piloting in April home delivery service in Dallas and in Richmond, Va., using UberRush, a division of ride-sharing company Uber. Jennifer Jarrell, a Kroger spokesman, said there is no information as to the future availability in Ohio for UberRush.
Kantar's Ms. Symme said that while home delivery is exploding, there is a downside for retailers.
"What happens if a personal shopper picks the wrong product or messes up and brings you a rotten piece of fruit? It's Instacart's fault, but the incident reflects on a Kroger," she said.
Experts say home delivery will evolve. Most say they are watching Amazon.com to see what it does when it completes its purchase of Whole Foods.
"And once drones come into the story — and I think they will — there's no telling how things will change," Ms. Symme said. Drones will eliminate further costs associated with delivery.
Contact Jon Chavez at jchavez@theblade.com or 419-724-6128.
Guidelines: Please keep your comments smart and civil. Don't attack other readers personally, and keep your language decent. Comments that violate these standards, or our privacy statement or visitor's agreement, are subject to being removed and commenters are subject to being banned. To post comments, you must be a registered user on toledoblade.com. To find out more, please visit the FAQ.