Retailers across Toledo celebrated Small Business Saturday with steady lines of shoppers looking for holiday gifts.
Handmade Toledo on Adams Street in the Uptown District marked a busy day of sales. Customers were ready when the store opened, owner Jessica Crossfield said.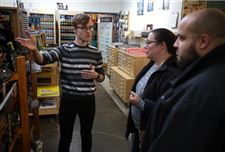 Stephen Owczarzak, left, helps Mia and Anthony Brown, both of Napoleon, search for art supplies for their nephew during Small Business Saturday at The Art Supply Depo in Toledo.
The Blade/Kurt Steiss
Enlarge | Buy This Image
Ms. Crossfield said it is wonderful that residents shop at small businesses and support local artists. That money stays in the area economy, she said.
These purchases also tell artists they can maintain a creative job and inspire them to continue, she said.
"I feel like people have a stronger connection — it feels more special to them — when they know that someone took the time out and made it with their own hands," Ms. Crossfield said.
At the Art Supply Depo on South St. Clair Street, Stephen Owczarzak, customer service manager, said the first lull in a busy day came mid-afternoon. Customers show support to ensure businesses like this remain in the area, he said.
The workers are knowledgeable and better specialize a "small-business sensibility," Mr. Owczarzak said.
"We've been here for six and a half years now, and we really couldn't continue to be here without the people who are supporting shops like this instead of the big box stores," he said. "We really look at ourselves as the alternative to those big box stores."
Shoppers Nancy Surella and her son, Andy, shared that message.
"It's Small Business Saturday. We're here to support all the small businesses in the downtown area," Ms. Surella said.
Mr. Surella said local store purchases, instead of online, help the city grow. It also provides for unique items.
Culture Clash Records on Secor Road likewise saw increased traffic Saturday. Employee Matt Gruen said these sales help keep money in the area.
"Every time you shop locally, you're going against Amazon. Amazon takes over the world," Mr. Gruen said.
The store's six workers care about records, listen to them, and make suggestions to customers' tastes.
"It keeps people who actually care about the product and don't just want to make a sale off you," he said.
Contact Ryan Dunn at rdunn@theblade.com, 419-724-6095, or on Twitter @RDunnBlade.
Guidelines: Please keep your comments smart and civil. Don't attack other readers personally, and keep your language decent. Comments that violate these standards, or our privacy statement or visitor's agreement, are subject to being removed and commenters are subject to being banned. To post comments, you must be a registered user on toledoblade.com. To find out more, please visit the FAQ.