Franklin Park Mall, Toledo's premiere shopping venue, is revamping and expanding its retail lineup this month to fill vacant mall spaces caused by earlier departures of other stores.
Meanwhile, the owners of the city's newest retail center, Secor Square, still are uncertain when their primary tenant — Whole Foods Market 365 — will occupy the 35,000-square-foot grocery store that was ready for move-in early last year.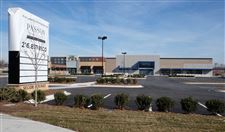 Secor Square, the site of a planned Whole Foods store in Toledo.
The Blade/Lori King
Enlarge | Buy This Image
S.J. Collins Enterprises now states on Secor Square's Facebook page that Whole Foods Market 365, a smaller store format than a regular Whole Foods store, will open sometime in 2019.
Spokesman Alicia King Robinson said in an email that the Atlanta-based developer has heard nothing new from Whole Foods or its parent firm, Amazon.com Inc., regarding the Toledo store, which was expected to open in 2018.
Whole Foods spokesman Rachael Dean Wilson said the company could provide no updates on a timetable for Toledo. The company filed a request last fall to sell liquor at the store and a listing for Toledo remains on the 365 store website, but the Toledo store has not been moved to the "opening soon" category.
Secor Square tenants, who were promised a Whole Foods Market 365 will be the primary anchor, say they too are in the dark regarding a timetable.
"They are paying on their lease. Whether they're going to open or not, we're not sure," said Vibha Patel, co-owner of Jersey Mike's sub sandwiches, which opened last fall in Secor Square.
"I think they are looking at the demographic. It's a lower-tier Whole Foods. They're in Akron, and I think they might be in Dayton, so I feel like they're just testing the market and waiting to see how they're doing in those markets," Ms. Patel said, who is looking to expand Jersey Mike's to other parts of metro Toledo.
"I haven't heard anything about Whole Foods in a long time. But I would love it if they came in," said Demi Galdeen, manager of OrangeTheory Fitness, another tenant of the center.
Justina Hufford, key leader at the Lululemon store at Secor Square, also hasn't heard anything about Whole Foods or seen activity at the vacant store in some time.
"A couple of months ago I heard something vague about it, but other than that I haven't heard anything about an opening date. [Tenants] haven't really been kept in the loop," Ms. Hufford said.
"But we would absolutely love for them to come in and bring that additional traffic with them," she added.
In early January, the Claddagh Irish Pub at Franklin Park closed its doors. It had been at the mall since 2005 when Franklin Park expanded and was redesigned by Westfield America Inc.
As announced earlier, Black Rock Bar & Grill is taking the Claddagh site and plans to open in late August or early September, mall spokesman Casey Pogan said.
"It's very exciting and I think it speaks to the success that Franklin Park is having with regard to retailers and expansions," she said. "We've had a really strong 18 months. Some retailers have left, but others have come in."
Inside the mall, apparel retailer Hollister Co. is moving to fill 5,710 square feet earlier vacated by specialty retailer Williams Sonoma. And clothing retailer H&M will fill the space vacated by Hollister plus adjoining space that opened with the closing of New York & Company.
Soma City Church, which conducts services in the Cinemark Theatres on Sunday, is filling 5,397 square feet on the mall's limited second floor. The space had been used by a local ballet company.
Pink, a popular apparel and lingerie retailer, has moved temporarily into an external location next to Talbots until its new permanent location, the former site of Coach purses, is ready, Ms. Pogan said.
Allure Nails & Spa will open this fall in an external location next to Dave & Buster's, while Macy's is in the midst of building its new Macy's Backstage store-within-a-store.
Lastly, Ms. Pogan said a new local retailer, the Guac Shop, which features gourmet guacamole, won the mall's Battle of the Pop-up store competition, and was rewarded with a sales cart in the center court area. The retailer, Danielle Arbinger, received four rent-free months for winning the competition.
The new business sells four flavors of guacamole, chips, drinks, and ingredients to make gourmet guacamole at home. "It's really popular," Ms. Pogan said. "I don't want to admit how many times I've gone there."
Contact Blade Business Writer Jon Chavez at jchavez@theblade.com or 419-724-6128.
Guidelines: Please keep your comments smart and civil. Don't attack other readers personally, and keep your language decent. Comments that violate these standards, or our privacy statement or visitor's agreement, are subject to being removed and commenters are subject to being banned. To post comments, you must be a registered user on toledoblade.com. To find out more, please visit the FAQ.