Rialto Jean Project celebrates grand opening
9/5/2018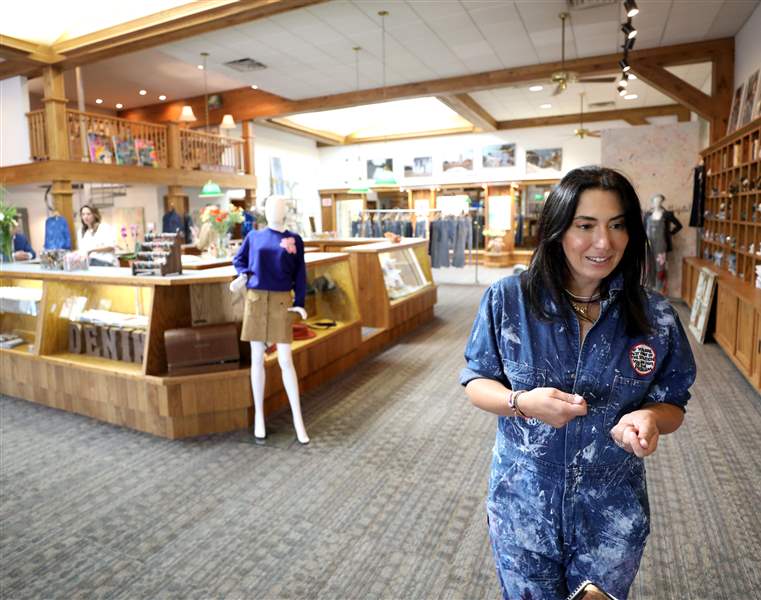 Erin Feniger Maggio speaks about her business during the grand opening of Rialto Jean Project in Toledo on Wednesday, September 5, 2018.
The Blade/Kurt Steiss
Buy This Image
Erin Feniger Maggio's fashion brand, Rialto Jean Project, was born in California, in the studios of artists who made canvasses out of their denim.
"I combined a love of vintage denim with this inspiration of an artist in their studio wiping their brushes on their jeans for years and years," she said.
WATCH: Erin Feniger Maggio talks about Rialto Jean Project
In the six years since the Ottawa Hills native launched Rialto Jean Project, it has grown into a global fashion brand with showrooms in New York and Los Angeles, and a clientele of A-list celebrities. Her hand-painted designs have been featured on the runway and in the pages of Vogue, and now at a new flagship store in downtown Toledo, which opened to the public Wednesday afternoon.
A newlywed with plans to begin a family, Mrs. Maggio and her husband, Kenny, decided it was time to return to Mrs. Maggio's home from New York. So she brought Rialto Jean Project along for the journey, opening her shop at a former bridal boutique in an industrial space at 927 N. Summit St. Her brand is also sold by some 45 retailers.
Rialto Jean Project celebrated its grand opening Wednesday and Mrs. Maggio offered her guests a look at the new pieces she will debut Thursday at New York Fashion Week. Her spring collection features embroidered flowers on premium vintage jeans and coats sourced from collectors. She collaborated with Sylvania artist Lynne Saad on several pieces, including a coat she will bring to New York.
Before launching Rialto Jean Project, Mrs. Feniger owned an event company for nonprofits. Diagnosed with an autoimmune disease that affected her hands and feet, she found relief in painting and promised herself that her new endeavor would incorporate art-focused philanthropy.
"I started to paint and it didn't affect my hands because it was so therapeutic," she said.
A portion of proceeds goes to charities to fund art therapy at children's hospitals and for human trafficking and cancer survivors.
Besides being a storefront, the Toledo shop is where Mrs. Maggio and her team will paint and sew her pieces.
She hopes her business spurs the growth already happening downtown.
"You need people and a store like this to bring growth to a city," she said. "I'm from here, so I think that adds to the importance of it."
Rialto Jean Project is open Tuesday through Friday, noon to 6, and Monday and Saturday by appointment.
Contact Liz Skalka at lskalka@theblade.com, 419-724-6199, or on Twitter @lizskalka.