What will you make?
9/3/2018
Are you a maker? A creative? A visionary? The Toledo Lucas County Public Library has the resources to make your ideas a reality.
With free tech tools available on site — and a wide range of items to check out — the Library has what you need to create professional-level graphics, video, audio, educational materials and more.
"Toledo is a community of makers, and the Library is here to make sure people have the technology tools they need," said Deputy Director Jason Kucsma.
If you need to work on location or finish a project in your own workspace, you can check out a variety of items such as digital dSLR cameras, high-definition camcorders, GoPro Hero cameras and even a 1TB external storage device.
Seven locations also have extensive on-site technology tools. A popular item is the Cricut Explore Air, a wireless die-cutting machine for use with a wide range of materials. The Library supplies blades, marker and mats that are reusable as well as Cricut Access. Customers need to bring in their own material to cut. It is available at King Road, Oregon and Sylvania branches.
There are 3D printers at King Road, Sylvania, Oregon and West Toledo including an industrial grade printer at the newly opened Sylvania branch. Customers can also print large format posters and even customized buttons. And with all the technology, there are knowledgeable librarians to help you every step of the way.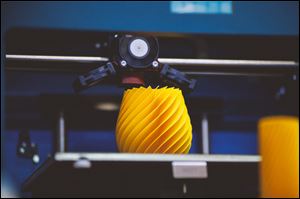 A blue 3D printer creates a yellow plastic object.
"If you can dream it, we want to help you make it," King Road Manager Julie Bursten said.
What some people dream of making is music, videos or podcasts, and the Library can help with that too. King Road, Sylvania and West Toledo have studios with a wide range of audio and video equipment.
"If you still think libraries are quiet, I invite you to stop by our studio," West Toledo Branch Manager Andrea Hudak said. "We have people in all the time using our audio and video equipment to create their next big hit."
The Library also has free courses in coding, creating 3D objects with a handheld pen tool, building programmable robots with Lego Mindstorm EV3 and more. Their resources are always growing, so visit toledolibrary.org/techtools or for the latest updates.