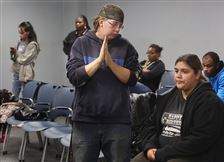 Shelbie Bailey, left, and her fiancee, Ilana Kahan, wait to file paperwork for food stamps at the Lucas County Job and Family Services Building in West Toledo on Friday. Ms. Bailey said her monthly benefit was decreasing from $200 to $189. She has been jobless over a year despite seeking work, she said. Ms. Kahan is three months pregnant.
THE BLADE/KATIE RAUSCH
Enlarge | Buy This Image
Shelbie Bailey does everything she can to make a few dollars.
The 22-year-old Toledoan has been unemployed for more than a year and has applied time and again at local fast-food restaurants. To make money, she walks down the street collecting cans to sell the scrap metal for 53 cents a pound, and has been donating her plasma twice a week for the past three months at Biomat USA on Dorr Street.
Ms. Bailey gets about $200 a month in food stamps from the federal Supplemental Nutrition Assistance Program, or SNAP. But when she goes to load her food stamp card Sunday night, her benefit will be reduced to $189.
Starting in November, more than 47 million people nationally and nearly 97,000 in Lucas County who get food stamps will get less government assistance each month, after a temporary benefit in the 2009 economic stimulus that boosts food-stamp dollars expires.
The benefits, which 1 in 7 Americans receive, vary on factors including income, food prices, and inflation. For a family of four, the reduction means about $36 less a month. For a family of three, it's a cut of about $29; a family of two, $20, and for single adults like Ms. Bailey, $11.
Ms. Bailey hopes she can continue to rely on food pantry programs at local churches and the Cherry Street Mission to fill the gap for her and her fiancee, Ilana Kahan, until she can find a job.
"It's harder than most people think. They look at 20 bucks and say, oh well, that ain't nothing,"said Cassandra Rasoni, who is raising her 12-year-old daughter and 9-year-old son alone. Her husband died about five years ago.
She shops at discount grocery stores to stretch her food stamps. Ms. Rasoni wants to buy fresh fruits and vegetables for the kids, but it gets harder near the end of the month.
"When you want to feed your family stuff that's good for them, it's more expensive," she said.
The federal food stamp program distributed $242 million in benefits to Ohioans in July, according to the most recent data from the Ohio Department of Job and Family Services.
Lucas County issues about $13 million in benefits each month, said Deb Ortiz-Flores, director of Lucas County Job and Family Services. Those affected by the current cuts include nearly 40,000 children in Lucas County.
Deidra Pless, 22, is worried that the cuts will make it harder for her to buy baby formula for her 2-month-old son, Edward Lindsey. The East Toledoan is on maternity leave, but as a minimum wage employee at a Subway restaurant, she receives no benefits, she said.
"It's gonna affect me a lot for the simple fact that most of the stamps that they give me is for Similac — it's for food for him," she said..
Ms. Pless hopes to go back to work in two weeks and soon after that return to the University of Toledo, where she is studying psychology and early childhood education.
These Lucas County families may have to brace themselves for another, possibly larger reduction in the food stamp program. In Washington, talks on a wide-reaching farm bill, including cuts to SNAP, began Wednesday.
Contact Marlene Harris-Taylor at: mtaylor@theblade.com, or 419-724-6091.
Guidelines: Please keep your comments smart and civil. Don't attack other readers personally, and keep your language decent. Comments that violate these standards, or our privacy statement or visitor's agreement, are subject to being removed and commenters are subject to being banned. To post comments, you must be a registered user on toledoblade.com. To find out more, please visit the FAQ.